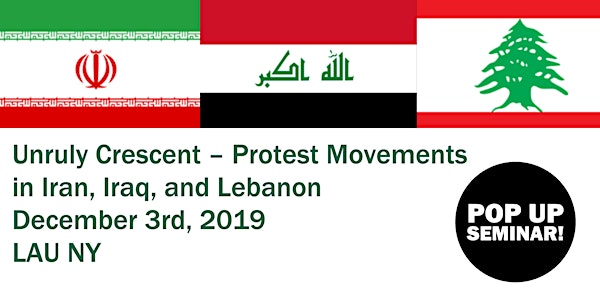 Unruly Crescent – Protest Movements in Iran, Iraq, and Lebanon
Pop-up seminar on Protest Movements in Iran, Iraq and Lebanon.
When and where
Location
The Lebanese American University New York Headquarters and Academic Center 211 E 46th Street New York, NY 10017
About this event
Please join the Lebanese American University in New York for a panel discussion on the protest movements empowering people in Iran, Iraq and Lebanon, how these factor into regional trends, and what it all means going forward.
Pop-up Panel featuring:
Farnaz Fassihi, New York Times (Iran)
Omar Dewachi, Rutgers University (Iraq)
Alexandra Tohme, Azahir (Lebanon)
Moderated by Sam Dagher, Journalist and Author
Speaker Bios
Farnaz Fassihi writes about Iran for the New York Times. Previously, she was a senior writer for the Wall Street Journal for 17 years, based in the Middle East and at the United Nations in New York. Fassihi has covered wars and uprisings across the Middle East, including in Iran, Afghanistan, Iraq, Israel, Gaza, Egypt, Lebanon, and Syria.
She served as the Journal's Baghdad bureau chief from 2003 to 2006 and is the author of a book on the Iraq War titled, "Waiting for An Ordinary Day." Fassihi has been honored with more than a dozen national journalism awards and is a 2018 recipient of an Ellis Island Medal of Honor. She is currently working on a book about Iran's Revolutionary Guard Corps.
Omar Dewachi is Associate Professor of medical anthropology at Rutgers University. Prior to joining Rutgers this fall, he taught Anthropology, Social Medicine and Global Health, and is the co-founder and co-Director of the Conflict Medicine Program, at the American University of Beirut (AUB). Trained as a physician in Iraq during the 1990s, he received his doctorate in social anthropology from Harvard University in 2008.
Dewachi has conducted extensive archival and ethnographic research on the human and ecological impacts of decades of Western interventions and violence in Iraq and the broader Middle East. His book with Stanford University Press (2017), Ungovernable Life: Mandatory Medicine and Statecraft in Iraq, is the first study documenting the untold story of the rise and fall of state medicine in Iraq. He is currently conducting ethnographic research on the ecologies of wounds and wounding that explores the biosocial life of war wounds and the rise of Multi-Drug Resistant Bacteria in the context of the reconfiguration of healthcare geographies across the East of the Mediterranean states.
Alexandra Tohme has 10 years of experience in Middle East affairs and international law, including conducting political and security analysis and engaging in human rights advocacy on the ground. Tohme most recently founded a local Lebanese NGO Azahir at the northern Syrian border and built two local community centers that train and employ local youth to serve at-risk and refugee children in education and psycho-social support, in some of the most deprived communities in the country.
Her work has largely focused on the Levant region including research, field-work, grassroots programming, human rights documentation and reporting, project monitoring & evaluation (M&E), and diplomacy/negotiation - the latter while serving on the UN Security Council when the Lebanese delegation held its two-year term. Tohme has a Bachelors from the George Washington University with Cum laude distinction and a Masters from Columbia University's SIPA. Her NGO Azahir is currently involved in a consortium partnership with various universities to build a new academic program on Global Displacement, Trauma, and Mental Health.
Sam Dagher has reported in the Middle East for more than fifteen years. He was the only reporter for a major Western media outlet based in Damascus from 2012 to 2014, until being detained by Assad's henchmen in an underground prison and expelled for reporting deemed unfavorable to the regime. He has worked for the Wall Street Journal, the New York Times, the Christian Science Monitor, and Agence France Presse, and has covered the conflict in Iraq, the Arab Spring uprisings, and Libya. The Wall Street Journal submitted Dagher's work from Syria for the Pulitzer Prize and other journalism awards.
Event will be live streamed on www.facebook.com/LAUNEWYORK/