Description
UNROLLED SILKS
A Solo Exhibition by Xiaowen Zhu
8 – 22 September 2016
Monday to Saturday, 14:00 - 18:00 and by appointment.


Private View: 8 September 2016, 18:00 – 20:00
Panel Discussion: 22 September 2016, 19:00 – 20:30
---
Bloomsbury Gallery is pleased to present a solo exhibition of work by Xiaowen Zhu from 8 September to 22 September 2016.
Xiaowen Zhu's London debut, titled Unrolled Silks, will be the artist's second solo presentation.
Xiaowen Zhu (b.1986, Shanghai) is a filmmaker, artist, and writer. Described as a visual poet, social critic, and aesthetic researcher, she uses video, photography, performance, installation and mixed media as platforms to communicate the complex experience of being an international person and to wrestle with the notion of a disembodied identity.
Unrolled Silks will feature a series of works created between 2013 and 2016 – including a dual-channelfilm installation, Oriental Silk (2015),whose single-channel version has been shown around the world but the dual-channel version has never previously been exhibited. The exhibition will also feature a series of photography, textile installation and commissioned fashion design that explore the subject of materiality, personal and collective memories, craft and value – the essential themes touched upon in Oriental Silk.
Oriental Silk (2015) explores the worldview of the owner of the first Chinese silk importing company in Los Angeles. Carefully and quietly, the film observes this owner, Kenneth Wong, as he goes through his daily routine in the store and tells his story: how his parents, first-generation Chinese immigrants, realized the American dream through the store; how the once legendary store's fortunes rose in close connection with the Hollywood entertainment industry, then fell with the proliferation of cheaper silk in the new global economy; how he himself came to be the owner of the shop and caretaker of the family legacy; and about his deep feelings for the shop, its history, and its future.
The dual-channel film installation portrays Mr. Wong's state of being inside Oriental Silk – a shop that serves as a museum and place of worship for traditional craftsmanship and the attendant cultural values that are largely now lost or even actively undermined in contemporary China, ideas which for him are intimately interwoven with his own history and the history of his family.
The single-channel version of Oriental Silk has been awarded the Jury Award of Mexico International Film Festival. It has been widely shown at Whitechapel Gallery, Whitstable Biennale, RISD Museum (Rhode Island School of Design), New York University, Aurora Museum Shanghai, Lund Museum and more. It is described by Sukhdev Sandu, Director of Asian/Pacific/American Studies, New York University, as "a beautiful articulation - thematically and visually - of the relationship between scale and intimacy." It is also commented by Dr Cangbai Wang, Senior Lecturer in Chinese Studies, University of Westminster, as "a film that excellently reveals the complex relationship between people and objects in migrant worlds in an exquisite, rhythmical way. "
Xiaowen Zhu: Unrolled Silks will have a panel discussion on the topic of "personal and collective memories", chaired by Gareth Evans, film curator of Whitechapel Gallery on 22 September, 2016.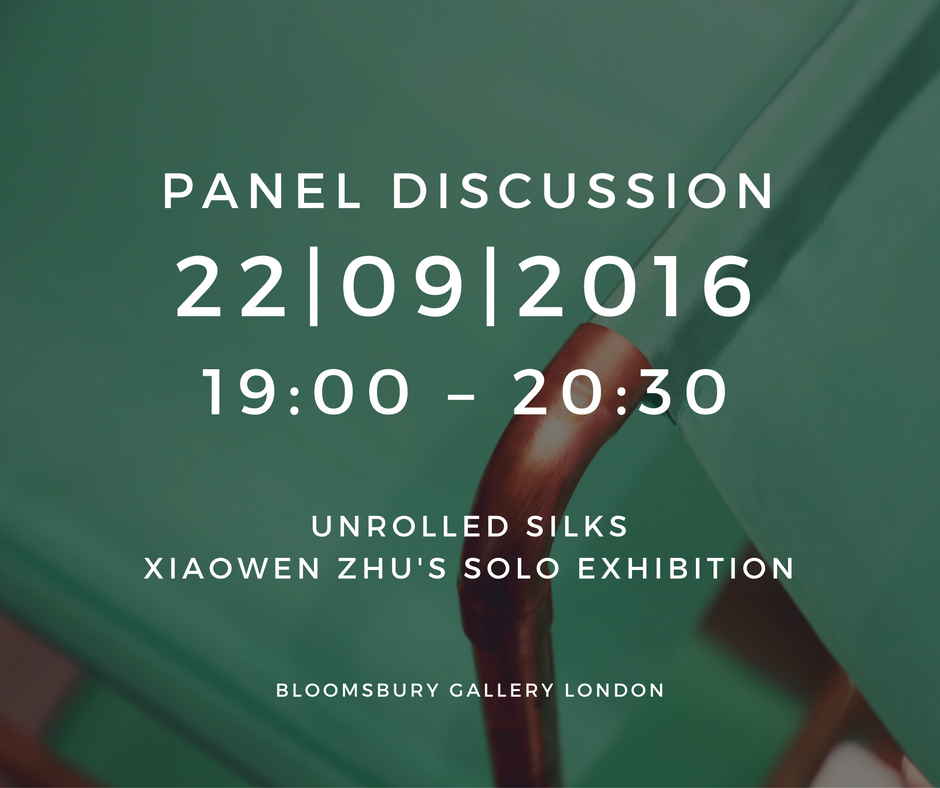 Panel Chair:
Gareth Evans is a writer, curator, presenter and Film Curator at the Whitechapel Gallery. He programmes PLACE, the annual cross-platform festival at Aldeburgh Music in Suffolk and has curated numerous film and event seasons such as 'Romany' and 'JG Ballard', 'John Berger: Here Is Where We Meet' and 'All Power to the Imagination! 1968 and Its Legacies'.
Panelists:
Chris Berry is Professor of Film Studies at King's College London. His academic research is grounded in work on Chinese cinema and other Chinese screen-based media, as well as neighboring countries. He is especially interested in queer screen cultures in East Asia; mediatized public space in East Asian cities; and national and transnational screen cultures in East Asia.
Amy Ng is a playwright and historian. She was educated at Yale University and at Balliol College, Oxford University, where she was a Rhodes Scholar. She is an alumna of the Royal Court Theatre's Critical Mass writers' programme and the British East Asian Theatre writing group supported by the Young Vic, and is currently on attachment to the BBC Writersroom and Tamasha Theatre.
Cangbai Wang is Senior Lecturer in Chinese Studies and Director of HOMELandS (Hub for Migration, Exiles, Languages and Spaces) at University of Westminster. His main research interests are in the areas of Chinese diaspora and cultural heritage. He is the author of Life is Elsewhere: Stories of Indonesian Chinese in Hong Kong (2006).
---
About Xiaowen Zhu
Xiaowen Zhu is a London-based filmmaker, artist and writer. She is the first receipt of the TASML Artist Residency Award and Marylyn Ginsburg Klaus Post-MFA Fellowship. She was an artist-in-residence at ZKM | Center for Art and Media, Karlsruhe, Germany and V2_Institute for the Unstable Media, Rotterdam, the Netherlands. She is a mentor of the British Film Institute Film Academy, a member of the Los Angeles Art Association, and formerly a Visiting Professor of Media Art at Syracuse University and Marymount College in USA. Zhu received her MFA in Art Video from Syracuse University, USA and BA in Film, TV Production & Media Art from Tongji University, China.
Zhu's work has been shown at Whitechapel Gallery (London, UK), Whitstable Biennale (Whitstable, UK), Central Academy of Fine Arts Museum (Beijing China), Chronus Art Center (Shanghai, China), Art Basel Hongkong, ZKM | Center for Art and Media (Karlsruhe, Germany), V2_Institute for the Unstable Media (Rotterdam, the Netherlands), ISEA2011 (Istanbul, Turkey), Dumbo Arts Center (New York, USA), Videonale (Berlin, Germany), Museum of Contemporary Photography (Chicago, USA), Los Angeles Art Association (Los Angeles, USA), Venice Arts Gallery (Los Angeles, USA), Strozzina Art Space (Florence,Italy), Sainsbury Center for Visual Arts (Norwich, UK), Toronto Urban Film Festival (Toronto, Canada), DOK Munich (Munich, Germany), Film Winter (Stuttgart, Germany), Athens Video Art Festival (Athens, Greece), K3 Film Festival (Austria), Everson Museum of Art (Syracuse, USA), Shanghai eArts Festival(Shanghai, China) and more.
---
Artist's website: zhuxiaowen.com
Film's website: orientalsilkfilm.com