UNREASONABLE@State Main Event

Wednesday, May 1, 2013 from 12:00 PM to 11:00 PM (EDT)
Event Details
Find more information on UNREASONABLE@State and on the Investor Gathering and VIP Banquet on Day 2, please visit - www.unreasonableatstate.com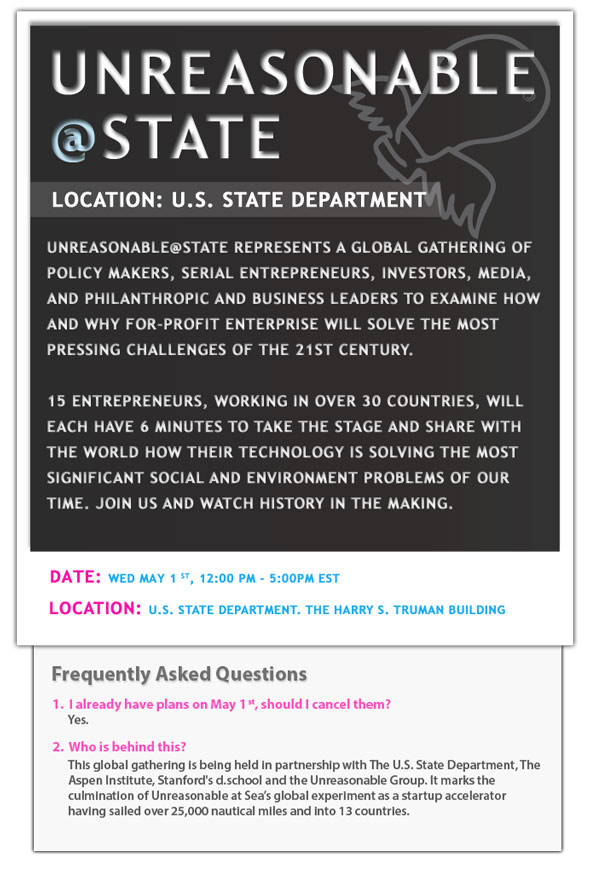 Agenda:
       12:00pm - 1:00pm: Doors open - casual mingling with snacks and light refreshments
       1:00pm - 1:15pm: Let the games begin - Opening remarks from State Departmnet
       1:15pm - 1:30pm: Reflection on lessons leared after sailing 25,000 miles with 11 tech startups
       1:30pm - 2:10pm: First wave of five entrepreneurs giving 6-minute presentations
       2:10pm - 2:15pm: Something awersome will happen
       2:15pm - 2:55pm: Second wave of five entrepreneurs giving 6-minute presentations
       2:55pm - 3:15pm: Panel discussion on why entrepreneurship matters 
       3:15pm - 3:20pm: Something Awesome will happen 
       3:20pm - 4:00pm: Third wave of five entrepreneurs giving 6-minute presentations
       4:00pm - 4:05pm: Something Awesome will happen
       4:05pm - 4:15pm: The future of education (and why it must be entrepreneurial)
       4:15pm - 4:25pm: Something Awesome will happen 
       4:25pm - 4:50pm: Closing Remarks to an Unreasonable afternoon - we'll go out with a bang
       7:00pm - 10:30pm: Themed curated breakout dinners that will take place around the city.
*Note these dinners will be on your own dime, but you'll share brilliant conversation with amazing people, so don't miss out! Details coming soon for registration. 
Find more information on UNREASONABLE@State and on the Investor Gathering and VIP Banquet on Day 2, please visit - www.unreasonableatstate.com
When & Where

US State Department
2201 C Street, NW (Enter on 23rd Street between C and D Streets)
Washington, DC


Wednesday, May 1, 2013 from 12:00 PM to 11:00 PM (EDT)
Add to my calendar
Organizer
Unreasonable's mission is to drive resources to and break down barriers for entrepreneurs solving key global challenges (i.e. ensuring renewable energy reaches the 1.3 billion people currently without electricity, reimagining the future of healthcare, or addressing the global unemployment crisis). Leveraging worldwide programs, a globally oriented private equity fund, an extensive network of serial business leaders as mentors, and advanced storytelling and media activities, Unreasonable supports the entrepreneurs positioned to profitably solve society's toughest problems.