Description
For more information about Unreasonable Goals, please visit unreasonable-goals.com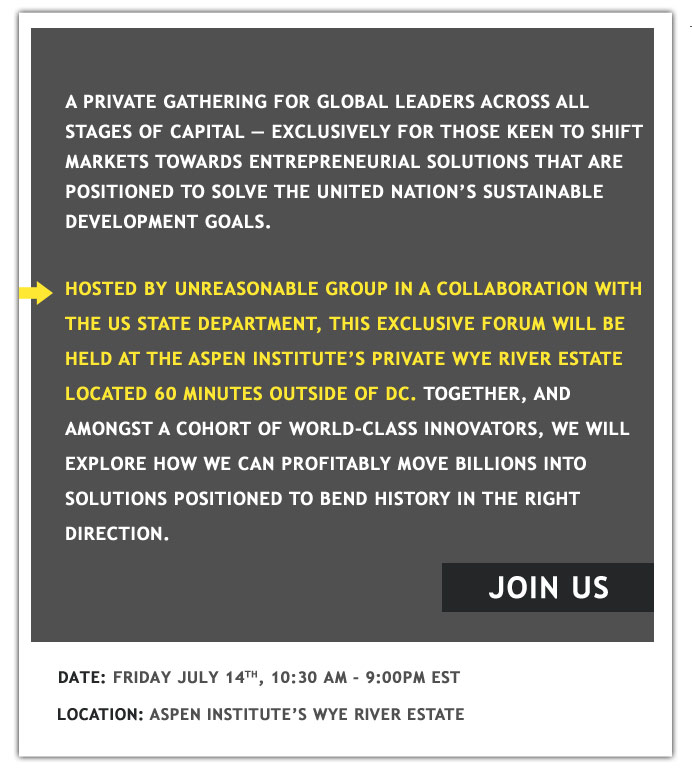 I already have plans on Friday, July 14th. Should I cancel them?
Yes ;-).
Why am I being invited to this private gathering, and who else will be there?
If you received this invitation, it is because we believe you are a critical actor in unleashing billions of dollars of investment into solutions positioned to solve the Global Goals. We are inviting you, along with 80 other individuals representing heads of family offices, renowned foundations, select policy makers, multinational executives, and key venture philanthropists. This private forum will serve as the first inaugural investor gathering of the Unreasonable Goals initiative — a partnership with the singular focus of accelerating our ability to achieve these noteworthy goals by leveraging market forces. In addition to the 80 world renowned investors like yourself, 17 entrepreneurs with bold market-driven solutions will be joining us as front-line experts and innovators around how to profitably achieve the Global Goals by 2030.
Can you tell me more about the Unreasonable Goals initiative?
Watch this 2 minute video that introduces Unreasonable Goals, or please feel free to check out the initiative's website here.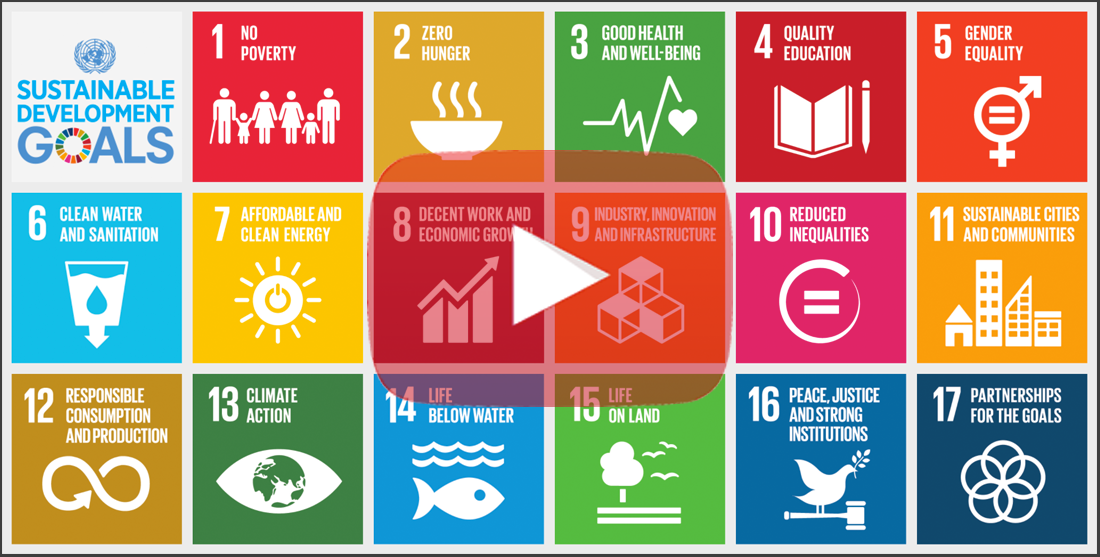 Why this and why now?
Every year, more than $120B is spent in international development assistance, yet this system has yet to produce the game-changing results we all know are needed. Unreasonable Goals is designed to bring new problem solvers to the table: highly profitable entrepreneurs with cutting-edge technologies that can measurably dent the Global Goals.
With Unreasonable Goals, we will be running a two-week program annually through 2030. Our inaugural gathering will launch in July of 2017. Each year thereafter, we will bring together 17 highly scalable entrepreneurial solutions, each uniquely positioned to solve one of the goals. After running the initiative for 13 years, we will have worked with over 200 of the fastest growing and most promising entrepreneurs of our time, and we will have partnered with dozens of multinationals and 13 national governments. This is where the real impact of the initiative comes into play. It's this collective global network that we believe will have the ability to impact not just millions, but billions of lives. And it is this network that we are looking to arm with the resources and connections to help ensure we achieve the Global Goals by 2030.
What was the process and criteria you used to select the participating entrepreneurs?
We scoured the globe for entrepreneurs we believe are best positioned to solve each of the 17 Sustainable Development Goals. We were looking for ventures who are already providing a clear and direct benefit to hundreds of thousands if not millions of people and who are eager to take their effective solutions to global scale. On average, the 17 entreprenuers participating in the initaitive and who will be joining us for the private gathering have already raised $22M USD. They represent the true black swans of our time — highly profitable, scalable, and innovative entrepreneurial ventures with impact baked into the core of their business model. You can read more about the entreprenuerial solutions we selected here.
What about food and drinks?
A private lunch, reception, and Jeffersonian dinner will be served as part of the investor gathering. All food will be locally prepared by the Aspen Institute's in-house chef team, utilizing ingredients from the surrounding farms.
Is lodging available at the venue?
The Aspen Institue's Wye River Estate is a remarkably beautiful and historical venue. We have 20 rooms available first come first serve for guests who would prefer to stay the night after the Jeffersonian dinner. A private room is an additional $200 cost. If you like, you will be able to reserve a room in the registration process.
Where do the proceeds from my ticket go?
All ticket proceeds will go towards offsetting the costs of the investor gathering itself.
If I need to leave early, can I?
Of course. The main program ends at 7:00 p.m. and is followed by a reception, fireside chat and a farm-to-table Jeffersonian dinner. We hope you can join for the evening's festivities, but if you need to leave at 7:00 p.m. for other plans, we'll understand.
Who are the partners?
We are privileged to partner with governments and multinationals to support the efforts of the ventures in the inaugural Unreasonable Goals program.