Description
Reboot + Digital Detox + Camp Grounded + Open Temple present
UNPLUG LA
Join Reboot + Digital Detox + Camp Grounded + Open Temple for an off-the-grid Unplugged Party to Celebrate Reboot's National Day of Unplugging. Check your phone at the door and together we'll redefine what it means to truly be connected. It's like summer camp for adults, in the city, for one epic night of pure unadulterated fun. Unplug after a busy week and take time off the grid to feel awesome. Live music, board games, typewriters, analog photo booth,arts 'n crafts, face painting, and more...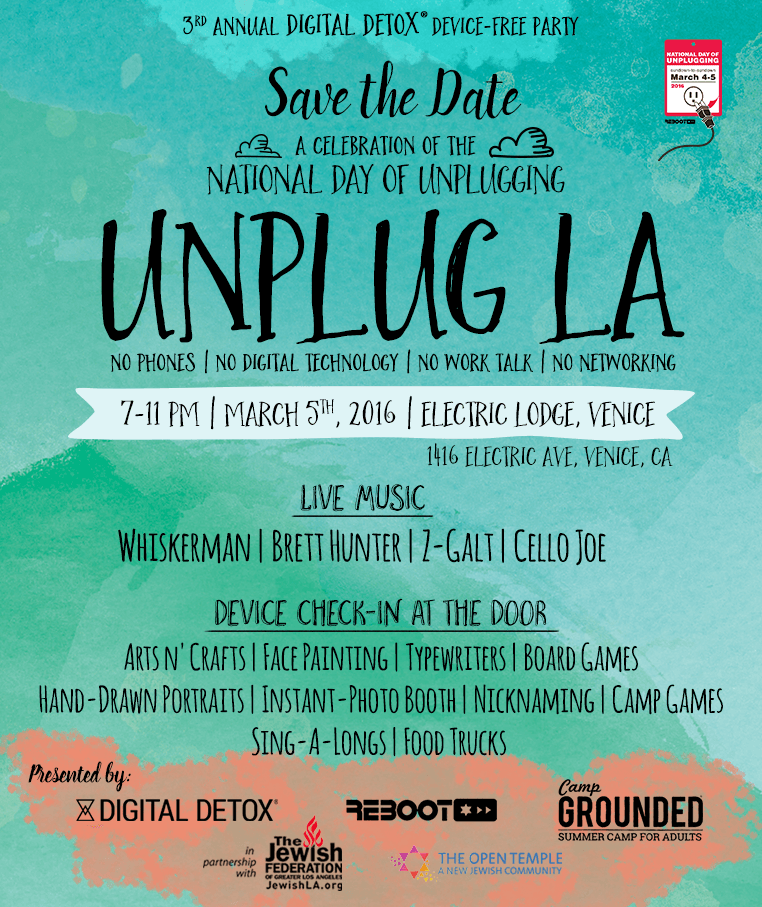 Everyone welcome 21+ - please bring your ID!
FOOD & DRINK BY BORDER GRILL TRUCK - *CASH BAR*
Saturday, March 5th 2016 - 7:00 pm-11:00 pm
ELECTRIC LODGE | 1416 Electric Avenue Venice
(just off Abbott Kinney)
Rules:
No Work Talk or Networking
No Digital Technology, Cameras or Watches
We'll all use Nicknames!
Food & Beverage for purchase by the Border Grill Food Truck
Please use the free on-site parking lot.
Walk, bike, Bue Bus #2 or LA Metro #33 or #333
Digital Detox is an organization dedicated to finding, exploring and creating balance in the digital age. They host events and tech-free retreats where attendees disconnect from technology to reconnect with themselves, others and the world around them. Learn more about our upcoming retreats at TheDigitalDetox.org + CampGrounded.org
-------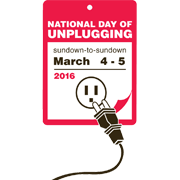 The National Day of Unplugging (NDU) is a project of Reboot, a national nonprofit that seeks to reinvent and reinvigorate Jewish traditions to make them resonate with a new generation. The NDU is in its fifth year and encourages people to take a regular pause from technology to reconnect with the community and those around them. Thanks to The Jewish Federation of Greater Los Angeles for their support of Reboot programs in Southern California. NationalDayofUnplugging.com
-------
MUSICAL GUESTS:
Whiskerman
Known in the Bay Area for their often raucous shows, Whiskerman has taken to lush string arrangements framing bold prophetic lyricism in their most recent effort. Fronted by Singer/songwriter and multi-instrumentalist Graham Patzner, Whiskerman utilizes the structure of a classic rock band to convey a timeless familiarity, luring the listener into a new mythological landscape with a story for our time.


-------
Z-Galt
Z-Galt is a performer/facilitator who just likes to see people play and smile. Divine Rhyme is a workshop designed to allow people to do just that. When we play, we relax, we breathe, we laugh and most importantly we connect. Through exploring rhymes and beats, Divine Rhyme creates a space of flow and ease in and around the creation process, opening up new and exciting channels of expression.
-------
Brett Hunter
Bay Area act and Camp Grounded favorite, Brett Hunter will sweep you off your feet with some soulful tunes that will bring you right into the redwoods.
-------
Cello Joe
Joey Chang aka CelloJoe is an anomaly in the world of cellists. By combining cello with beatboxing, he has created a unique genre: Classical Hip Hop. CelloJoe records live on stage with a loop pedal and produces intricate tapestries of harmony, melody, and rhythm. His beatboxing (vocal percussion) and funky cello grooves form a rich soundscape for intelligent lyrics and his music spreads love, joy, laughter and conscious vibrations. By beatboxing, throatsinging, singing, plucking and bowing the cello, CelloJoe can mimic many styles of music from dubstep to folk to rock to classical to hip hop.
-------
Questions about this event? Contact lisa@rebooters.net
FAQs
Are there ID requirements or an age limit to enter the event?
Yes! You must be 21+ and you must have a valid ID.
What are my transport/parking options getting to the event?
Please use the free on-site parking lot.
Walk, bike, Bue Bus #2 or LA Metro #33 or #333