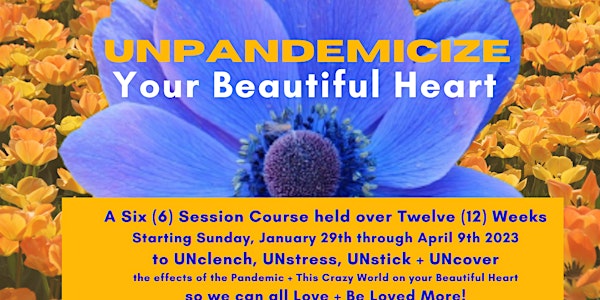 UNpandemicize Your Beautiful Heart in 2023 - a Six (6) Session Course
It's been a lot this pandemic, these world affairs. Let's power-up our beautiful hearts and soar into 2023!
About this event
WHY THIS COURSE?
Our hearts have been on the battleground, and as we start a new year, a heart that is more able to love + be loved could set you on course to fly like a Superhero in 2023!
With the effects of the pandemic and world affairs, it's been easy to lose track of the little rooms of our heart that we've forgotten or unintentionally let grow cluttered or dusty since early 2020.
It's.  Been. A. Lot.
Your heart is your most glorious and powerful asset. It deserves your loving attention.
Beauty – in all its many forms – can heal and empower our hearts. Beauty can be medicinal, and in this case, I believe it is.
In this six-session course (occurring every OTHER Saturday) for 1.5 hours we will work with the concept of using beauty as a tool – inside out, outside in – to unclench, unclutter, unstick - unpandemicize - our hearts so we can love and be more loved.
WHAT WILL YOU GET OUT OF THIS COURSE?
Nine (9) hours of helpful content that you can revisit whenever you wish as all the sessions will be recorded.
A new awareness of the areas of your heart that could use some love and attention.
Tips on how to add Inner and Outer Beauty to your life.
Easy repeatable exercises that you will have in your back pocket forever!
A jump start to the pieces of your life you accidentally let fall away.
Renewed + new passions that make your heart sing.
A heart that is less cluttered, clenched, contracted and is more ready to love and be loved... and fly into creating your best year ever!
WHAT WILL WE DO IN THE COURSE?
Map the neighborhoods of our hearts to see what is taking up space, weighing on us, needs some dusting off and love.
Easy exercises to create more space , lighten our heart's load, shine light on places that need attention, etc.
Identify the areas you want to work on -- healing, nurturing, creating a breakthrough if stuck, creating a more love-and-beauty-filled future.
Guided visualizations to bring you back to what really makes your heart sing.
Identify ways to add Inner Beauty to the areas that you say need your loving attention.
Breathing exercises specifically designed to add Inner Beauty.
Tips for easy ways to add Outer Beauty to your life - from the mundane to the exalted.
Learn how to easily create beautiful Sacred Spaces, Divine Moments in your home to inspire love in you and others.
WHY TAKE THE COURSE?
This course could be an ELIXIR for your heart if you have experienced any combination of these things over the course of these last few years:
Increased frustration
Feeling "meh" about life
Shorter temper
Lost friendships
More shut down emotionally
Generalized increased fear
Stuck, can't seem to bust a move in life
Increased anxiety or depression
A smaller life
Resignation
Feeling tapped out, nothing to give
Less fulfillment
Neglected dreams
Forgotten passions
Loss
Major milestones missed (births, weddings, funerals, graduations, etc.)
Grief
Hopelessness
Chronic illness
Fewer heart connections
Less fun
Missed opportunities
The feeling that your heart has less capacity to love and be loved, like you "just don't have it" in you anymore.
This course will shine light on the pieces of your heart that you identify as a little beaten up these past years, where we may have set aside the pain -- over and over, in some cases -- to just get through life.
We will explore ways to add INNER and OUTER beauty to our lives so that our hearts - and very likely the hearts of those around us - will feel more loved as well.Our hearts have been on the battleground, and as we start a new year, a heart that is more able to love + be loved could set you on course to fly like a Superhero in 2023!
WHEN?
This is a SIX session course held over a period of TWELVE weeks.
We meet every other Saturday starting on January 28, 2023.
The last session is on April 8, 2023.
Session Dates: January 28, February 11, February 25, March 11, March 25 and April 8, 2023
NOTE: If you cannot make one of the six (6) sessions -- no worries! You can view the course recordings for up to a year.
Check out more about Bridget Fonger + the Superhero of Love word: https://superherooflove.com.
Questions: bridget@superherooflove.com