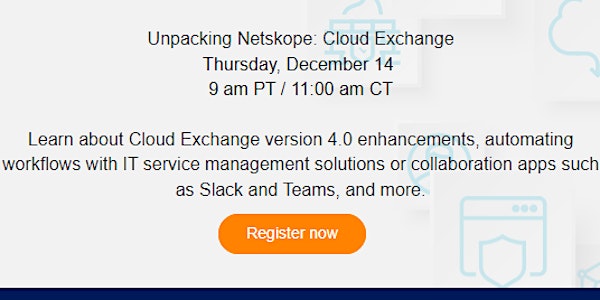 Unpacking Netskope: Cloud Exchange
Learn about integration tools to maximize your security investments
About this event
In this edition of the Netskope Unpacking Series, Senior Director of Product Marketing, Tom Clare, and Senior Technology Alliances Director, David Willis, talk Cloud Exchange. Cloud Exchange integrates with your existing security stack within the Netskope Cloud Security platform, has over 60 integrations with security partners, is fully enabled with Cloud Exchange modules to export logs, exchange threat intel IOCs, automate workflows, and share app and user risk scores with third party security solutions. All this plus, Cloud Exchange is complementary to Netskope customers.
In this webinar, Cloud Exchange version 4.0 enhancements will be reviewed and you'll learn more about:
Exchanging IOCs between endpoints, email security, SIEMs, and threat intel sources with Netskope.
Automating workflows with IT service management solutions or collaboration apps such as Slack and Teams.
Exchanging risk scores for apps and users across security solutions and assessment solutions.
Exporting logs to cloud storage, SIEMs, XDR, or MDRs for investigations and remediation.