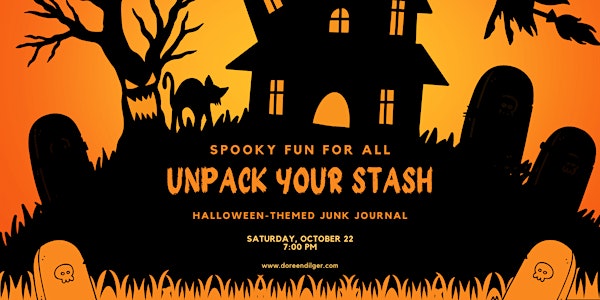 Unpack Your Stash
Unpack Your Stash! Creating Halloween-Themed Junk Journal Pages
About this event
Hey, there, fellow scrapbookers!
If you consider yourself a crafter, planner, scrapbooker, or creative, then, like most of us , you have a wide range of stash (aka supplies) sitting in your home. The challenge can be to get started and then to finish! Oh, and let's not talk about the mess we make while we create!! Ahh, the love of crafting!
I want to help you UNPACK YOUR STASH! Each month I provide a free online memory-keeping & journal-style class where I show you how to create beautiful, fun, and enjoyable spreads using your stash. I use a planner, traveler's notebook, and junk journal (notebook or mixed media book) to create my spreads. I hope you will join me!
Saturday, October 22, 2022, at 7:00 pm (EST) Unpack Your Stash; Halloween-Themed Junk Journal Pages. Do you love Halloween? You might not be actively going to Halloween parties or doing Trick or Treat, but you can still have fun by creating your own Junk Journal pages!
Material list: Use what you have...aka Unpack Your Stash! Mixed media, stickers, die-cuts, pattern papers, stamps, paint, colored pencils, magazines, newspaper, tags, tickets, etc. I print out personal photos either with my HP Sprocket or have them printed through Free Prints an online App. GATHER HALLOWEEN-THEMED MATERIALS
Come join us for a night of crafting! It's free!