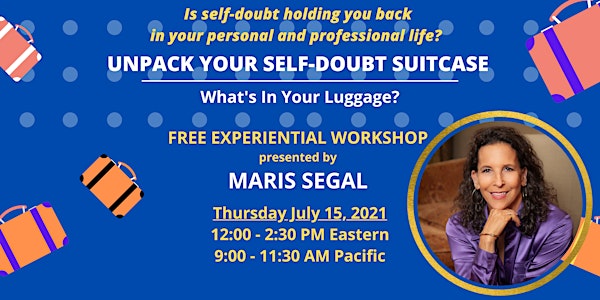 Unpack Your Self-Doubt Suitcase - Workshop presented by Maris Segal
What's in your luggage? Join Maris Segal for this FREE workshop exploring ways to lighten your load of self-doubt!
About this event
This is a workshop that you don't want to miss! We'll spend the time together having fun letting go of what may be holding you back and shifting mindset using 6 principles. We're human and we all can get stuck achieving our dreams because the weight of self-doubt slows us down...things which you may have carried with you since childhood.
Join me for this un-packing experience! I look forward to seeing you on July 15 - 9:00 AM to 11:30 AM Pacific 12 - 2:30 PM Eastern
Note: this workshop will be recorded for assessment purposes only!
Thank you!