Join Urban Nature Partners PDX for an evening of home style movies and stories from our Mentors, Mentees, board and staff!
About this event
Join us for a fulfilling 30 minutes of home style movies and stories centered around questions of equity in urban nature and advancing health equity through time spent outdoors.
Attendees will get to know our youth and team of volunteers and staff through a exquisite selection of home style movies and experiences put together just for this evening.
Learn about Urban Nature Partners PDX work for youth from historically marginalized communities in Portland, OR and how we adopted to not only continue our mentoring relationships and outdoor activities during the pandemic, but reach even more youth and restart our group outings in a new format.
The purpose of this event is to welcome people from all walks of life into our community, and the admission is FREE.
We submit that donations of any amount to support our youth-mentor pairs are greatly impactful and we appreciate every gift. This is a moving force behind everything UNP.
By contributing at any point prior or during the event, or choosing perks from our "Ticket" panel, you directly invest into the goals and outcomes of our program. Thank you for your solidarity!
Technical Information: the event will be hosted as Live on Facebook.
*Any and all proceeds from this evening will be doubled with support of the Collins Foundation matching donations and sponsorships 1:1*
This event is made possible with the support of the Arc'teryx Store in PDX, a global design company specializing in technical high-performance apparel, outerwear and equipment. Located on 605 NW 23rd Ave, Portland, OR.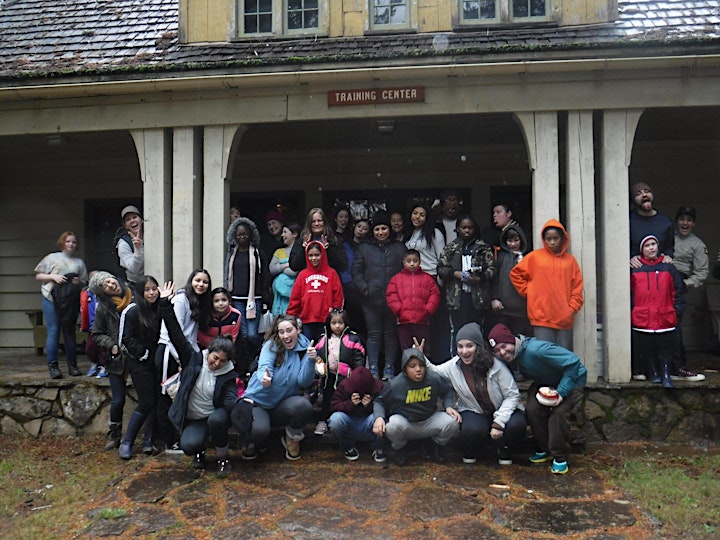 A group of Urban Nature Partners PDX youth and mentors is pictured together smiling and waving into the camera in front of the training center prior to a snow adventure at Gifford Pinchot National Forest in December 2019.
Date and time
Location
Refund policy