Unmute Yourself: Elevate Your Confidence, Courage and Clarity
Unmute Yourself: Elevate Your Confidence, Courage and Clarity to Amplify Your Career
About this event
Too many of us let self-doubt silence us and hold us back from going after what we want at work. We don't speak up, assert or insert ourselves into opportunities or interactions we want to be part of, and we don't ask for what we need or think or feel at work. As a result, many of us are on the brink of burnout and feel dissatisfied with and "stuck" in our careers in some way.
What if it didn't have to be that way? What if we could show up with greater confidence, courage and clarity and become our own biggest advocates in our careers, so we're more fulfilled and satisfied? It's possible!
If you...
Feel burned out, checked out or stuck and want more clarity and courage to advocate for themselves in their careers
Want to grow or advance in their careers (or help the people around them do that) but don't know how
Are looking to recalibrate and reset themselves personally and professionally so they focus on what matters most moving forward
...then this event is FOR YOU!
You can expect to:
Clearly identify and articulate your strengths to build your confidence
Tap into the power of curiosity to help yourself find greater clarity in your career
Activate your courage to speak up and ask for what you want and need at work so you're more fulfilled (and less resentful)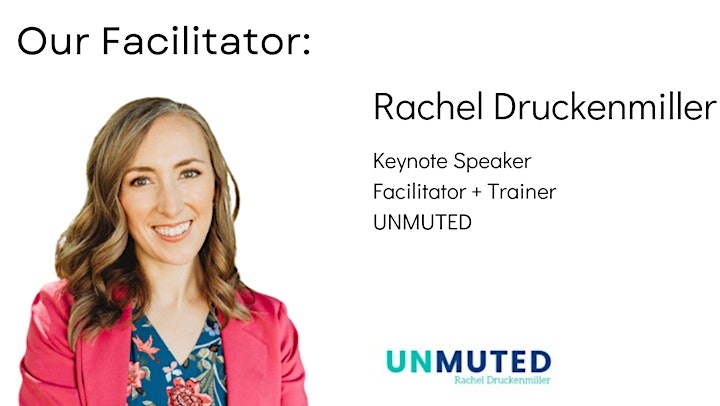 Rachel Druckenmiller is a catalyst who unleashes what's possible in people. She's on a mission to ignite resilience, connection, courage and compassion in organizations, leaders and teams. Recognized by The Daily Record as one of Maryland's Top 100 Women of 2022, Forbes as a Next1000 honoree in 2021, and a 40 Under 40 Game Changer in 2019, Rachel is a national thought leader in the field of employee engagement and wellbeing.
She has facilitated nearly 300 virtual learning experiences since March 2020 as a keynote speaker, workshop facilitator and leadership trainer. Rachel has spoken to leaders at a wide range of organizations, including Citizens Bank, Sherwin-Williams, the Federal Aviation Administration, the National Education Association and the American Heart Association. Follow her on LinkedIn, subscribe to her UnmuteYourself LinkedIn newsletter and learn more about her work on her website at www.UnmutedLife.com.