UNLV 2021 Online SUMMIT ON THE RESEARCH AND TEACHING OF YA LITERATURE
Summit on the research and teaching of Young Adult Literature: 3-day conference that is divided into two sections, research and pedagogy.
About this event
Aimed towards teachers, librarians, future educators, and readers, this conference provides three in-depth days of interactive breakout sessions to discuss teaching Young Adult Literature in Middle Level and High School classrooms. Additionally, this year's conference will include an elementary strand.
Are you interested in supporting reading and readers? Then this is for you. Earn a certificate for 15 hours good toward Nevada Department of Education licensure
For a more detailed description visit Dr. Bickmore's YA Wednesday Blog:
(http://www.yawednesday.com/2021-unlv-online-summit.html)
Featured Authors:
Jo Knowles (YA/Middle Grades)
Maria Padian (YA/Middle Grades)
Ellen Hopkins (YA)
K. A. Holt (YA/Middle Grades)
Sharon G. Flake (YA/Middle Grades/Children's)
Mitali Perkins (YA/Middle Grades/Children's)
A full conference schedule to be released electronically as the date approaches.
Ticket Packages Available:
$50 - Full registration for Presenters, Teachers, Librarians, or other interested adults (plus fee)
$40 - Full registration for Students (plus fee )
$30 - Follow Up PD Sessions Fall 2021-Spring 2022 (see details below)
Please note that no refunds will be given after purchase.
*If you are a CCSD employee see the note below.
Additional Conference Information:
Attendance Tracking
We will track attendance at each session. We are doing this in order to provide evidence of attendance.
Certificate of Completion Issues
Those who attend the general sessions, keynote speeches and, panels, and in a breakout session during 7 of the 10 breakout session groups offered will receive a certificate of completion that they can use for professional development purposes.
Looking Ahead:
Opportunity for a 3 credit UNLV wrap around graduate course
CIL 641 visit this Google link for additional course requirements and details.
Opportunity for follow up PD sessions Fall 2021-Spring 2022
Register to attend 6 professional development sessions focused on literacy, reading, writing, and YA and children's literature hosted by the College of Education Literacy other Zeiter Literacy Center affilitated faculty. The group of 6 sessions will cost $30. Additional details will be shared at the Summit. Purchase your ticket by selecting either PD-MS/HS Follow Up Sessions (Middle/High School focus)or PD-ES Follow Up Sessions (Elementary focus) and complete the Google Form here (https://forms.gle/KisLamJ6CMCBzbz68).
This is non-refundable through CCSD however it can count towards your CU credits. We welcome groups of teachers/librarians from the same school.
______________________________________________________________________________________________________
Please note that if you are a UNLV employee and using departmental funds, you may not use UNLV P-Cards through this site. Please contact Nanette Meyer or MaryEllen Ganny at maryellen.ganny@unlv.edu or nanette.meyer@unlv.edu to register and to coordinate registration payments via workday.
______________________________________________________________________________________________________
CCSD Reimbursement
*If you are a CCSD Middle or High School teacher or librarian you will be eligible for reimbursement of the core registration cost, but not the processing fee. You will have to attend a majority of the sessions and in each session fill out a brief google form that will verify and catalog your attendance and participation. The details of participation will be further developed. The main contact with CCSD will Amy J. Raymer, Coordinator IV, K-12 Literacy and Language Development Department, ramaeaj@nv.ccsd.net
It helps a great deal if you use your CCSD email to register!
To get started with the reimbursement process please fill this google doc form (https://forms.gle/sj8bPJjqxG7Xa8u46) so that we can make sure your name is in the right place.
Sponsored by the UNLV College of Education, the Department of Teaching and Learning, and the Zeiter Literacy Development Center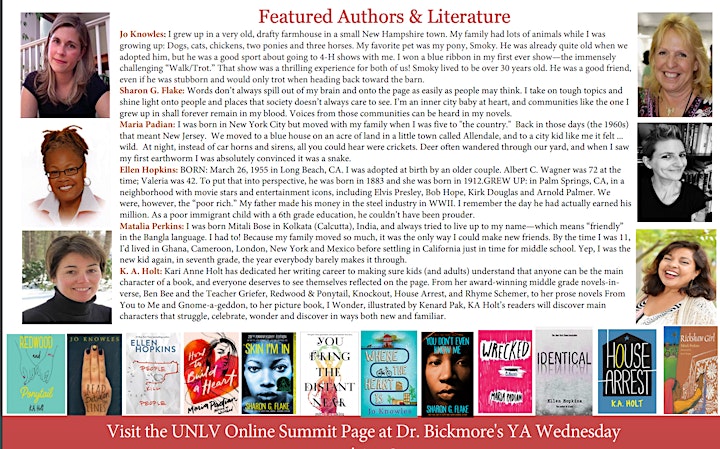 Organizer of UNLV 2021 Online SUMMIT ON THE RESEARCH AND TEACHING OF YA LITERATURE