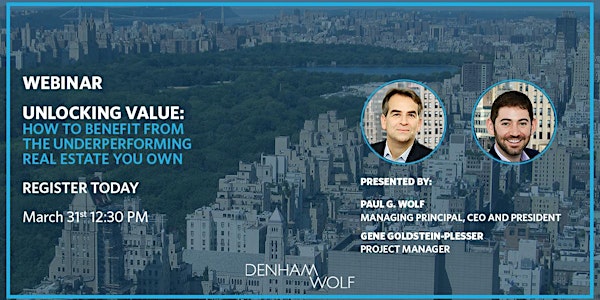 Unlocking Value How to benefit from the underperforming real estate you own
Register today for our webinar on March 31st, 12:30 pm – 1:30 pm. Our Principal and Director of Development Services, Paul Wolf, and Project
By Denham Wolf Real Estate Services, Inc.
Date and time
Friday, March 31 · 9:30 - 10:30am PDT
About this event
Unlocking Value: How To Benefit From The Underperforming Real Estate You Own
Date:
March 31st from 12:30 pm to 1:30 pm
About This Event:
Join Denham Wolf experts Paul Wolf, CEO, and Gene Goldstein-Plesser, Project Manager, on March 31st at 12:30 pm to discuss creative strategies for identifying opportunities to unlock value and structuring transactions that serve your mission.
Today nonprofits who own real estate are struggling with increased operating costs, higher interest rates, greater demand for social services, decreased philanthropy, shrinking endowments, and for some, diminished earned income. In this environment, nonprofits need their real estate to do more than just house their programs.
Location:
Online Webinar
About Denham Wolf Real Estate Services:
At Denham Wolf, we are committed to the nonprofit community and are tenacious in our efforts to gain a competitive advantage and build capacity for these organizations.
About the organizer
An essential resource for the nonprofit community in New York City and beyond, Denham Wolf Real Estate Services provides expertise in transactions, development, and project management. Through these integrated services, we empower clients to take a thoughtful, mission-first approach to real estate, thereby creating stronger and more sustainable organizations. Denham Wolf has partnered with hundreds of nonprofits since its founding in 1998, shaping millions of square feet. 
We believe an organization's mission and programs should drive real estate projects, and this principle guides everything we do. For more information, visit www.denhamwolf.com