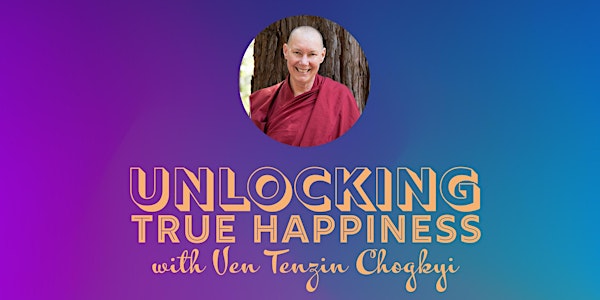 Unlocking True Happiness
This is an opportunity for newcomers and old friends to explore the Buddha's teachings as they are applied in our daily lives.
About this event
Unlocking True Happiness topics combine ideas from Buddhism with those from the fields of positive psychology, Western philosophy, and current events. People from all faiths and backgrounds can apply the principles explored in this series to enhance their lives. Examples of topics we will explore in this series are gratitude, forgiveness, self-compassion, the emotion of "elevation," myths about happiness, and much more.
Ven. Tenzin will introduce the topics and lead brief reflection meditations. Participants will be invited to join in discussion, asking questions, and sharing experiences.
Drop-in on any session. No background required – just come with an open mind. All are welcome!
All sessions are offered online via Zoom.
Pay It Forward
Ven. Tenzin Chokgyi's Unlocking True Happiness classes are a labor of love and she would love to continue to find ways to offer these teachings to everyone, regardless of socioeconomic status. Beginning in August 2021, these teachings will be offered on a "Pay It Forward" model – others have provided the means for you to access the teachings through their financial support, and if you would like for these teachings to continue in the future, consider "paying it forward" by making a donation to support future students' access to the teachings. If her labor of love enriches your life in any way, please consider offering for the benefit of all. Reliable monthly donations provide Ven. Tenzin with stability and enables her to focus her attention on offering innovative and powerful programs.