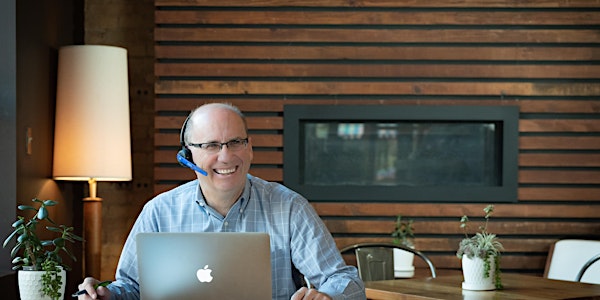 Unlocking LinkedIn's Corporate Marketing & Recruiting Potential (Zoom)
Discover simple strategies for using LinkedIn to achieve greater corporate marketing and branding success and recruit top talent—for free
About this event
**Registered participants will receive a recording of this session.
Unlocking LinkedIn's Corporate Marketing & Recruiting Potential  
Do you think LinkedIn is only for individuals?  Well, think again!  Smart companies are using LinkedIn to: 
Promote their products and services
Demonstrate their thought leadership
Increase their visibility in the marketplace
Build a community of followers 
Recruit the best talent—with little or no expense
Let LinkedIn expert Wayne Breitbarth show you how investing in your company's LinkedIn presence will lead to greater marketing and branding success.
And because Wayne has hired hundreds of people, from entry level to senior executives, during his forty years in business, he is perfectly positioned to show you how to use LinkedIn to recruit and hire top talent for your organization.
In this class you'll learn how to:
 Build a LinkedIn company page that will attract maximum attention
 Drive more potential customers to your company's website
 Effectively share company news with your LinkedIn audience
 Implement the best practices of LinkedIn's most successful corporate users
 Gain a competitive advantage over other companies in your marketplace
 Execute a highly targeted LinkedIn recruiting strategy
Who Should Attend?
Attendees should have at least a basic understanding of LinkedIn and other social media platforms and could include any of the following:
Persons responsible for the overall marketing and branding efforts of an organization
Persons responsible for finding and recruiting new employees
Company owners and top-level executives responsible for sales, marketing, and branding initiatives
Don't miss this opportunity to jump-start your marketing and recruiting efforts and make this a year to remember.
Check out other classes in Wayne's Ultimate LinkedIn Masterclass Series:
Using LinkedIn to Generate a Steady Stream of Sales Prospects
Leverage LinkedIn for Your Job Searching During the Pandemic
Praise for Wayne's seminars... 
"If you're trying to figure out how to leverage Linkedin for your company, this course [Unlocking LinkedIn's Corporate Marketing & Recruiting Potential] is an awesome guide. Wayne does an exceptional job of explaining how to use a combination of individual employee profiles and company/product pages to improve your company's branding and sales opportunities on Linkedin."
"Your seminar wrapped up all those dangling questions I've had and sold me on it." 
"Your presentation was inspiring, motivating, and very compelling!"
"Experiencing Wayne's class was like my first trip to Disney World. Eyes wide open and jaw dropping with everything I was learning on how to use LinkedIn to promote my company. I would highly recommend Wayne's LinkedIn training if you're interested in taking your company to the next level."
"He is the LinkedIn master.  He explains the WHY and STRATEGY behind using LinkedIn to truly be effective. Finally, it really doesn't hurt that Wayne is an incredibly talented and entertaining presenter. If you haven't seen him yet, you need to!"
"He engages the audience and keeps them wanting more. His anecdotal stories are so sound and so enjoyable. He is an expert on LinkedIn on how to use it as a timely networking tool."