Description
Have you ever seen a great speaker and thought "I'd love to be able to do that"?
Are you ready to take your public speaking skills to the next level?
Would you like to get in front of more audiences who could benefit from your services?
It simply comes down to knowing how you can create better connections with your audience.
Learn how to engage your audience (and prospects) so that they truly 'get' what you do and how you can help them. So that they rave about you - and you never have to worry about your presentations again.
I know you are attracted to this page for a reason and that is to find out how to do that. I would love to teach you in my half day workshop.
These are the most common problems I hear from business owners:
I'm sick of feeling nervous before I have to speak in public
I'm time poor and don't have time to prepare a presentation from scratch
I feel overwhelmed and don't know where to start with preparing a speech
I want to build my business, and know that speaking is one of the quickest ways
I want tips on how to increase confidence to command the stage (stagecraft)
I have spoken before, could do with a 'refresh' on the latest speaking skills
I'm lacking the resources to craft that signature speech that I will be known for (even though I know I need to do it!)
That's why I created my half day workshop!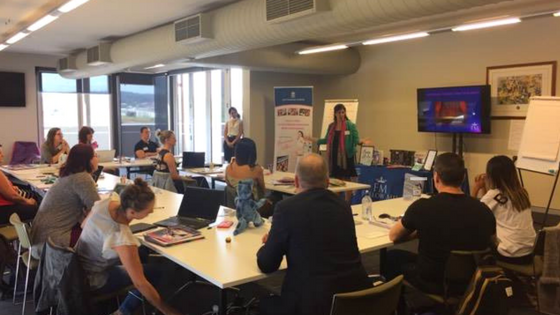 I'M GOING TO SHOW YOU TIPS AND TRICKS ON HOW TO:
Master your Speaking Mindset
Kill your fear and nerves
…all while having FUN.
(yes you read right, public speaking can be fun!)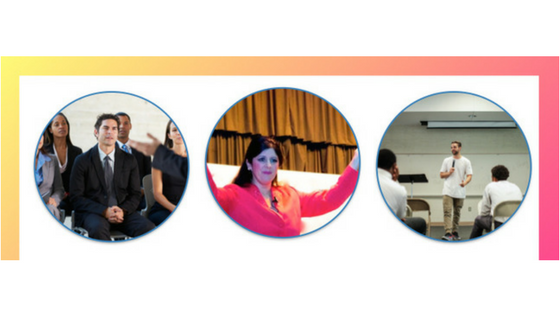 As a result, you are going to save time, money and stress that is too often experienced with public speaking.
You will walk away with:
1. STRATEGIES TO ENGAGE YOUR AUDIENCE
Learn how to make your presentations more interactive, engaging and FUN! Rather than talking at your audience, create an experience for them with your content. Don't simply inform, transform your audience! After all, don't you want your audiences to walk out feeling engaged, energised and elevated?
2. THE SECRETS TO SPEAKING SUCCESS
Find out the secrets used by the speaking greats! Wouldn't it be nice to know how you can say good riddance to those nerves (for good), get clarity with your content and create stories that will be mouthwateringly good - so that your audience can feel the emotions?
3. THE 3 VS TO VOCAL VICTORY
Discover how you can maximise the impact of your most powerful tool, your Voice. Also how to unlock the key to understanding your audience - so that you can create better connections. And how to bring out more You on stage - so your audience can fall in love with you.
This workshop is ideal for entrepreneurs and small business owners who:
> want to engage, energise and elevate their audiences through public speaking
> value the need of their customers and want to connect on a deeper level with them when speaking
> know they are the face of their business and recognise speaking is the BEST way to reach potential clients
> want more (unlimited) speaking gigs
> are lacking time and resources to focus on the above
Here's what some of my clients have had to say:
"I can say without doubt Anna is a true inspiration of confidence and beliefs. Her presentation abilities and leadership knowledge shine through with passion and charisma. Magical traits are hard to find, Anna has them. Thank you Anna keep up the excellent work and beliefs."
"Anna is an amazing teacher and a delightful person. I am so glad I had the opportunity to work with Anna. She is a fantastic coach in presentation skills."
"Having engaged Anna Perdriau as my speakership coach, I highly recommend her to anyone wanting to take their speakership to the next level. In the process of crafting my keynote, Anna assisted me to see new possibilities and illuminated my blind spots."
Here is what people are saying about the Unlimited Speaking Workshop!!
Please click the link to view testimonials:
https://www.youtube.com/watch?v=-pBiJJtVy1c&t=41s
Can you really afford to be losing audiences and potential business by missing this workshop?
For a small investment of $47 you will learn how to engage, energise and elevate your audiences and increase your speaking opportunities – which will pay itself off.
When:
Tuesday 10th April, 9:30am – 1:30pm
Where:
Bligh Room
Club York, Level 2
95-99 York Street, Sydney CBD
Other Details:
BY TRAIN
Get off at Town Hall Station
Take the QVB exit
From inside QVB, take the York Street exit
BY BUS
There are bus stops along Clarence Street (behind the Club) and in York Street. Buses travelling to the City via the Harbour Bridge will stop on York Street. Buses exiting the city via the Harbour Bridge will stop on Clarence Street.
BY CAR
Our car park (operated by Secure) is located at 168 Clarence Street. There is direct access to the Club via this car park.
Please see the website to view the Parking Rates - http://clubyork.com.au/about/about-us/
Investment: $47
Book in for my workshop today and start creating and SMASHING your presentations.
I can't wait to meet you!
Anna Perdriau
The Speaking Stylist