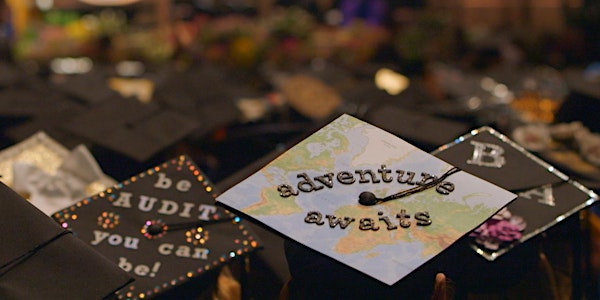 UNLIKELY Film Premiere and Celebration of Our Students!
When and where
Location
Akron Civic Theatre 182 South Main Street Akron, OH 44308
Description
Join us for an evening of film, food, music, and conversation celebrating the Akron education community!
Over the last 3 years, Los Angeles-based filmmakers Jaye & Adam Fenderson spent hundreds of hours filming a new documentary about educational attainment, with a focus on five U.S. cities—including Akron. After meeting so many incredible people and filming the landscapes and architecture of the city, the filmmakers fell in love with the town.
Now, with the film completed and set to premiere at the renowned Napa Valley Film Festival, Jaye and Adam wanted to bring the documentary back to Akron and share it with the community.
We are so grateful for the generous support of the GAR Foundation, Burton D. Morgan Foundation, The University of Akron, and Huntington-Akron Foundation, as well as the partnership of ArtsNow and Akron Civic Theatre.
After the filming, we will also engage in a conversation about the future of education in Akron with the following expert panelists:
Moderator: Amani Abraham
Panelists
David James
Superintendent
Akron Public School
Jolene A. Lane
Chief Diversity Office and Vice President Inclusion & Equity
The University of Akron
Clarissa Santana
Adult Focus Student/Unlikely Cast
The University of Akron

Derran Wimer
Executive Director
Summit Education Initiative
Adam & Jaye Fenderson
Directors & Producers
Three Frames Media
ABOUT 'UNLIKELY':
Watch the trailer at UnlikelyFilm.com
Set in the cities of Akron, Atlanta, Boston and Los Angeles, five individuals failed by America's higher education system fight for a second chance at opportunity. In Akron, we follow two students who, with the help of the community, find their way.
In the U.S., less than 50% of students who start college ever finish, making America's college completion rates among the worst in the world. Now there are more than 35 million Americans who started college but never finished, leaving them saddled with debt, and behind their peers in earning power. Featuring interviews with LeBron James, Howard Schultz, and our nation's leading voices in education, this penetrating and personal new film investigates America's college dropout crisis through the lives of five diverse students as they fight for a second chance at opportunity and highlights the innovators reimagining higher education for the 21st century.
DIRECTORS:
Jaye and Adam Fenderson
DIRECTORS' BIO:
Husband & wife filmmaking team, Adam and Jaye are the founders of Three Frame Media and producers of the award-winning documentary film First Generation. With a combined 25 years of film and television experience and credits spanning acclaimed shows for NBC, MTV, Lifetime, Discovery, ABC Family, E!, CNBC, and Spike, the Fendersons are passionate about harnessing the power of media to advocate for issues of social justice and mobilize audiences to effect change.
PRODUCERS:
Jaye and Adam Fenderson
EXECUTIVE PRODUCER:
Christopher Gebhardt