Description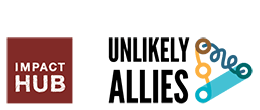 Implementing change requires a constant infusion of new ideas and differing perspectives. It's through these collaborations that lasting change can benefit local and global communities. In this spirit, Impact Hub DC's new Unlikely Allies series gathers leaders from different sectors to discuss issues in need of innovation. Each month, panelists and the community will discuss ways to collaborate on issues of sustainability, creative innovation, financing social change, and community impact. Policy makers and hackers, investors and artists, corporate innovators and activists, all focusing their talents to make a difference.
Join October's conversation as we discover how we can work together to ensure that all of DC's residents have access to affordable transportation options. This event is free for Impact Hub members. Contact events@impacthubdc.com if you qualify for a complimentary ticket given based on need.

AERICA SHIMIZU BANKS
PATENT POLICY ANALYST • GOOGLE
Aerica Banks is a patent policy analyst in Google's DC office. Additionally, she participates in the Diversity Core program, where she spends 20% of her time engaging black small businesses and entrepreneurs in DC as the Diversity Markets Partner Liaison.
Previously, she was a political appointee in the Obama Administration and worked in government relations for The Pew Charitable Trusts. She holds a MSc in Environmental Policy from Oxford University and a BA in Environmental Studies and Public Affairs from Seattle University.

GREG BILLING
EXECUTIVE DIRECTOR • WABA
Greg Billing is the Executive Director for the Washington Area Bicyclist Association, a regional advocacy and education non-profit membership organization in the Washington, D.C. area. Greg has been with the organization for more than six years, most recently as the organization's Advocacy Coordinator. During his tenure, Greg led WABA's transition to "bicycling for all" advocacy, which focuses on inclusive, comfortable and safe infrastructure and public policies to support growing ridership. Prior to WABA, Greg has worked in marketing for Cornell Outdoor Education and Finger Lakes ReUse in upstate New York and as an wilderness instructor with Outward Bound in Minnesota, Maryland and Pennsylvania. Greg holds Bachelors of Science in Communication from Cornell University with concentrations in technology and sustainability.

SHANAZ CHOWDHERY
REGIONAL DIRECTOR • GENERAL ASSEMBLY
Shanaz Chowdhery is the Regional Director, Washington DC for General Assembly – the leading global education company specializing in today's most in-demand skills – where she oversees the Washington DC campus' strategy and operations including admissions, courses, classroom experience, events, marketing, expansion, and instructional quality. Prior to joining General Assembly in 2014, Shanaz was a Teach For America corps member teaching math to 5th and 7th graders in Ward 8 of Washington, DC. She earned her B.A. in Sociology with Honors from Yale. A lifelong learner, she is also a graduate of General Assembly's Front-End Web Development course and JavaScript Development course.

TONY HUDGINS
DC CITY MANAGER • TRANSITSCREEN
Tony is a life-long resident of the DMV, born in DC, raised in Reston, and now living in Columbia Heights. He began his career as a lawyer practicing with the Arlington County Attorney's Office. He then joined the Arlington County Commonwealth's Attorney's Office as prosecutor where he enforced the Commonwealth's laws protecting Arlington residents for 9 years. He eventually left practicing law for good to pursue an entrepreneurial opportunity in hospitality. He and a friend partnered to open several bars and restaurants in DC and Arlington, VA.
Most recently, Tony's deep interest in how technology could make people's lives better as well as grow the local economy led him join two startups, Main Street Genome and TransitScreen. He's always viewed transportation, along with access to it, as a primary growth driver for cities and a way to better serve residents. With TransitScreen he leads their sales operations and acceleration strategies.

EMILY SLADEK
RESEARCH ASSISTANT • DEMOCRACY COLLABORATIVE
Emily joined the Democracy Collaborative in November 2015 as Research Assistant working with the Community Wealth Building program. Specifically, she focuses on universities as engaged anchor institutions and researches innovations in community ownership and investing. Her background is in research and evaluation for academic bridge programs (Department of Education TRiO) as well as the Gateways for Incarcerated Youth (Gateways) program, which provides education pathways to youth in the juvenile justice system. Emily collaborates with communities to collect culturally relevant data that strengthens organizational and policy development. Most recently, she interned with the Peace Economy Transitions program at the Institute of Policy Studies identifying best practices to convert the defense industry to more community-determined economic models.

ERIC B. RICKS
ARTIST
Originally from Monrovia, Liberia West Africa, Eric B has been residing in the United States with his family as political refugees since 1990. He completed high school at Quince Orchard High where he was first introduced to traditional photography and the dark room. He then briefly pursued photography at Montgomery College but feeling a strong calling to Hip Hop music and the Graffiti Street Art scene, he committed his life to their pursuit. Later he was introduced to and explored many other forms of artist expression such as traditional painting (acrylic and oils), collage, sculpture, fashion design, book making, interior design and remolding. Seeing himself as a life long student, art and creative expression have been the central forces that have lead him to a path of spiritual awareness and self enlightenment. As a child of war and having witnessed the destructive side of mankind, Eric B uses Art as a source to spread Hope, Change and Love. Art is the thread unique to the human animal that binds and heals mankind of its' diseases of hate and the illusion of separation that we are born into.