Description
Unleash Your Inhibition | Vocal Exploration through the Crown Chakra is the final workshop in the Chakra Series.

Unleash your Voice - Chakra Series is a community offering that explores the Chakra system using sound, voice & improvisation. Your participation is essential in co-creating the experience.

Join us as we elevate our vibration, bathe in sound, and connect to our own inner divinity through the voice. No music or singing experience necessary. Don't worry if you haven't been to the previous workshops, this one stands alone. No music or singing experience is necessary.
> > > Mark your calendar > > >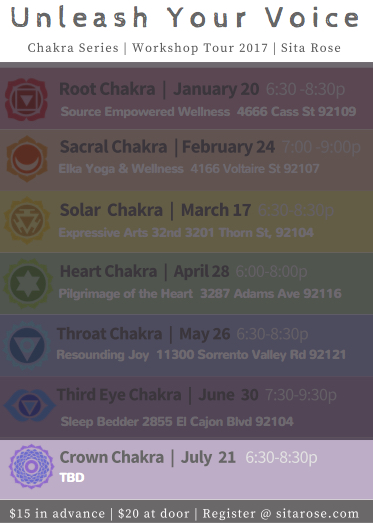 > > > About the facilitator > > >
Sita Rose draws from different world traditions, rituals, kirtan & yoga practices-- plus over 6 years experience facilitating group classes as a board certified music therapist. LEARN MORE www.sitarose.com
> > > This is ideal for those of you who > > >
Seek a deeper understanding of your voice and its expansiveness

Are looking to expand your toolbox for inner awareness of mind-body-spirit

Get energized by participating in community music collaborations

Wish to raise your inner vibration and promote soul level healing

Long for a space to tune into vocal/sound creativity without judgment or expectation.
> > >Join us for an evening of > > >
Sound Healing Meditation - Connection to Source ::: w. SPECIAL GUEST: Kerem Brulé

Sound play and vocal exercises themed by our divine oneness


> > > About Kerem Brulé? > > >
Kerem Brulé is a sacred sound musician from San Diego, creating deep diving, live layered soundscapes to support transformation, relaxation, and peace. She weaves together beautiful melodic and drone instruments, live vocal looping and ethereal electronic and nature elements to provide a spacious and dynamic soundscape to journey further into one's subconscious and witness what; is revealed. Learn more: www.kerembrule.com visit her shop: Beautiful Sounds: www.beautifulsounds.shop
> > > What are Chakras? > > >
Chakra is Sanskrit for wheel or disk. There are 7 major energy centers in your body, which align the spine, starting from the base of the spine through to the crown of the head. These swirling wheels of energy correspond to massive nerve centers in the body. Each of the seven main chakras contains bundles of nerves and major organs as well as our psychological, emotional, and spiritual states of being.

($15 in Advance | $20 at door)
REGISTER ONLINE @ unleashyourvoice.eventbrite.com