Description
Unleash your Voice - Chakra Series is a community offering exploring the Chakra system using sound, voice & improvisation. Your participation is essential in co-creating the experience.
> > > How it works > > >

Over the course of 7 months (Jan-July 2017) we will gather at different spaces around San Diego around the time of each new moon. These live experience will go deep into each chakra by clearing stuck energy associated within the center. Participants may join for one session, all 7 or any combination in between. No music or singing experience is necessary. Instruments are welcome but there will be an emphasis on using your voice for healing.
> > > Mark your calendar > > >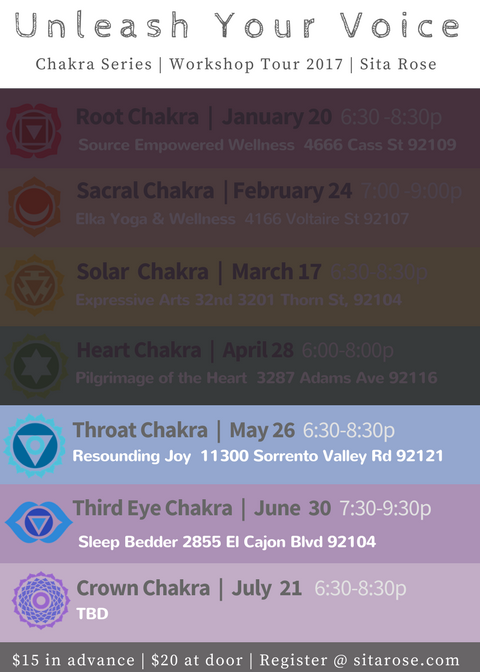 > > > About the facilitator > > >
Sita Rose draws from different world traditions, rituals, kirtan & yoga practices-- plus over 6 years experience facilitating group classes as a board certified music therapist. LEARN MORE www.sitarose.com
> > > This is ideal for those of you who > > >
Seek a deeper understanding of your voice and its expansiveness

Are looking to expand your toolbox for inner awareness of mind-body-spirit

Get energized by participating in community music collaborations

Wish to raise your inner vibration and promote soul level healing

Long for a space to tune into vocal/sound creativity without judgment or expectation.
> > >What we'll cover > > >
Guided meditations

Chants to align body

Vocal exercises corresponding to each energy center including; modal scales, elements, seed sounds and more.

Sound play
Friday Evenings 2017 JAN - JULY
$15 in Advance | $20 at door