Unleash Your Power Brain with Ilchi Lee and Dave Beal
Description
A Workshop and Book Launch of The Power Brain: Five Steps to Upgrading Your Brain Operating System
Join New York Times bestselling author and Sedona local Ilchi Lee for the launch of his thirty-ninth book, and experience his innovative methods for making your brain a Power Brain—creative, productive, and peaceful. Mr. Lee's talk will be preceded by a talk by Dave Beal, Program Director & National Trainer of Power Brain Education, which has helped over 350 schools and counting incorporate Ilchi Lee's Brain Education methods into their curriculum and culture. Mr. Beal will lead Brain Education exercises that will help your brain be more calm, creative, and focused. This workshop will help you feel the full potential and power of your brain. Come away empowered with more hope for yourself and the world.
Admission fee includes a copy of The Power Brain!

For more information, call the Sedona Meditation Center at (928) 282-3600.

You Can Expect:

To sense your brain's limitless potential

To try exciting, fun brain exercises and games

To get a copy of The Power Brain

To learn the steps and insights to life mastery

To feel refreshed and hopeful
The Speakers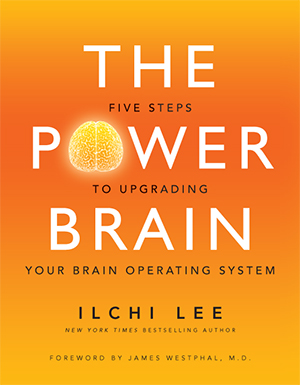 About The Power Brain
Recognizing the potential in our brain beyond what we've been able to use so far, Ilchi Lee began investigating brain development principles and methods more than 30 years ago. He compiled them into a comprehensive self-development system with five steps called Brain Education. Refined over the years by new scientific research and the experiences of those who use it, Brain Education has become an academic discipline that's presented in a variety of ways, including school educational programs and corporate training. The Power Brain: Five Steps to Upgrading Your Brain Operating System is a user's manual that describes how to use your brain to discover your value, recreate the story of your life, and claim a new destiny. Improving our lives, and consequently, our world, through brain development is a skill that anyone can understand, practice, and apply to everyday life.

About Ilchi Lee
Ilchi Lee is an impassioned visionary, educator, mentor, and innovator who has dedicated his life to developing and teaching methods to nurture the full potential of the human brain, particularly Body & Brain Yoga and Brain Education. Author of 39 books, including the New York Times bestseller, The Call of Sedona, he is also a well-respected humanitarian who has been working with the United Nations and other organizations for global peace. He founded and is president of the International Brain Education Association, which holds special consultative status with the United Nations, as well as the Korea Institute of Brain Science (KIBS), the University of Brain Education (UBE), the Global Cyber University, and the Benjamin School for Character Education. For more information about Ilchi Lee, visit www.ilchi.com.
About Dave Beal
Formerly a New York City public school teacher, Dave Beal is the Program Director and National Trainer for Power Brain Education, and has spent the last eight years training thousands of educators, administrators, parents, and students to utilize their fullest brain potential through Brain Education. Dave has led experiential Brain Education sessions and lectures at the United Nations, as well as multiple workshops for CSA and NYCESPA, the New York City principal's unions. Learn more about Power Brain Education at www.PowerBrainEducation.com.