Description
Unveiled Beauty: Cultivating YOU! is an empowerment series created from the mission of the presenting sponsor Fashion Meets Poetry - "To create an empowering space for women to embrace the journey of life and the beauty of oneself through storytelling, knowledge and sisterhood."
There is nothing more inspiring than hearing women share their stories of courage and strength – everyday women, just like us. The speakers in this series will provide attendees with messages of hope, life lessons, knowledge and tools to help embrace our own beauty and bravery. Attendees will leave feeling empowered and confident meanwhile developing a deeper connection with their own stories. We invite you to learn about this event via the description below, or learn more about other events in the series at www.fashionmeetspoetry.com: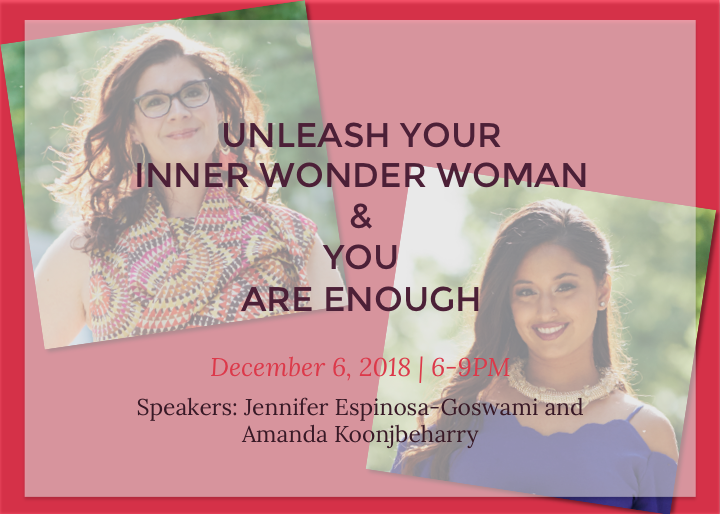 UNLEASH YOUR INNER WONDER WOMAN by Jennifer Espinosa-Goswani
When was the last time you used your superhuman powers to conquer your life? Diana Prince, aka Wonder Woman, is not the only female superhero in town. We possess extraordinary strength and power to create positive and healthy changes and far too often prioritize most things above our own self-care. Jenn is proof that we can conquer anything. After her beloved grandmother passed away from heart disease in 2001, Jenn took control of her life and embarked on a remarkable 100-pound weight loss journey – unleashing her inner Wonder Woman. In this powerful session, Jenn shares her story, uncovers the mystique behind Wonder Woman, and helps us all unveil our superhero strength and unleash our goddess-like legacy. You are more powerful than any fierce warrior princess!
Learn more about speaker Jennifer Espinosa-Goswani -
Jennifer is a wellness speaker, health coach and founder of Weightless, a lifestyle blog and coaching business that empowers women to lose weight and achieve body bliss. After earning two bachelors degrees from the University of Minnesota, Jenn spent over 15 years as a certified fraud investigator and later received a masters in leadership from Augsburg University. In recent years, she began sharing her personal weight loss journey to help women accept and appreciate a healthier and stronger body. Jenn has been featured in Women's Health, Prevention, Reader's Digest, First for Women magazine, and Fox 9-KMSP.
YOU ARE ENOUGH by Amanda Koonjbeharry
Racism. Sexism. Domestic Violence. These are words that infiltrate our culture yet, we tend to dismiss the profound impacts they have on our identity and how they shape the women we become. Growing up as a second generation, American Guyanese living in a small Midwestern town, Amanda experienced all of this first-hand. As a woman, a person of color and survivor of domestic violence, it was difficult to embrace her inner worth and know that she is enough. In Amanda's captivating talk, she walks you through her story and shares lessons learned on how to embrace your whole self, release the need to fix things for others, and realize our worth as we strive to live an empowering life.
Learn more about speaker Amanda Koonjbeharry -
Amanda is a director at Hennepin County coordinating anti-sex trafficking efforts and the co-founder of the People of Color Employee Resource Group. Amanda's career is rooted in social and racial justice and she holds several degrees from the University of Minnesota: a bachelors in family social science, and two masters in social work and public policy. As a millennial and a woman of color, she proudly serves under-represented and marginalized communities for the Domestic Abuse Project, New Leaders Council, Women Winning, and West Indian Network. Recently, Amanda was named 40 Under 40 by the Minneapolis/St. Paul Business Journal.
Every event has something unique to offer and you don't want to miss any of them!
Each event includes:
2 Inspirational Speakers
FREE Beverages and Hors d'oevres,
Beauty Experience provided by Intelligent Nutrients
Fashion and Beauty Segment by local stylist, Tressie Schneider
Poetry Reading
Community Networking
VIP ticket holders receive a FREE empowerment gift with their purchase.
Women ONLY. Advanced ticket purchase required to attend.
Onsite and street parking available.