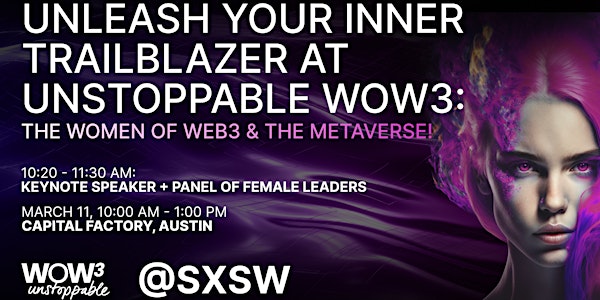 Unleash Your Inner Trailblazer with Unstoppable WoW3 @ SXSW
Join us for networking, drinks and Web3 sessions at our Unstoppable WoW3 1 year anniversary brunch.
By Unstoppable Women of Web3
Date and time
Saturday, March 11 · 10am - 1pm CST
Location
Capital Factory 701 Brazos St Austin, TX 78701 United States
About this event
Join us as we celebrate a year of empowering women in Web3 at our anniversary brunch on March 11 at Capital Factory during SXSW.
From 10:00 am to 1:00 pm, be inspired by some of the industry's leading female game-changers and connect with like-minded visionaries in a relaxed setting. With education, networking and active help at the forefront, this is your chance to be part of a powerful movement dedicated to making Web3 accessible to everyone. Don't miss this opportunity to elevate your Web3 experience and join the Unstoppable Women of Web3 community!
Keynote Speeches:
Trailblazing in the Web3 and Metaverse Space, Sarah E. Endline, CEO & Chief Rioter, RIOT Strategic Advisory
The Metaverse Mindset for Web3, AI and the Future of Business, Sandy Carter, CEO and Founder of Unstoppable Women in Web3, COO, Unstoppable Domains
Panel: How to Shape Web3 and the Metaverse: Perspectives from Leading Game Changers
Panelists:
Greg Kahn, CEO, GK Digital Ventures, President & CEO, Emerging Tech Exchange
Michelle Abbs, CEO and Founder of Web3 Equity
Tara Fung, CEO and Co-Founder of Co:Create
Our event is being held at Capital Factory, please register for a free General Admission Programming ticket through them. This will grant you access to our event, and the rest of the events held during CF SXSW.
https://www.eventbrite.com/e/capital-factory-house-sxsw-2023-tickets-475948353337
About us: Unstoppable Women of Web3 is a diversity and education group focused on training the next generation of talent to ensure Web3 is accessible for everyone through education, networking, and active help.