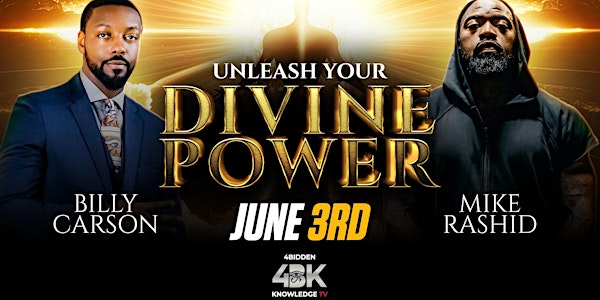 UNLEASH YOUR DIVINE POWER by Billy Carson and Mike Rashid
UNLOCK YOUR DIVINE POWER taught by Billy Carson and Mike Rashid
Date and time
Saturday, June 3 · 12 - 5pm PDT
About this event
The Divine Rites of Passage For The Modern taught by Billy Carson and Mike Rashid. The Dangerous Gentleman's Academy is the antidote to the mediocrity of the modern man. The entities that hold positions of power in society has stripped the power and divinity from men over time, to keep their positions safe and uncontested. Man's birthright is divinity. It's to purify our physical vessels, and create heaven for ourselves and the people that we love and protect. It's to grow wise with age, and strive to ascend to self mastery. Our workshop is the first of many, and it will plant the seeds needed for a proper rights of passage for men. Masculinity is basic, Divine Masculinity is Godly. Our workshop will help you tap into your God frequency. Men who walk into their divine nature has certain things in common... Confidence, passion, their life's mission is outlined, they are successful in this material world, and they are powerful in the spiritual realm. Expect to be challenged, and enlightened in this workshop that has been prescribed from the divine source.
Mike Rashid is an entrepreneur and fitness enthusiast. His journey started at age 12 as an amateur boxer. He went on to win several bronze gloves, silver gloves and 2 National Golden Gloves which are some of the highest accolades in amateur boxing. From boxing he got into bodybuilding. Competed from 2012 to 2014. Then began powerlifting. He won his division (220lbs) at the invite only Boss of Bosses meet in August of 2015.
He started his supplement company IMSOALPHA.COM in 2013, and took it to a multimillion dollar company within 2 years, with no advertisements other than social media and word of mouth. He also launched his fitness/lifestyle apparel company The Alpha Academy in 2014, and has quickly taken that to over 1 million in sales the first year. He launched a multi media company called Interstellar Media with his long time friend and business partner Matt 'Marz' Marzulo.
He has a YouTube channel in which Google has placed in the top 3% of fitness channels, however his channel transcends just fitness it also includes motivation, wisdom and advice.
Mike Rashid is moving with the force of a Mack truck making his presence felt in the world of fitness as well as business.
Billy Carson is the founder and CEO of 4BiddenKnowledge Inc, the Best Selling Author of The Compendium Of The Emerald Tablets and Woke Doesn't Mean Broke. He is also the winner of the 2022 Stellar Citizens Award.
Mr. Carson is also the founder and CEO of 4BiddenKnowledge TV, a new conscious streaming TV network, and the Co-Host of Bio-Hack Your Best Life, He also is also a writer and contributor Rolling Stones and Entrepreneur magazines.
Mr. Carson appreciates the dedication and hard work it takes to accomplish great things. Recently, Mr. Carson earned the Certificate of Science (with an emphasis on Neuroscience) at M.I.T. and has a certificate in Ancient Civilization from Harvard University. Among his most notable achievements, Billy is the CEO of First Class Space Agency based in Fort Lauderdale, FL. Specifically, his space agency is involved in research and development of alternative propulsion systems and zero-point energy devices.
Frequently asked questions
Can I watch this later if I can't see it live?
About the organizer
Billy Carson is the 'Best Selling' author of 'The Compendium of The Emerald Tablets.' Carson and the CEO of 4biddenknowledge TV. Mr. Carson is also an expert host on the new original streaming series by Gaia named Deep Space. The series is an exploration of the "Secret Space Program" and the types of technologies being used along with their potential origins. Carson is also an expert host on Gaia's original series, Ancient Civilizations. A team of renowned scholars has come together to decipher the riddle of our origins and piece together our forgotten history found in monuments and texts across the world.