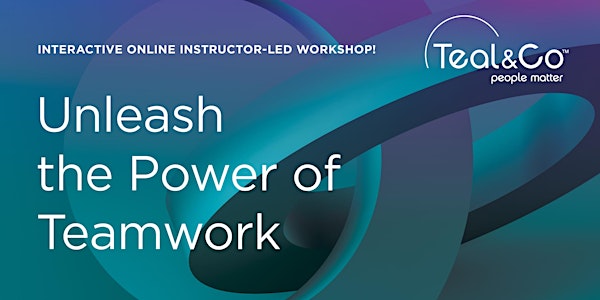 Unleash The Power of Teamwork Workshop: September/October 2020
Register for The Power of Teams and gain insights into valuable team building skills!
When and where
Location
Oakville 277 Lakeshore Rd East Oakville, ON L6J 1H9 Canada
Refund Policy
Contact the organizer to request a refund.
Eventbrite's fee is nonrefundable.
About this event
Gain the Insights You Need to Deliver Exceptional Team Performance
The Power of Teamwork is an engaging virtual workshop for developing team skills for members and leaders. Delivered remotely in 8 hours spread over 5 successive days, this interactive learning experience follows a research-based model that includes comprehensive case study analysis to explore the practices and competencies teams need to innovate and execute together.

What You Will Learn
Leadership practices for leveraging individual team member creativity and capacity
Perspectives and approaches for managing complex teamwork characteristics and driving high performance
Innovative problem-solving and decision-making techniques for reconciling competing interests and information-based viewpoints among team members
Skills for managing diversity and potential conflict, inspiring trust and promoting engagement
Strategies for motivating greater commitment and accountability among individual team members
What You Will Explore
These virtual but fully interactive sessions focus on several key performance concepts:
Find the Why
Develop a PURPOSE-focused mindset. Why we should come together and strive for something bigger than ourselves.
Come Ready to Play
Develop a GROWTH mindset. How individually we can assume responsibility for our own extraordinary performance by focusing on being accountable, committed and prepared.
From Many to ONE
Develop a TEAM mindset and an ENGAGED-TEAM culture. How we can switch from an individual to a team approach by developing cohesion, trust and performance norms.
Overcome Adversity
Develop a CAN-DO mindset. How we can embrace the power of commitment, grit, passion and perseverance.
Play to Win
Develop a WINNING mindset. How we can achieve more by adopting a "we are stronger together" focus.
What You Will Put Into Practice
The Power of Teams is actively experiential. You will have opportunities for putting your learning into practice through interactive engagement with a Harvard Business Review case study and simulation. You will be challenged to climb Mount Everest and think differently about teamwork. The gains will be insights you can take back to your role and organization and apply daily.
Who Should Attend
Strategic HR leaders
Managers and professionals seeking guidance on developing greater collaboration and innovation in their team
Leaders and their teams ready to be inspired to take teamwork to the next level
Cross-functional teams navigating how to work together and reconcile disciplinary differences

Barry Wright, PhD
CEO of the 2021 Canada Summer Games, Associate Professor in the Goodman School of Business at Brock University
Barry's research centres primarily on change and its influence on organizational members. With a PhD in Management and an MA in Psychology of Sport from Queen's University, Barry has advised many prominent organizations including Sobeys Inc., Bank of Montreal, Swim Canada, Price Waterhouse Cooper and the Insurance Bureau of Canada. As Past Chair, he currently serves on the Board of Niagara Health.

Abdul R Rahimi, MSc, MBA
Director of the Goodman Group in the Goodman School of Business at Brock University
Abdul has an MSc. from Kings College London, UK, and an MBA from the Goodman School of Business. Abdul is an engaging business leader with expertise in organizational-level change, teamwork, project management, lean process implementation, complex problem solving, risk management, product and process industrialization, and fronting regulatory audits. Abdul enjoys teaching at the undergraduate and MBA level.