Location
Univision
2233 North Loop Blvd W
Austin, TX 78756
Description
***Must be a student between the ages of 13 and 20 years of age, teacher, parent or guardian.

As a part of E4 Youth's Industry Tour Series, we're offering a free field trip to Austin's number 1 news station Univision. See how you can use your creativity and make a great living in the field of media.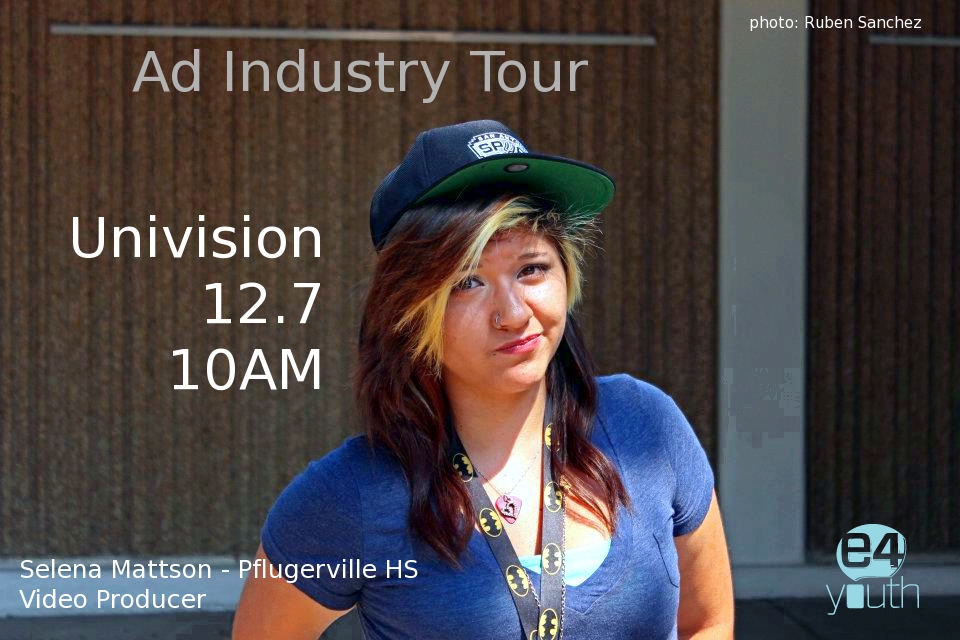 ***Attendees must provide own transportation
About E4 Youth
The E4 Youth Initiative is a program of the Media Communications Council developed to address long term diversity issues in advertising and media related industries. E4 Youth utilizes a 3 phased approach of exposure, mentoring to develop online portfolios, and intensive summer training/employment to provide genuine insight into advertising and media related careers combined with a network of professionals and like minded peers.
Students emerge with sharpened creative and critical thinking skills combined with a new sense of confidence that translates well beyond advertising into their daily lives. Currently serving over 1800 students online and having provided direct services to nearly 200 in the past year, we believe strongly that this approach of youth exposure and engagement can serve as a model for many cities across the United States.
2012 - 2013 Goals:
500 teenage youth exposed to advertising and media careers
100 students mentored after school as they build and submit online portfolios
40 students participate in intensive 5 week summer training/employment