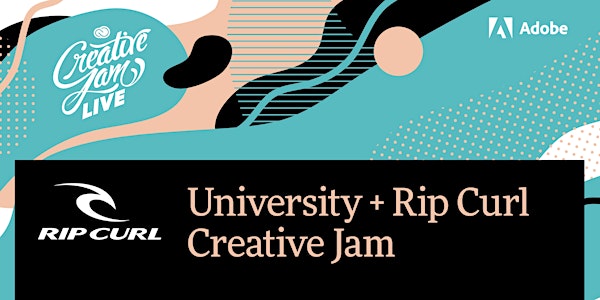 University + Rip Curl Creative Jam LIVE for Australia & New Zealand
Register with a team to compete against other university students in Australia and New Zealand in a week-long Creative Jam and win prizes!
About this event
Use Adobe XD to design an experience and present your project to industry experts for insightful feedback and you may win prizes and bragging rights!
Join Adobe, Rip Curl, and university students across Australia and New Zealand in a beginner-friendly designathon to identify solutions that matter. Create a team, invite 1 or 2 more friends to join your team, and then get details before we begin! No experience necessary.

Rip Curl is a designer, manufacturer, and retailer of surfing sportswear and accompanying products, and a major athletic sponsor. Rip Curl has become one of the largest surfing companies in Australia, Europe, South America, North America and South Africa.
AGENDA
Attend two 2-hour sessions online and work with your 2 to 3-person team to compete, from anywhere you like.
Kick Off: Friday, 14 August at 9:00 am AEST During the 2-hour session, you'll learn how to create a simple interactive mobile prototype! And then we will reveal the Jam challenge as issued by Rip Curl! You and your team will collaborate on an app prototype and produce a full user experience. Submissions are due on Sunday, 16 August at 12 midnight AEST.
Finale: Friday, 21 August at 9:00 am AEST Join the 2-hour presentation and awards ceremony to find out if you've made it to the finale, present your work live on-screen to the Rip Curl & Adobe judges, get realtime feedback, and if you win... go home with some serious gift card cred in your pocket.
PRIZES
All winning team members will win a Visa Gift Card in the below amounts.
First Place: $500.00 AUD
Second Place: $400.00 AUD
Third Place: $300.00 AUD
Fourth Place: $200.00 AUD
Fifth Place: $100.00 AUD
Non-placing finalist teams and honorable mention teams receive $50.00 AUD / team member. All teams who submit a project receive a one-year student subscription to Adobe Creative Cloud (worth up to $330 AUD).
THIS IS YOUR PROJECT
Project outcomes are not spec work, only a demonstration of your talent and process! Project ideas are not owned by, or will not be used by Adobe nor Rip Curl. However, if Rip Curl is interested in your work, you may be contacted for further collaboration.
SOFTWARE
Use your laptop with Adobe XD installed (check the system requirements to run the software on your device). Need Adobe XD? You can use a free XD starter plan.
REGISTER NOW!
Create a team, invite up to 2 friends to join your team, and then get details before we begin! No experience necessary. You must register by Thursday, 13 August at 12 midnight AEST, or you'll miss out. Closer to the event date, you'll receive details on how to prepare, the link to join us online, and more.
REQUIREMENTS
You MUST be a currently-enrolled student of an accredited college or university and a resident of Australia or New Zealand and register with a VALID campus-issued email address. Registrants who are not part of a team of at least 2 are not able to participate.
FINE PRINT
Registration is limited to undergraduate and graduate students currently-enrolled at a college or university campus in Australia or New Zealand. Registrants must register with their official campus email address in order to participate and win. Your responses and information are securely collected and stored by Adobe's registration provider, Eventbrite in accordance with Adobe's Privacy Policy. Read the Official Rules. If you have any questions about registration, please contact the team at jams@adobe.com.