Description
**A limited number of tickets/shirts will be available for purchase for $30 at Martini's Bar TODAY on a FIRST COME FIRST SERVED BASIS!**
T-SHIRT & PACKET PICK-UP INFO: You can pick up your shirts at Martini's Bar (127 East College Street) on Friday, April 5th from 3-7pm.
Please note:
If you cannot make it, please have a friend bring your PRINTED TICKET and they can grab it for you.
PLEASE MAKE SURE TO PICK UP YOUR SHIRT AS YOU WILL NOT RECEIVE A REFUND IF YOU FAIL TO PICK IT UP!
Last chance to crawl before we walk! Seniors take over the bars one last time before graduation! This is one of our last opportunities to day-drink with the Class of 2019! Show up and drink up! This is a bar crawl you won't want to miss!
CRAWL SCHEDULE:

1pm-3pm - DC's and Fieldhouse
3pm-5pm- Summit
5pm-7pm- Pints, Martinis, and Sports Column
7pm-10pm- After party at The Union
*If a certain bar is at capacity you can either wait in line or head to another bar*
WHAT'S INCLUDED: Tickets include Admission, an Official Senior Crawl T-Shirt, and Drink Specials!
WRISTBANDS: You MUST wear your wristband during the crawl!
WHY: Because it's your last chance to celebrate going to the greatest school on earth! Go HAWKEYES!
DRINK SPECIALS BELOW:

Pints
- $3 Shooter shots
- $4 Tall wells

Sports Column
- $2 Pre-Made Shots
- $4 Big Busch Lights

Martinis
- $2 Domestics
- $2 Special Shots
- $3 Wells
- $5 Mules
- $6 Domestic Pitchers

Summit
- $2 Busch Light
- $3 Tequila Shots
- $3 Wells

DC's
-$4 Flavored Vodka Drinks
Fieldhouse
- $4 Liquor Pitchers
The Union/After Party
- $2 Well Drinks
- $2 Jolly Rancher Shots
- $3 White Claws
FREE TICKETS/RAISE MONEY FOR YOUR CAUSE: See below for more info.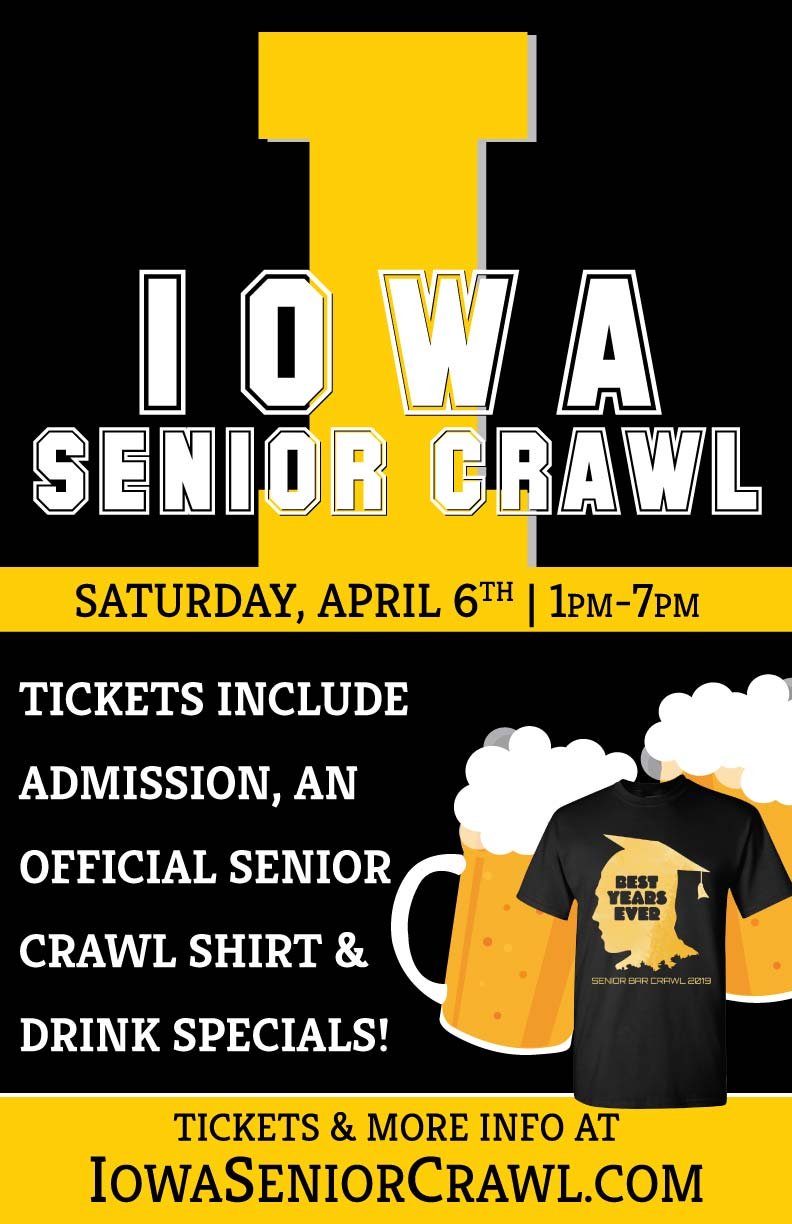 FREE FOOD: Give DoorDash a try! It's an awesome food delivery service. Get $7 off your next order when you sign up HERE!
SPONSORSHIP OPPORTUNITIES: For questions, sponsorship opportunities, and press inquiries, please email Info@IowaSeniorCrawl.com.

FREE TICKETS/RAISE MONEY FOR YOUR CAUSE:
-Fundraising Opportunity: Are you trying to raise money for a certain cause? Email Info@IowaSeniorCrawl.com for more info!
-Celebrate your birthday on the crawl and your ticket is free! Email Info@IowaSeniorCrawl.com for more info (restrictions apply)
-Want to earn a free ticket and some cash for spreading the word? Email Info@IowaSeniorCrawl.com for more info!
FINE PRINT: All Guests must be 21+ with valid government issued ID. We will crawl rain or shine! NO REFUNDS! If you cannot find your ticket please contact Eventbrite.com directly, please do NOT email us as there is nothing we can do. Must be 21 years old to participate; valid government issued ID required. Participating venues and advertised times are subject to change. Crawl Guys, LLC. promotes safety and urges all participants to drink responsibly. Participating venues reserve the right to refuse entry to guests who are deemed intoxicated (or otherwise unfit) upon arrival. No refunds will be given. Gift cards must be used for food in accordance with state and local liquor laws. Participants must bring their Print At Home Ticket to the registration venue. No refunds. All sales are final. If a venue is at capacity then you may have to wait or proceed to another venue. Do not be late for registration. Prices are subject to change while supplies last. For further Terms and Conditions of this event and ticket purchase please see "Ticket Purchase and Event Terms and Conditions" in checkout before purchasing these tickets; which shall also be binding and shall be incorporated by reference as though fully stated herein.
*Unfortunately the Eventbrite system does not allow us to restrict people who are underage from buying tickets. If you are not 21 and purchase a ticket, you will not be allowed into the event.*