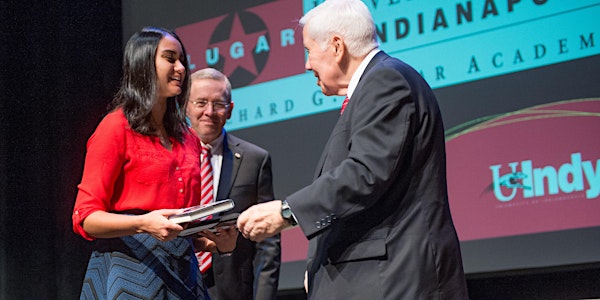 University of Indianapolis: 40th Richard G. Lugar Symposium for Tomorrow's...
Location
University of Indianapolis
Ransburg Auditorium, Esch Hall
1400
Indianapolis, IN 46227
Description
The Richard G. Lugar Symposium for Tomorrow's Leaders at the University of Indianapolis, hosted by the Lugar Academy, brings together top high school juniors from around the state for a day of expert discussion on pressing public issues and world events.
More than 15,000 promising students have participated over the past 40 years, including nearly 500 students last year, gaining wisdom, insight and access to some of the finest minds available. Principals from every high school in Indiana are asked to select three outstanding student leaders from their junior class to attend the Symposium.
There is no better yardstick to measure the event's significance than Senator Lugar's insistence on being present for the annual symposium. Senator Lugar attends the Symposium each year (he has only missed one Lugar Symposium in 40 years), serves as the keynote speaker, and provides students a generous amount of time at the end of his message to ask questions on issues that are important to them. He considers his keynote address at the Symposium to be his most important speech of the year. The day also includes a photo of Senator Lugar with students from each of the Indiana counties represented, and student sessions featuring speakers debating critical current events.