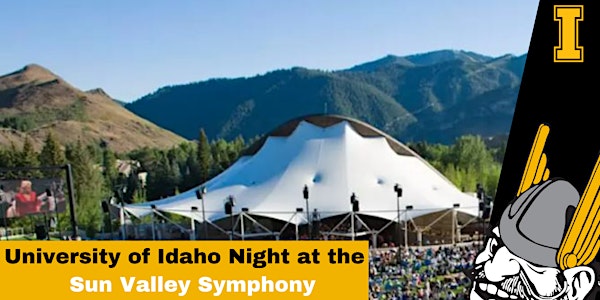 University of Idaho Night at the Sun Valley Symphony
Location
Sun Valley Pavilion
300 Dollar Road
Sun Valley, ID 83353
Join Vandals and friends for a special evening with the Sun Valley Symphony!
About this event
Join Assistant Vice President of Alumni Relations Amy Lientz, Vandals and friends for a pre-function event at 5:30 p.m. at the Symphony Lawn Bar near the bus roundabout/Wildflower Condos. After that, look for the Vandals' designated spot on the lawn not far from the Lawn Bar (left of stage), and settle in for an evening with the Symphony. Enjoy Vandal Red wine from Colter's Creek Winery and an assortment of appetizers during the show. The event is FREE. Bring your own chairs, other beverages and food of your choice, and wear your Silver and Gold.
Date: Saturday, Aug. 13, 2022
Time: 5:30 p.m. for the pre-function, 6:30 p.m. for the symphony
Location: Sun Valley Pavilion
300 Dollar Rd
Sun Valley, Idaho
https://www.svmusicfestival.org/event/time-for-three/
About the Performers
Sun Valley favorites Time for Three return to the Pavilion stage for the first time since August 2017. They'll perform a new work titled "Contact," which was co-commissioned by the Sun Valley Music Festival and written by the Pulitzer Prize-winning composer Kevin Puts. Puts wrote "Hymn to the Sun" for the Sun Valley Pavilion's opening concert. The program begins with "Three Latin American Dances for Orchestra," by Gabriela Lena Frank. Frank is a Grammy-nominated composer and pianist, who was named one of the top 35 female composers in classical music by The Washington Post.