University of California Bancroft Library Field Trip

Wednesday, July 11, 2018 from 11:00 AM to 2:00 PM (PDT)
Event Details
University of California Bancroft
Genealogy Library Field Trip
Wednesday July 11, 2018, 11:00 a.m.
(This is a CGS Members only trip.)
The Bancroft Library is the primary special collections library at the University of California, Berkeley. It is one of the largest and most heavily used libraries of manuscripts, rare books, and unique materials in the United States, playing a leading role in the development of the University's research collections.
According to their Website, there are more than 600,000 volumes, 60,000,000 manuscript items and 8,000,000 photographs/pictorial materials. There are books, papers and artifacts covering an amazing number of subjects of interest to genealogists, especially those researching California.
Have you always wanted to go there to do research, but haven't done it, yet?
Join us on a CGS members tour and stay afterward to research. For those of us who haven't used the Bancroft Library recently, or ever, using the computer catalogs and other finding aids is a class all on its own. Luckily, we'll have a staff guide show us how to use the Reading Room and what materials are available. (Studying the catalogs from home, online, will help prepare you.)
Note: This university library charges a fee to non-profit group tours we are asking for a $10, NON-refundable fee at the time you register on Eventbrite.
 Attendees should provide their own transportation and are encourage to car pool if driving (emails will be sent prior to the event).  For library location, driving directions, and public transit information click location, directions, and transit.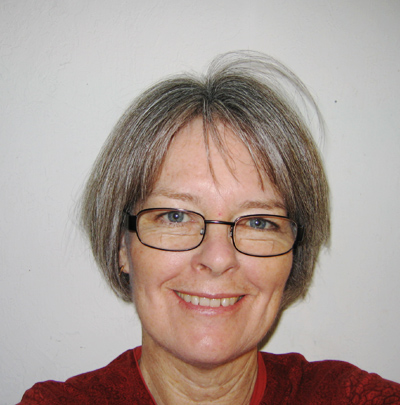 Lorna Wallace is a 4th generation Californian.  Her ancestors lived in Vacaville, San Francisco and Oakland. Growing up with lots of cousins, she decided to untangle the ancestral web, long before the other "Web" took over the world of genealogy. She is a combination of 19th century immigrants from England, Isle of Man, Ireland and Denmark.

She joined CGS in 1994 spurred by an interest in the Book Repair committee. Eventually she had her arm twisted to join the Desk Volunteers and enjoys helping beginners get on the right track with their research.
An unexpected genealogical connection occurred after she put up a website about her Danish ancestors, filled with heirloom photos and handwritten charts. The historical society on her ancestral island, Bornholm, saw this and contacted her.  With their help, she published a short article about the family, in the old and new countries.
Contact Lorna Wallace with questions.
REGISTRATION INFORMATION:
Pre-registration is required. Class size is limited so register early. 
CGS members - we are asking $10 which the Bancroft library charges CGS..
This is a CGS members only event. You may join CGS now.
Register early to confirm your attendence for this trip. 
PAYMENT OPTIONS:
Credit card  payments will be processed by Eventbrite.
 *Seminar fee is non-refundable.
When & Where

Bancroft Library
The Bancroft Library, University of California
Berkeley, California 94704


Wednesday, July 11, 2018 from 11:00 AM to 2:00 PM (PDT)
Add to my calendar
Organizer
   Connecting people to their diverse family heritage

Whether you have Gold Rush ancestors or have no family connection to California, you will find extensive support for your genealogy research at the California Genealogical Society (CGS) in Oakland. The society offers research services, online indexes and databases, and a research library housing over 38,000 reference materials from California, the United States, and around the world. CGS is a 501(c)(3) nonprofit corporation. The library is conveniently located in Uptown Oakland, one block north of the Paramount Theatre, at 2201 Broadway, Suite LL2. We are three blocks from the 19th Street BART Station.
Phone: (510) 663-1358 
Non-Discrimination Statement
The goal of the California Genealogical Society is to connect people to their family heritage and to promote a spirit of diversity and inclusivity for our members and patrons. The California Genealogical Society does not tolerate discrimination in any form. 
Courtesy Request
In order to maintain a welcoming and healthy environment, please refrain from using scented products at CGS events or in the library.
Photography Notice
California Genealogical Society (CGS) may take photographs, audio recordings, and video footage in our library, classrooms or events for historical records or publicity purposes.  If you do not want to be photographed or filmed, it is the individual's responsibility to 'opt out' by notifying the event leader or photographer at the event.