Description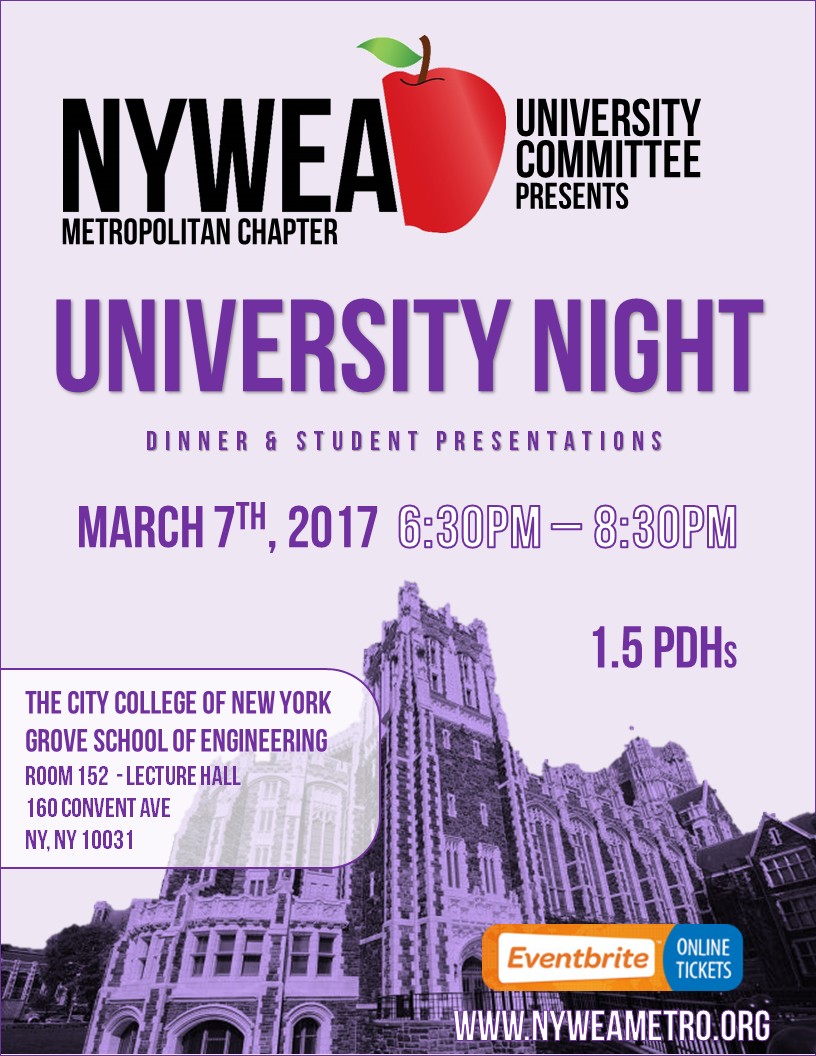 The NYWEA Metropolitan Chapter is pleased to invite you to the 2017 NYWEA Metropolitan Chapter University Night. This event will be graciously hosted by The City College of New York's Grove School of Engineering in the Room 152 Lecture Hall at 160 Convent Ave, New York, NY 10031. Attendees will enjoy a meal of delicious sandwiches and and insightful program of presentations as described below:
Yu-Chen Su, Columbia University: Simultaneous Nitrification and Methanol Production Process for Biological Nitrogen removal. Bioconversion of methane, the main component of digester gas, to methanol using nitrifying activated sludge offers an alternative and sustainable carbon source for biological nitrogen removal (BNR). Here we demonstrated the acclimation of nitrifying consortium to methane and the potential of simultaneous nitrification and methanol production in BNR processes.
Arvind Damodaran Kannan, Manhattan College: Struvite Precipitation, Inhibition and Dissolution in Wastewater Systems: Modeling and Experimental Analysis. Struvite (NH4MgPO4•6H2O) ) is an important phosphate mineral found in natural and engineered systems. This study attempts to provide detailed characteristics of struvite formation/inhibition/dissolution and will assist in designing future phosphorus removal, recovery and/or scale removal systems. Laboratory experiments and chemical equilibrium modeling (MINEQL+ and PHREEQC) were undertaken to investigate three aspects of struvite: (a) formation potential and precipitation, (b) inhibition characteristics and (c) dissolution potential in the presence of chelating agents.
Mahsa Mehrdad, The City College of New York: Batch and Bench Scale Experiments to Identify Process Triggers That Will Work to Establish Mainstream Nitritation at the Hunts Point WRRF. The objective of this study is to evaluate steps required to induce mainstream nitritation at the Hunts Point Water Resource Recovery Facility (WRRF). A combination of batch experiments and bench scale demonstration is being attempted to assess selective pressures in order to establish mainstream nitritation. As a first step, inhibition effect of elevated FNA levels on mainstream biomass was evaluated
Attendees are eligible to receive 1.5 professional development hours (PDHs) for participating.