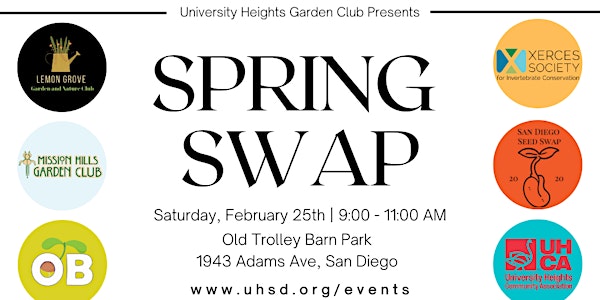 University Heights Garden Club - Spring Swap
Join local garden clubs for a huge Spring Swap in UH! Bring seeds, seedlings, tools, reference books, and any other garden supplies.
When and where
Location
Trolley Barn Park 1943 Adams Avenue San Diego, CA 92116
About this event
Join the University Heights Garden Club, the Lemon Grove Garden and Nature Club, the Mission Hills Garden Club, and the San Diego Seed Swap for a spring garden swap event. Bring seeds, seedlings, garden tools, reference books, fertilizer, soil, and any other garden related supplies to this semi-regular garden club swap event.
Tables will be set up in the park for participants. Please label your seeds/seedlings and bring bags, receptacle for compost (if you'd like some), notecards, or other label items to help with your swapping. All are welcome to participate!
Special Guests include:
Epic Gardening
Epic Gardening is a rich resource guide on how to grow your own food and ornamental plants with simple, practical how-to articles, podcast episodes, and videos. The Epic team has a ton of content online on their blog, on their YouTube channel, on Instagram, and other social media platforms. Check out their gardening supply store and more here: https://www.epicgardening.com/
True Organics
True is the worldwide leader in diverse and innovative production of organic fertilizers. They are a family-owned business who respectfully treats our growers' land as if it were our own. They are passionately dedicated to manufacturing the highest quality, safest and easiest-to-handle organic fertilizers developed exclusively to help you grow your business. They will be providing free giveaways of liquid fertilizers and bags of compost/fertilizers to the first 60 attendees to arrive at the swap. Find out more about them here: https://true.ag/
Xerces Society
The Xerces Society for Invertebrate Conservation is an international nonprofit organization that protects the natural world through the conservation of invertebrates and their habitats.
Our name comes from the now-extinct Xerces blue butterfly (Glaucopsyche xerces), the first butterfly known to go extinct in North America as a result of human activities. The Xerces blue's habitat was destroyed by development in the sand dunes of San Francisco, and the species was declared extinct by the 1940s.
They will be passing out native seeds/seedlings to attract pollinators to your gardens, as well as literature on best practices to foster a healthy environment for invertebrates. Check out more information about them here: https://xerces.org/
Ocean Beach Seed Library
Ocean Beach Seed Library began in the spring of 2019 and it quickly took root in the neighborhood. With the assistance of Friend of the Ocean Beach Library, community partners and dedicated staff, the OB Seed Library became a hub for patrons to share and lend seeds. Ocean Beach Library often hosts Seed Library programming as part of a community movement for sustainable urban agriculture.
Food2Soil
Food2Soil is San Diego's Neighborhood Composter. We are a collective of residents and businesses, chefs and farmers, entrepreneurs and innovators building a people-powered, community-centered foundation for the circular economy. We believe that waste is a resource that has intrinsic social, environmental and economic value. Our programs are designed to challenge us to extract this value so it turns into income for farmers and living soil for our farms. Food2Soil operates a robust network of decentralized community compost hubs all over San Diego where residents can dropoff their scraps for composting. To learn more about us go to www.food2soil.net.
Malibu Compost
NO GMO's, green waste, conventional Ag by-products, pesticides, herbicides, growth hormones or sewage sludge.
Bu's Blend Biodynamic Compost is a large ingredient in our potting soil, seed starter and compost tea collection. Fix your soil organically with our unique and simple Malibu Compost product line that resembles how soil was made in the past.
Information About The Hosts:
University Heights Garden Club
The University Heights Garden Club is a garden enthusiasts group associated with the University Heights Community Association that meets regularly to present on garden related topics, such as growing your own food, integrated pest management, soil health, preserving food, native plants, water conservation, and more. The club is free to join and open to non-UH and UH neighbors alike! https://uhsd.org/events
Lemon Grove Garden & Nature Club
The Lemon Grove Garden & Nature Club brings their local community together around gardening, urban farming, tree planting, floral design, and environmental responsibility. The club meets once every other month at our local Treganza Heritage Park, Lemon Grove CA for a FREE swap of all things garden and nature. The club is free to join and is open to all. Check them out on Facebook and Instagram!
Mission Hills Garden Club
The Mission Hills Garden Club is a group of neighbors and friends with an interest in gardening and aesthetics. The group meets regularly for garden related seminars, happy hours in the garden, and host a wildly successful garden walk each May. Join their group by visiting their website here.
San Diego Seed Swap
The San Diego Seed Swap is a group of local urban farmers who got their start connecting fellow local gardeners via Instagram during the pandemic. They provided seed swaps via mail initially and now have expanded to fun, incredibly successful in-person swaps. Follow their Instagram page for tons of subject matter expertise!