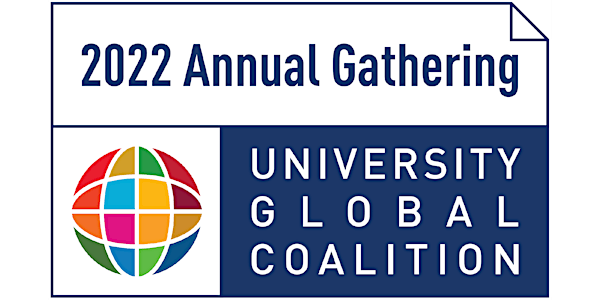 University Global Coalition Annual Gathering 2022
All sessions are virtual and free. See the schedule below.
About this event
University Global Coalition will host its 2022 Annual Gathering, with sessions held virtually throughout the week of October 3-7, 2022. These deep dive sessions on selected topics focus on innovative partnerships for Sustainable Development Goal innovation, with actionable outcomes leading towards the 2023 SDG Summit.
Visit UGC 2022 Annual Gathering or follow UGC on twitter (@uniglobalco) or LinkedIn (University Global Coalition) for updates.
Register today! Please save the email and password information used to register; you will need these to access the session links.
Event Schedule Preview
Monday, October 3
Opening Session, 10am-11:45am EDT: The Convening Power of Higher Education with Keynote Dr. Roberta Malee Bassett, World Bank
Session, 1pm-1:45 pm EDT: The UGC SDG Dashboard: Sharing Best Practices and Inspiring Collaboration
Tuesday, October 4
Session, 10am-11:30am EDT: Pursuing Peace
Wednesday, October 5
Thursday, October 6
Session, 9-10:30 am EDT: Higher Education SDGs Leadership Panel
Session, 11am-12:30pm EDT: Partnerships for Climate Action
Session, 1-2:30 pm EDT: Achieving Zero Hunger by 2030: Challenges to Build Sustainable and Resilient Food Systems through Innovation
Friday, October 7
Session, 9am-10am EDT: From Traditional to Transformational Engagement
Closing Session, 10am-11:30am EDT: Stronger Together: Networks Networking with Keynote Dr. Jeffrey Sachs, SDSN