Please join the University Glee Club of NYC for its 252nd Members' Concert - and first to be held online. With special guests SoHarmoniums.
About this Event
For 126 consecutive seasons beginning in the year of its founding in 1894, the University Glee Club of New York City has performed for a live audience in storied venues such as Carnegie Hall and Lincoln Center.
Adapting to the unprecedented events of 2020, the men of the UGC chose to continue their weekly rehearsals; working not toward an in-person performance, but their first ever Virtual Concert.
Watching this concert from the comfort of your own home, you will be treated to an evening of entertaining holiday-inspired pieces from many genres, including selections by Franz Bielbl, Robert Frost, and an original piece by the UGC's conductor Francisco Núñez.
The UGC is thrilled to be joined by its two small ensemble groups, The Crickets and The Ten, as well as their very special guests, SoHarmoniums Women's Choir.
Group Viewing encouraged! With the goal of creating a shared social experience, the UGC has created Virtual Viewing Groups. If you would like to put togther a virtual group, select one of the Group ticket options. One week before the concert, the UGC will contact you to get your final guest list. On the evening of the Concert, once you click on the concert link, you will be automatically placed in a breakout group with your guests. The breakout groups will continue following the Concert for a Virtual Afterglow.
Whether you'll be watching solo or organizing a group to watch together virtually, count on a memorable evening of music and merriment to bring some much needed cheer to this most unusual holiday season.
Sing on!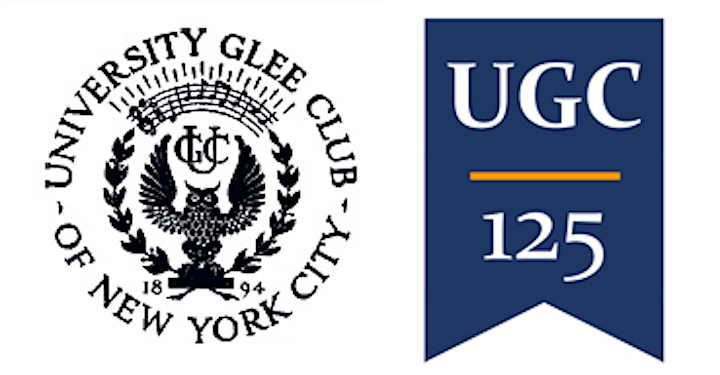 About the University Glee Club of New York City
The UGC is an all-male singing group founded in 1894 "to encourage male voice singing of the highest excellence." The Club has approximately 100 active singing members who span from recent college graduates to men who have sung for over 50 years.
To learn more about the University Glee Club, including information on concerts, rehearsals, and membership, please visit their website at www.ugcofnyc.org.
About the SoHarmoniums
The SoHarmoniums Women's Choir, so named for its rehearsal home in the SoHo area of New York City, is a diverse community of singers aged 20 to 75. The ensemble, under its Founding Artistic Director Elizabeth Núñez and Pianist Taisiya Pushkar, performs an eclectic repertoire of international works ranging from classical and folk to contemporary music. Founded in 2006 by Deborah McManus with just six singers, the choir has expanded to sixty members from varying professions, united by their common joy for choral performing and the weekly conviviality of the rehearsals.
To learn more about SoHarmoniums, please visit their website at www.soharmoniums.com.