University EXPO

Thursday, May 19, 2011 from 1:00 PM to 7:00 PM (PDT)
Event Details
Following the University EXPO will be an eBay Hackathon - details and registration here: http://ebayuniversityhackathon.eventbrite.com/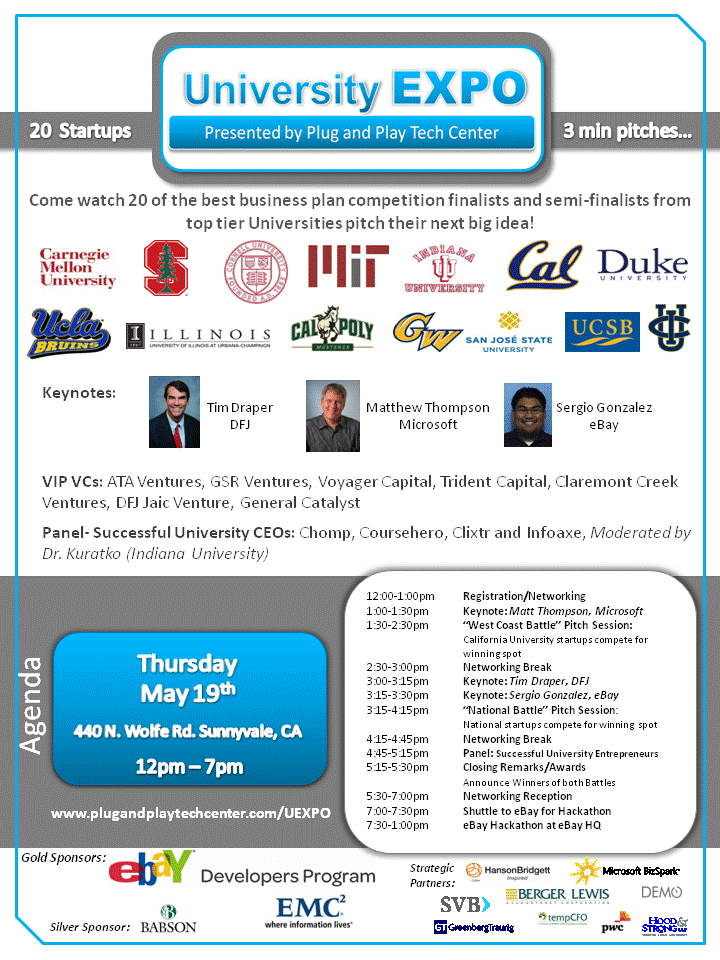 Speakers:
Tim Draper
Draper Fisher Jurvetson
Timothy C. Draper is the Founder and a Managing Director of Draper Fisher Jurvetson.  His original suggestion to use "viral marketing" in web-based e-mail to geometrically spread an Internet product to its market was instrumental to the successes of Hotmail and YahooMail, and has been adopted as a standard marketing technique by hundreds of businesses.  On behalf of Draper Fisher Jurvetson, Tim serves on the boards of Glam, Meebo, ShareThis, SocialText, and DFJ Plug 'N Play companies.  DFJ's previous successes include: Skype (EBAY), Overture.com (YHOO), Baidu (BIDU), Parametric Technology (PMTC), Hotmail (MSFT), PLX Technologies (PLXT), Preview Travel (TVLY), Digidesign (AVID), and others. 

Tim launched the DFJ Global Network, an international network of early-stage venture capital funds with offices in over 30 cities around the globe. He founded or co-founded DFJ ePlanet (global), Draper Fisher Jurvetson Gotham (NYC), Zone Ventures (LA), Epic Ventures (Salt Lake City),  Draper Atlantic (Reston), Draper Triangle (Pittsburg), Timberline Ventures (Portland), Polaris Fund (Anchorage), DFJ Frontier (Sacramento and Santa Barbara), DFJ Vina Capital (Vietnam), and DFJ DragonFund (Shanghai). 

As an advocate for entrepreneurs and free markets, Tim is regularly featured as a keynote speaker in entrepreneurial conferences throughout the world, has been recognized as a leader in his field through numerous awards and honors, and has frequent TV, radio, and headline appearances.  He was #52 on the list of the 100 most influential Harvard Alumni, and #7 on the Forbes Midas List. He was named Always-On #1 top venture capital deal maker for 2008.  He was awarded the Commonwealth Club's Distinguished Citizen Award for achievements in green and sustainable energy. His blog is featured at www.theriskmaster.com. 


Sergio "Serge" Gonzales
eBay
Sergio Gonzales is the Director of the eBay Developers Program. Sergio returned to the U.S. after a 3-year assignment at Marktplaats, an eBay-owned Classifieds site in the Netherlands. While there, he managed different cross-functional parts of the organization and his roles have included: Head of CS Business Applications, Head of Application Delivery, Head of QA, Head of Mobile and Innovation Strategy, and acting co-CTO.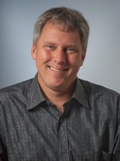 Matt Thompson
Microsoft
As General Manager of Microsoft's developer & platform evangelism efforts Matt Thompson has the first hand opportunity to both observe and work with a number of Silicon Valley's most unique technology start ups. His time is split between working with this influential community of technologists as they adopt Microsoft technologies (including Microsoft's cloud offering, Windows Azure, and new phone platform, Windows Phone 7); advising a number of early stage start ups; and working with Microsoft customers & partners as they implement solutions on top of the breadth of the Microsoft platform offerings. Previously, As Sr. Director of Sun's Cloud engineering organization Matt was responsible for the development of Sun's platform as a service offering and related cloud developer tools. In a previous role, Matt was responsible for Sun's developer program and technology outreach worldwide. When not working you'll likely find Matt off an island somewhere following his passion, underwater photography. 
Blog: 
http://www.microsoftstartupzone.com/Blogs/matt_thompson
Twitter: 
http://www.twitter.com/DeveloperFish
Attendee List
Sort by:

Date

|

First Name

|

Last Name
Organizer
Plug and Play Tech Center
Plug and Play Tech Center is an accelerator that specializes in growing tech startups. Since its founding in 2006, Plug and Play's mission has been to drive innovations in technology while improving and enhancing the experience of the entrepreneur.