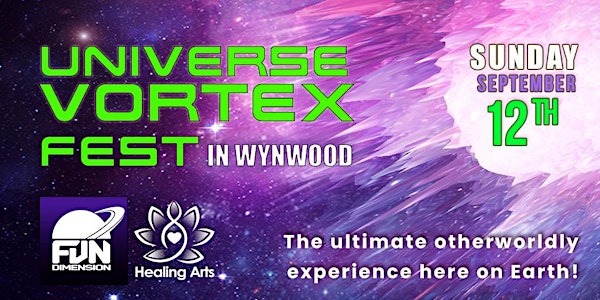 "Universe Vortex Fest in Wynwood" at FunDimension
"Universe Vortex Fest in Wynwood" at Fundimension ... The ultimate otherworldly experience here on Earth! September 12th.
When and where
Location
Fundimension 2129 NW 1st Ct Miami, FL 33127
About this event
"Universe Vortex Fest in Wynwood" Presented by Healing Arts this September 12th at Fundimension. Find a greater understanding of your galactic self and mastery and how you can assist in the great awakening on the planet.
Universe Vortex Fest will include live music, arts and unique experiences as well as other family-friendly events, indoor playground, vendor booths, galactic activations, workshops, yoga and meditation, holistic therapies, readings, healings, cosmic pet/human costume contest, astro and space expo, photo booth, live music, Star Wars characters, a laser contest, speakers and family fun and empowerments to serve the awakening and expansion of your greater multi-dimensional nature.
Universe Vortex Fest in Wynwood will run for a single mind-blowing day from 11am to 7pm, it is expected to gather attendees in different spaces full of light, energy and transformation where Scientists, Disclosure groups, Lightworkers, Star Seeds, Consciousness groups, Quantum Medicine Researchers, speakers renowned in the UFO community, Artists, Astrologers, Nutritionists, Energy Healers, Mindfulness Coaches and truth-seekers, Brain imagers, Virtual reality wizards, Astronomy lovers, Extraterrestrial fans at national and international level will interact and have the ultimate otherworldly experience here on Earth!
Admission to this event is free and it will be the inaugural exhibition of this series, but one of many created by Healing Arts Expo in the last 6 years, uniting the most diverse group of conscious leaders and providers of South Florida and perfect destination for exploring an amazing day of lectures, panel discussions and workshops.
Fundimension is located at 2129 NW 1st Ct, Miami, FL 33127.
For more information about the event, its speakers and activities in general or to become a vendor, just call (305) 336-9313.
Workshops / Shortalks will feature:
Astronomy
Astrology
Crop Circles
UFO Research
Ancient Alien
Quantum Physics
UFO'S & IFOs: Identified Flying Objects
UFO Skywatch Program
Aliens and UFO Technology
Artificial Intelligence
UFO sightings stories
Crypto currency
"Universe Vortex Fest en Wynwood" Presentado por Healing Arts este 12 de septiembre en Fundimension. 
Universe Vortex Fest Fest incluirá música, artes y experiencias únicas, eventos familiares, área de juegos, puestos de vendedores, activaciones galácticas, terapias holísticas, lecturas, terapias, comida saludable, concurso cósmico de disfraces de mascotas, humanos, exposición espacial y astronómica, fotografía. stand, música en vivo, personajes de Star Wars, un concurso de láser, oradores y diversión familiar y mucha información para servir al despertar y expansión de su naturaleza multidimensional mayor.
 Universe Vortex Fest Fest en Wynwood se llevará a cabo durante un único día de 11 a.m. a 7 p.m., se espera que reúna a los asistentes en diferentes espacios llenos de luz, energía y transformación donde científicos, grupos de divulgación, trabajadores de la luz, semillas de estrellas, grupos de conciencia, Investigadores de medicina cuántica, oradores de renombre en la comunidad OVNI, artistas, astrólogos, nutricionistas, sanadores de energía, entrenadores de atención plena y buscadores de la verdad, fanáticos de los extraterrestres a nivel nacional e internacional interactuarán y tendrán la mejor experiencia de otro mundo. ¡aquí en la tierra!
La entrada a este evento es gratuita y esta será la exhibición inaugural de esta serie, pero una de las muchas creadas por Healing Arts Expo en los últimos 6 años, que une al grupo más diverso de líderes y proveedores conscientes del sur de Florida y el destino perfecto para explorar. un día increíble de conferencias, mesas redondas y talleres.
Fundimension está ubicado en 2129 NW 1st Ct, Miami, FL 33127. Puede obtener más información sobre el evento, sus oradores y las actividades en general llamando al (305) 336-9313.