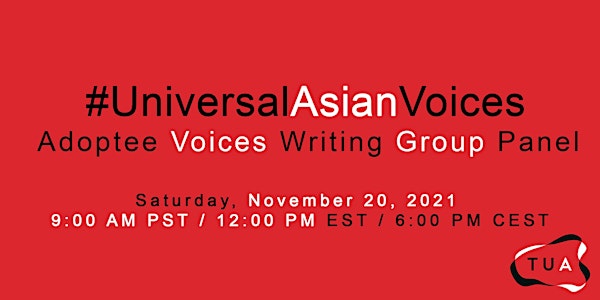 #UniversalAsianVoices: Adoptee Voices Writing Group Panel
‼️FREE ONLINE EVENT‼️ Join @theuniversalasian in a conversation on Adoptee Voices Writing Group Panel
About this event
At Adoptee Voices Writing Group, we believe in the power of writing to help make sense of our adoption journeys. Open to anyone who identifies as an adoptee, we meet weekly online to write together to an adoption-related prompt, and then share our writing for support and feedback. Every session is magical as we fearlessly explore our adoption stories. For this panel, we have asked some of our Asian-born adoptees to read their work and discuss what the writing group has meant to them.
Moderators:
Adoptee Voices Founder Sara Easterly is the author of the award-winning memoir, Searching for Mom. She's written for Dear Adoption, Feminine Collective, Psychology Today, and others. Sara led the Western Washington chapter of the Society of Children's Book Writers & Illustrators and was recognized as SCBWI Member of the Year.
Alice Stephens' debut novel, Famous Adopted People, was published in 2018 by Unnamed Press. She is the editor of Bloom; writes book reviews and a column, Alice in Wordland, for the Washington Independent Review of Books; and is a facilitator for the Adoptee Voices Writing Group.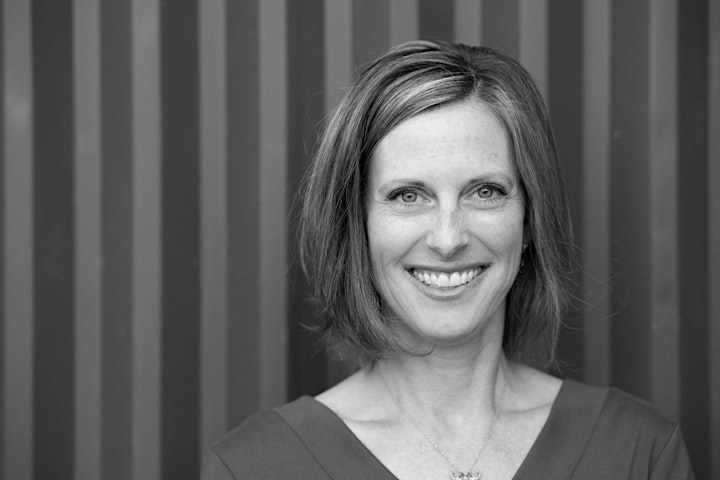 Panelists:
Rebecca Cheek is a Korean American adoptee living in South Carolina. She's a peace seeker, striving to live life yogically. She is currently taking a pause in her professional career to raise her children and trying to figure out what she wants to do when she (really) grows up.
Linzi "Logan" Juliano is a queer, transracial, Korean American adoptee who serves as a continuing lecturer of rhetoric and writing at the University of California, Los Angeles. She is currently producing a hypertext that blends theories of adoptee abjection and autopoiesis with personal narrative and illustration.
Rebecca Kimmel is a Korean American adoptee, currently living in the Midwest. Rebecca taught art at the high school and college level for 10 years in LA, before moving to Florence, Italy, for two years to pursue further art training. She is currently completing her studies in the US.
Haiku Kwon, aka Laura Kruis, is a Korean-born adoptee, writer, and wanderluster, who loves dogs, weightlifting, food, and connecting with others. She's learned that "home" isn't always a place. Sometimes, it's a moment.
Heather Lewis is a Korean adoptee. While her adopted parents are deceased, she has found her six biological sisters though 23andMe. She spent ten years teaching middle-school English and then moved to Austin, Texas, to work for Apple supporting educational sales. She enjoys reading and traveling.
Sara Streeter (Hea Sook Han) is a Korean American transracial adoptee in reunion since 2017. After a 10-year career in interior design, she left the industry and currently works in volunteer management. Sara writes flash non-fiction and is working on her first novel. She lives in Silver Spring, Maryland.
Amy Kim Waschke is a Korean American Adoptee and actor. She has performed in theaters across the country and internationally. Favorite plays include REVENGE SONG (Geffen Playhouse), MACBETH (OSF), VIETGONE (Seattle Rep) and THE WHITE SNAKE (Wuzhen Festival). For more about Amy visit her website www.amykimw.com.
Kayla Zheng is a transracial adoptee from China who was taken by a white family living in the USA. She has dived into the work of advocating for adoptee rights, leveraging education to uplift adoptees' unfiltered stories, and works to dismantle institutions and cycles of exploitation in adoption.