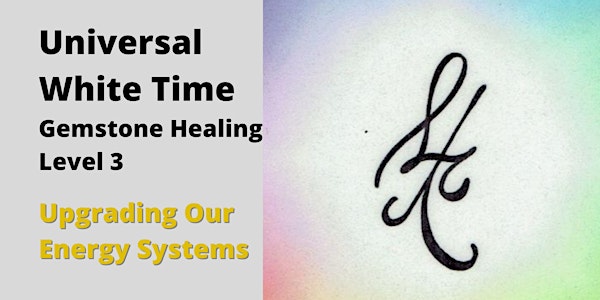 Universal White Time Gemstone Healing Level 3
Level 3 focuses on upgrading and understanding our evolving chakras and energy systems, and support through the Earth's vibrational changes
When and where
Location
Braulttree Wellness Center 415 Killingsworth Rd Ste 9A Higganum, CT 06441
Refund Policy
Contact the organizer to request a refund.
Eventbrite's fee is nonrefundable.
About this event
Do you have an affinity with crystals and gemstones? Are you a seeker looking to grow spiritually? Are you a holistic practitioner looking to expand your repertoire? Discover and explore the rare and ancient knowledge of Universal White Time (UWT). UWT is a powerful new energy healing modality There are four Levels in the gemstone healing branch of UWT.
This Level 3 Gemstone Class focuses on the raising energies of the Earth and how it affects our bodies and energy-fields, including our evolving chakra systems.
You will learn to perform, and receive the energies of advanced gemstone layouts that connect with the Earth's vibration 3-4 Years from now.
The energy from those layouts will support your spiritual growth and physical-energetic health. You will also be introduced to Distance Gemstone Healing, as well as sacred geometry for balance in the home and garden.
This class includes an initiation and certification as a Level 3 Universal White Time Gemstone Healing Practitioner.   These gemstone healing classes do not need to be taken in order. You can start with Level 3.
Tuition $575
Register with a non-refundable $50 deposit
Duration: 18 Hours
Contact Bradford Tilden for more information
860-830-5841 Bradford@CrystalMusicHealing.com
_____________________
Testimonials:
I highly recommend the Universal White Time Gemstone and Mineral Healing Class, taught by Bradford Tilden of crystalmusichealing.com.
This class is transformational by means of heightening your awareness of Earth's wondrous offerings of crystals and their unique healing properties. Individual layouts of Gemstone combinations are not only taught, but also practiced by the participants upon one another. Bradford is detail oriented, dedicated to spreading the message of this healing modality, and a conscientious mentor. The atmosphere is intense because of the amount of relevant information proffered, yet relaxed in its delivery. Humor flows naturally and this was truly one of the most interesting and fun classes I've ever taken. I will be attending Bradford's future classes and I highly recommend them to persons who have a natural curiosity about the elements and want to increase the effectiveness of their healing modality."
Grace Taylor
Moodus, CT.
_________
Bradford Tilden is a very gifted and inspirational teacher of the Universal White Time Healing Gemstone Courses. I took the first 3 levels of the courses this past year and absolutely loved the work. Bradford has an amazing knowledge of the stones that seems to go back eons ago and carried forth with each lifetime. In addition, Bradford is an amazing musician and we all had the privilege of listening to his compositions while placing the stone layouts on each other which made the entire experience even higher. Loved every minute of it!
Sally Trautner, Asst Head Teacher UWTH
About the UWT Gemstone Classes:
Level 1 is an introduction to the philosophy of Universal White Time Gemstone Healing and includes:
• how to feel the vibration of stones
• how to select the stones that work well together so you can build a basic healing kit
• how to clean and purify stones
• The Golden Movement 1
• how to use stones for healing animals
• recipes for "stone baths" for the Aura
• 15 layouts which are all experienced in class
• A Universal White Time initiation
Included is a Binder book by Channie Cha West
Level 2 focuses on how to use the stones and layouts for healing the body and the aura and for meditation, and an introduction to Color Healing as understood though the philosophy of UWT. The Level 2 class includes:
• how to program and balance the vibration of stones.
• how to open a Portal for Angels with a stone layout.
• more recipes for Stone Aura baths as well as some great stone elixir recipes.
• The Golden Movement 1
• This level has about 15 layouts, which are all practiced in class. They include layouts to open you up to greater creativity, increase your vibrational frequency as well as layouts for balancing your aura with every color of the rainbow.
• A Universal White Time initiation
Included is a Binder book by Channie Cha West.
Level 3 is the first part of the advanced Gemstone training. It focuses on preparing us for the Higher Vibrations of the New Earth. The shape and colors of our auras and chakras are changing as the vibration of the Earth is lifting and the layouts in this class help us integrate the changes.
• The 18 powerful layouts in this advanced level prepare our minds, auras, and bodies to help us make the shift to the New Earth harmonious.
• This level also includes layouts of stones on Universal Vibrational Language signs to bring harmony and balance into our environment.
• More meditations with stones to connect with our Earth Mother.
• How to program stones on a Higher Level using a Universal Vibrational Symbol.
• A Universal White Time initiation
Included is a Binder book by Channie Cha West.
Level 4 is the second part of the Advanced Gemstone Training. The focus of this dynamic advanced course is about learning to feel, and to come in contact with yourself as a Whole Being, your Totality of Being! It is also about meeting the Universe and all its beings. (You may discover that you are one of them!)
• This course has 50! layouts from connecting with your own Higher Self, various types of Angels to the Central Sun, The Third Drop & The Beyond.
• Also included are stone ceremonies for the seasons and how to initiate yourself or your friends to feel the vibrations of stones.
• Level 4 also includes a Universal Vibrational Language Sign for doing an advanced form of distance healing.
• A Universal White Time initiation
• By doing the Layouts in Level 4 in the correct order, you will open up your spirituality totally and come into contact with yourself, your Higher Self, and everything "out there", all the way to the Source of Divinity.
Included is a Binder book by Channie Cha West.