Event Information
Location
Microsoft Redmond Campus
Building 37
16071 NE 36th Way
Redmond, WA 98052
Description
This is a FREE event! Click on "Tickets" for more information.
---
Summary
Attendees will be hands on with Unity to explore room scale Virtual Reality using the workflows and features used by top game studios. During this training, attendees will build a complex 3D-tracked VR experience from start to finish while touching upon many of the diverse systems and tools that Unity offers.


PRIZE
One lucky attendee will win a 12-month Unity Pro subscription or 30-day access to the Unity Certfied Developer Courseware!
Topics
General workflows

Unity scripting

Unity Event System

Progressive Lightmapper (PVR)

Global illumination (GI)

Physically based rendering (PBR)

Post Processing Stack

Physics

Audio

3D Tracked Inputs

Virtual Reality (VR)

Preparation
Before attending, learners should install the latest stable build of Unity, currently 5.6 (please no beta installs due to instability and feature changes). Learners should be fundamentally knowledgeable about Unity before attending. The Roll-A-Ball project is recommended for individuals completely new to Unity to get them up to speed. Additionally, learners should open Unity at least one time prior to the Roadshow as internet is needed the first time the software is opened. It is also advised to bring a mouse.
Schedule

10:00 AM - 10:30 AM: Check-in & Registration
10:30 AM - 3:30 PM: Workshop
3:30 PM - 5:30 PM: Unity Certified Developer Exam - click here to learn more & register.
What To Bring:
Laptop & power cord. *Mac users must be running on OS 10.8 or higher in order to use Unity 5* No monitors + computers allowed, only laptoops allowed.
Mouse - unless you are extremely proficient using a track pad in the Unity editor, you will need a mouse. You'll wish you had one if you don't bring one!
Your printed or mobile ticket for entry


******************************************************************************************************************
Get Unity Certified in Seattle!
Sign up to get Unity Certified the day of the Roadshow - Saturday, May 13. Don't miss this chance to validate your Unity knowledge and skills against a global benchmark of proficiency and be among the first in the world to become a Unity Certified Developer!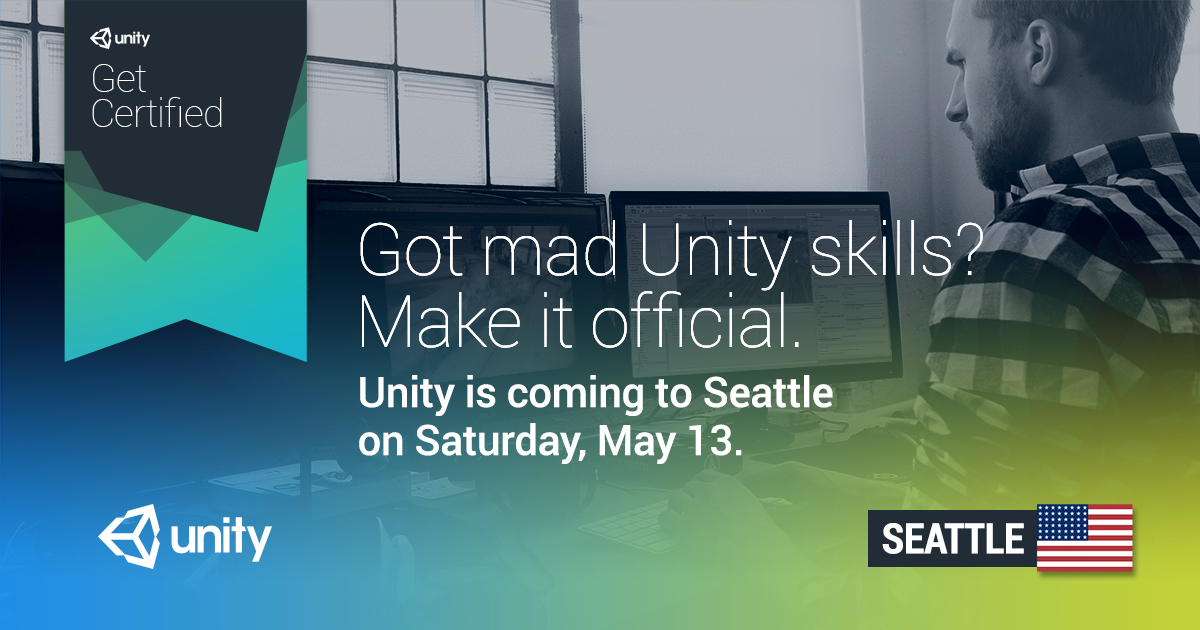 Date and Time
Location
Microsoft Redmond Campus
Building 37
16071 NE 36th Way
Redmond, WA 98052