Description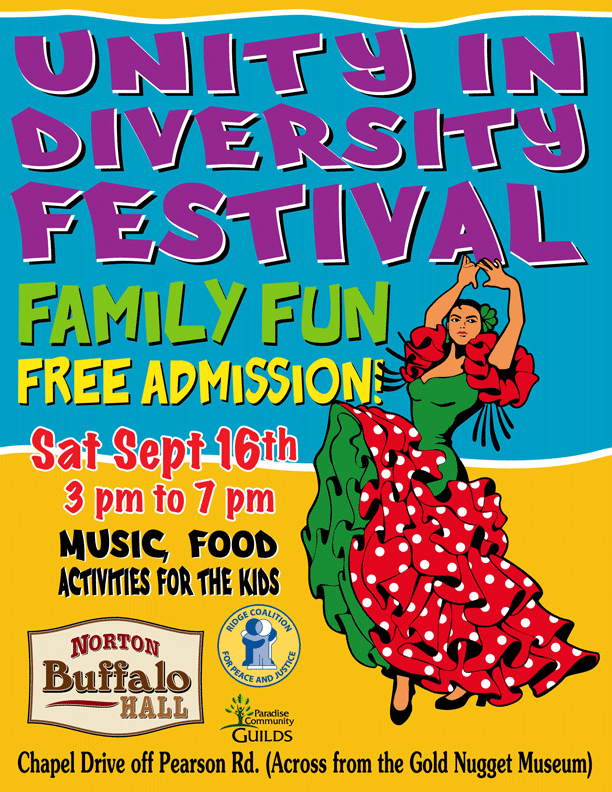 18th ANNUAL UNITY IN DIVERSITY FESTIVAL
Celebrating the diverse cultures represented in Butte County
Saturday, September 16, 2017 from 3PM - 7PM
PARADISE, CA, July 20, 2017—The 18th Annual Unity in Diversity Festival, co-sponsored by the Ridge Coalition for Peace and Justice and the Paradise Community Guilds, will be held at the Norton Buffalo Hall in Paradise on Saturday, September 16th from 3 to 7 pm. Admission is free.
Drinks and food will be available for purchase, and there will be ample opportunity to spend money on activities, crafts, and a silent auction. All proceeds will benefit nonprofits RCPJ and PCG.
Confirmed acts include the young Nelson Avenue Hmong Dancers, Native American flute and hand drum master Val Shadowhawk, a West African dance troupe who will invite audience participation, the Paradise Hula Dancers, Ballet Folklorica de Chico, and the Musica Latina of Arlena Torres. The festivities will be begin at 3 pm with a blessing by Lorenzo Durham, a resident of Paradise and descendant of the Cherokees and of the Scots.
The event will include lots of activities for the kiddies, face painting, a balloon man, and games. (PLEASE NOTE: The bounce house has unfortunately been canceled this year.)
Says David Zink, President of co-host Paradise Community Guilds, "We're proud to be collaborating with the Ridge Coalition for Peace and Justice on this fantastic celebration of multicultural Butte County and to host the many talented performers from diverse traditions on the cool, shady grounds of our beautiful Norton Buffalo Hall."
Don't miss this fun, family-friendly event on the grounds of the Norton Buffalo Hall!
Norton Buffalo Hall is at 5704 Chapel Drive in Paradise. From the Skyway, turn right on Pearson, go through the light at Black Olive, and turn left at the Hobby Shop just before the Gold Nugget Museum.
For more info, call Susan Dobra at 762-1490 or email Donna Dolinar at bddolinar@comcast.net.
This is a free event. Refreshments / Drinks for Purchase
---
Coming up:
• 10/28 - 4th Annual Halloween Costume Party & Zomie Stomp with The Apologetiks
• 11/11 - Tribute to Leonard Cohen
• 1/27/18 - To Wake You, David Zink
• 4/28/18 - Berkely Hart
For more info call 762-1490. Find out more at www.nortonbuffalohall.com