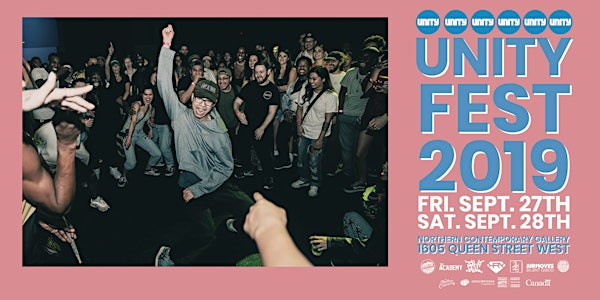 Unity Festival 2019
UNITY FESTIVAL 2019
When and where
Location
Northern Contemporary Gallery 1605 Queen Street West Toronto, ON M6R 1A9 Canada
About this event
Going into its 12th consecutive year, the Unity Festival--Unity Charity's annual flagship event and Canada's largest youth hip hop festival-- continues to be a dynamic, multi-disciplinary Hip Hop arts festival for youth that takes place at unique urban venues in Toronto's vibrant downtown core. Similar to Unity's work with youth year-round, the Unity Festival highlights Hip-Hop's power as an agent of artistic progression, community building and social change, with a focus on the empowerment of our future's most vital asset: youth.
The Unity Festival provides an opportunity for emerging youth artists to present high-quality performances alongside established artists, and creates an accessible platform for youth to engage in arts-based competitions, workshops and exhibitions. Youth also benefit from opportunities to learn from artists who not only expertly teach their craft, but also generously tell their own compelling stories of struggle, self-reflection and triumph through hip hop.
With this in mind, we're excited to introduce this year's festival theme:
Unity Is Hip Hop…Unity is Community…Unity is Youth
Join us on Friday, September 27th and Saturday, September 28th for the 2019 Unity Festival at The Northern Contemporary Gallery located inside the historic Parkdale Theatre building at 1605 Queen St. West.
The Northern Contemporary Gallery aims to promote Toronto's already-thriving art community, providing greater exposure for artists to new markets and houses a large performance space where Unity and its partners will be featuring Hip-Hop, R&B, and Spoken Word artists, major dance exhibitions and battles, a multi-media exhibition featuring a number of contemporary visual artists, as well as a Silent Disco.
DAY ONE: Friday September 27th, 6pm to 12am
Partnering with The Academy, a boutique concert and events presenter with a focus on music discovery and artist development, we continue to present an original roster of live performances. Headliners Ellen Bryant, singer/song writer Nicole Chambers, and beat producer Datsunn will perform alongside Unity Youth performers Thunderclaw, Kaiya Crawford, Angel Richards, Candice Williams, Uwa Eriamiantor, and Priscilla Yeboaa.
REBELS DE LA SOUL will host the preliminary rounds of the "777 - GLOW UP", an event that consists of three 7 to Smoke categories: dance, emcee and beatbox. The "GlowUp" is the culminating point of the event when the 3 winners of each category team up and get to battle the 3 judges in a 3v3 exhibition battle.
LOST IS FOUND, a multi-disciplinary arts collective curating inclusive spaces for artists to express themselves freely, will stage their ever popular CHEMISTRY series. CHEMISTRY is an experimental dance battle where contestants from all dance forms are randomly paired and must coordinate a routine on the spot. The intention is to expand creativity without limitation, take risks, and create something magical.
Inside the gallery, influential artists Anthony Gebrehiwot, Malcolm Emilio, Montreal's Monk E, and festival coordinator Andycapp, will be exhibiting a multi-media installation focused on race and displacement , while Unity's lead graffiti artist PHADE will be painting a large original mural on the side of the gallery.
DAY TWO: Saturday, September 28th, 6pm to 12am
Day Two focuses on the final rounds of the 777 - GLOW UP and CHEMISTRY BATTLES and a return to Unity's dance roots with a multi-city breakdance battle hosted by 2U4U, a monthly showcase series that is dedicated to the development of the street dance community and raising the skill level across all street dance styles to make Toronto the leading city in the country. Dance crews from Montreal, Ottawa, Waterloo and London will compete against the top dancers from Unity's weekly breaking programs with music provided by a Montreal legend, DJ Benny Lava.
Joining the art installation in the gallery room is the immensely popular Silent Disco presented by Airmoves and In Spades Co: move away from the concept of loud music in a night club, put on a set of wireless headphones, and experience live DJ's. It's super social with a spin, just lower the volume or take the headphones off to talk. How you move is up to you.