About this Event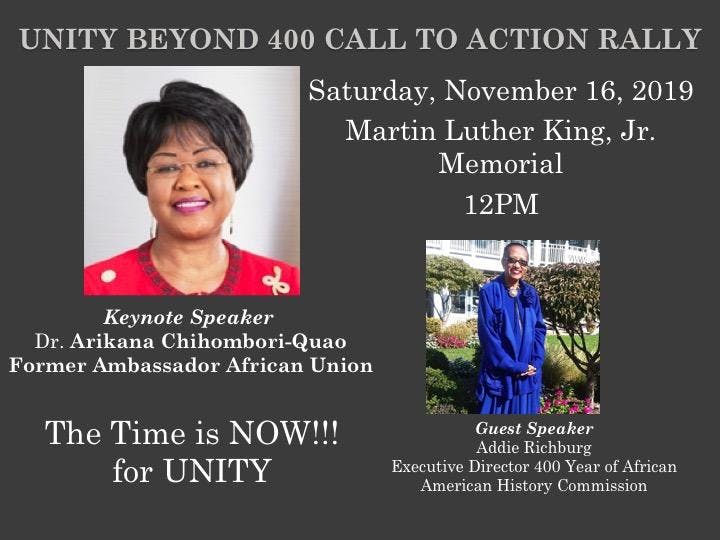 Come out and celebrate with Nick Cannon of Ncredible and the 400 Years of African American History Commission (YAAHC).
Keynote Speaker: Dr. Arikana Chihombori-Quao, Former Ambassador African Union
Guest Speakers: Earl Richard Rodriguez, Addie Richburg, Executive Director 400 YAAHC and other special Guest
Feature Artists: Caribbean Dancers, The Hot Cold Sweat Experience, Wasted Boy, and the Lost Man Shaming of America
Join Unity Beyond 400 (UB400) as we response to the 400 YAAHC's call to action. A call for programs and activities throughout the United States to recognize, acknowledge, and highlight the contributions of African Americans - and to learn about the impact of slavery over 400 years.
The core themes of UB400 are EDUCATION, ECONOMIC EMPOWERMENT, and envisioning our FUTURE BEYOND 400.
Our partners include:
American Africans United - www.aauone.org
TheOneGroup
GapBuster, Inc. - www.gapbuster.org
KB Connections - kbconnections.org
The Heart of Tabitha Foundation - http://www.heartoftabithafoundation.org
Freedom Fighter of the DMV
Peace in the Morning with Darius Stanton
Afrique Today
Women Offering Wealth
The Black Student Fund
Young African Diaspora Initiative
Council of Ghanaian Association
Gabonese Diaspora for Democracy and Good Governance
Lincoln Park Historical Foundation