UNITY a Tribe Affair with MR C / MR KOOL-AID/ TONY/ Mr Bremson & Danny Wood
About this Event
Journey home with Us . one VIBE one ROOM with................
MR . C ---- LONDON/ UK /LA
International DJ, innovative producer, founder of Superfreq, Plink Plonk, End Recordings, Hes A Actor, The Shamen frontman and co owner of The End ranked best club in the WORLD co owned it with Layo and Bushwacka , Mr C emerged as a pioneering force in the house music scene in 1987 and has continued to be instrumental IN THE HISTORY of House.
Richard West aka Mr.C was born in London in the late 60's. He started MCing in London clubs aged 16 & soon earned a reputation as a fast talking vivacious rapper working with LWR radio's Ron Tom, Jasper the Vinyl Junkie & Jazzy M. Mr.C then hooked up with Colin Faver & Evil Eddie Richards to became resident rapper at the legendary Camden Palace in London, going on to MC for Colin Faver on the then illegal pirate radio station Kiss FM. Mr.C went into the studio to record his 1st house track with Eddie Richards as Myster-E which was released in August 1987. This inspired Mr.C to become a DJ to learn more about his beloved House & Techno music so in September 1987 Richard took to the decks. Mr.C has since organized, promoted & been resident DJ at: Fantasy ('88), Base (Dungeons '89), Release (91), Harmony (92), Drop (93), Cyclone (94), Vapourspace (94 & 95), Flavour (The End 95 & 96), Subterrain (The End 95 - 2002), Superfreq (Worldwide 2002 - Present), Super Disco Freq (LA 2010 - present). Mr.C was also resident DJ every weekend (Friday & Saturday nights) at the legendary RIP parties at Clink Street in London throughout 1988. It was here that Rave Culture as we know it was truly born, inspiring all London raves that were to follow in 88, 89 & 90.
Mr.C held down a weekly radio show called Future Music with Kiss 100FM in London from 1993-2002 & has presented TV shows for MTV, FH1, VIVA & BBC. To say that Mr.C is one of the most iconic DJs in the world would be an understatement.
In December 1995 Mr.C opened the legendary nightclub The End in London with Partner Layo Paskin of Layo & Bushwacka! fame & then AKA bar 3 years later, which celebrated its 13th anniversary in December 2008 & was lauded as one of the best night clubs in the world, which completely changed the face of clubbing in London & beyond. Sadly The End & AKA closed its doors for good on January 24th 2009. 1 Chapter closes & another begins.
Mr.C is founder & owner of Plink Plonk records, co-founder of End Recordings & founder & co-owner of the Superfreq label, which is now releasing music prolifically.
Mr.C has recorded under the names, Myster-E, Unity 2, Nu Jacks, Bass Bureau, The Shamen, Mantrac, Somnambulist, Animus Amour, Killer Loop, Mr.C & Tom Parris, Mr.C & 16B, Sycophant Slags, Indigo Kidz & East LA Tek.
Mr.C is best known as front man, songwriter & producer of the pop group The Shamen with whom he notched up a string of top 10 hits including Move Any Mountain, Love Sex Intelligence, Boss Drum, Phorever People & the UK number 1 smash hit Ebeneezer Goode. These hits were hits the world over. The Shamen album Boss Drum went double platinum in the UK & they also won a highly coveted Ivor Novelo for Songwriters of the year UK in 1993. Richard's currently recording solo as Mr.C & is also doing collaborations as the Indigo Kidz with Affie Yusuf & with Noel Jackson as East LA Tek & has recent releases on Poker Flat, Get Physical Records & Adjunct Audio as well as his own Superfreq imprint.
Mr.C runs & promotes Superfreq events, which celebrated being 16 years old in March 2018 & ran monthly at Mr.C's club The End until it closed down in January 2009. Superfreq now functions bi-monthly in London hopping around London's popup warehouse venues & various clubs including The Steelyard after an extremely successful event with Richie Hawtin on December 2015, regular events at Fabric & regular quarterly events at Red Gallery until it's closure in July 2018. Superfreq does regular events in Los Angeles as well as bi-monthly events in Calais France & annual events in Brooklyn, Chicago, Detroit, San Francisco, Miami, Dallas, Denver & Washington DC in the United States & also Vancouver, Playa Del Carmen, Mexico DF, Moscow, Ibiza, Bogota, Montañita & other one off / annual events the world over & has recently competed an Asia tour hitting Manila, Phnom Penh, Siem Reap, Kuala Lumpur, Singapore, Beijing & Shenzhen. Superfreq has accomplished 7 successful seasons in Ibiza, 3 at Club Underground, 2 at the legendary DC10, 1 season at Blu, 3 events at Aura & hosted annual events at BPM Festival in Playa Del Carmen until it's unfortunate closure.
Mr.C completed a world tour for his Incidents album last year, which was released on vinyl & CD on his Superfreq imprint in June 2017 with singles Stand Up, Ripple Effect & Shape Your Dreams all containing superb remixes from renowned artists. Mr.C's brand new single Show Me with remixes by Ruede Hagelstein & Radio Rental is due shortly.
Mr.C is now procuring the Next Step Forward Festival to be held in various London clubs on 15/16 of September this year. This brand new boutique club festival includes showcases by Superfreq, Class of 88, Spilt Milk, Dirty Laundry, Dodo Club, Breakfast Club & Misfit & includes a line up of 38 acts including Mr.C, Eddie Richards, Bushwacka, Saytek Live, Jay Tripwire, Silverlining, Roel Funcken live, Steven Rutter & many more.
Mr.C is currently celebrating 30 years as a professional DJ with a collection of Mr.C past solo works. This is out now on his Superfreq imprint. This collection is called 30 Years of Mischief & features previously digitally unreleased music from his former labels Pilnk Plonk & End Recordings as well as Wagon Repair & Superfreq. Mr.C is currently doing shows celebrating this milestone with 30th Anniversary events around the globe.
You can hear Mr.C's current DJ mixes on his Soundcloud, check out many of his productions on his youtube channels & find all Superfreq releases on various outlets.
Mr.C Links:
https://facebook.com/mrcsuperfreq
https://twitter.com/mrcsuperfreq
https://soundcloud.com/mrcsuperfreq
https://youtube.com/user/richardfreq
https://instagram.com/bbeeaannzz
https://facebook.com/richardwestmrc
https://en.wikipedia.org/wiki/Mr._C
---------------------------------------------------------------------------------------------------------------------------------------------------------------------------------------------------------------------------------
MR KOOL-AID Creator Of Electric daisy Carnival , Founding Father of The La Underground , Sublevel Resident , Los Angeles Ca
Born in St louis, educated in London at St Martins School of
Art, now primarily residing in Los Angeles, CA.. Along with a
small handful of individuals, credited with kick starting the
American rave scene, Stephen, AKA Mr Koolaid, widely known
for his series of events, Alice's House and Double Hit Mickey,
including the Electric Daisy Carnival, of which, he produced
with Gary Richards 'dj Destructo', the EDC brand was licensed
to Insomniac prod in 1997.. Currently djng solo and traveling
and performing with 'Seksurobo- clown posse' globally.. a
residency at Sublevel in Los Angeles, with long time friend Doc Martin.. with countless releases on vinyl dating back to 1990
as well as remixing such artists as, Bjork, Daft Punk, Duran
Duran, Marilyn Manson, Cranberries, Bomb the Bass, Coldcut,
Kitaro, Blondie, Radiohead & Rick Ross to name a few.. Stephen has
managed a prolific career spanning 3 decades now and still going strong..
From creeky warehouses to raucous bars to swanky boîtes and back again, Mr Kool-Aid has bash-ed 'em all. The 46-year-old L.A. native isn't your average chatty, social-butterfly-type party planner, and he comes off supermellow, even a bit shy, but beneath the soft-spoken exterior there's a creative spark and knack for getting people together that's been flickering for almost two decades. Just into his teens in the early '90s, "Mr. Kool-Aid," as he called himself, was a hot electronic-music DJ and promoter helping put on some of L.A.'s biggest dance-music events, many at unconventional locales like water parks and shopping malls. Though he continued to throw random parties here and there after the undergound scene petered out ("The 'rave' label and the attention that came with it signaled its downfall," he says), it wasn't until 2000 when he created Radio — an electro-meets-rock night that packed Star Shoes on Wednesdays — that he was again a nightlife force. Arguably, that club was the impetus for what is now known, for better or worse, as "the Hollywood hipster" scene, the shaggy mama that bore Cobrasnake and his messy minions and made it okay for rockers to dance.
But it's in the unvarnished surroundings of downtown that Stephan Haupfuhr aka Mr Kool Aid still feels most at home. In addition to his involvement with filmmaker Burke Roberts' mobile theater called The Engine, he was a major player in the recent run of Smashbox-alternative L.A. Fashion Week shows that glitzed up the Los Angeles Theatre, and he's thrown some raging bashes in Chinatown at the Mountain Bar. Lately, he's returned to downtown's warehouses where he got his start, throwing the monthly, invite-only Tik Tok parties, featuring DJs, art installations and a return to the "underground" feel (promotion is kept very low-pro). "In a club it's the same four walls every time," he says. "But in a warehouse you can make your own environment and make it different every time." And what does he think about downtown evolving as a nightlife and residential mecca? "I welcome change," says the longtime loft dweller, who in fact is working with City Council in the events arena. "If you don't change, you don't grow. Plus, I'd rather be part of it than let it turn into another Hollywood and Highland."
---------------------------------------------------------------------------------------------------------------------------------------------------------------------------------------------------------------------------------
TONY HEWITT / Basics/Funky Tekno Tribe/Gathering / UNITY . SF , UK
A native of Manchester, England, Tony Hewitt came to the U.S. in 1988. While living in Southern California, he discovered L.A.'s Underground warehouse parties where he'd hear DJs like Doc Martin, Steve Loria, Barry Weaver and Michael Cook - who inspired him to start DJing. In 1992, he moved to San Francisco where he began a residency at the legendary Gathering parties, Funky Tekno Tribe and guest spots at Come-Unity. To date, he has dj'd all over the U.S, Canada and Europe, with guest spots at Fabric in London,the Bomb in Nottingham, La Terraza in Spain and OTV Club in Croatia. In the late 90's Tony, Onionz, Hipp-e & Halo, Joeski & Master D joined forces as the 6400 CREW and went on to record for the best house labels around, like 2020 vision NRK, Soma and Yoshitoshi. Tony Is UNITY's Resident Dj
MR BREMSON
DANNY WOODS / UNITY / Sacramento , Ca , Producer, Dj, songwriter & guitar player UNITYS Resident Dj
NO GUEST LIST FOR THIS EVENT
This will be at a PRIVATE safe n secure Sacramento Location
This Is Zac Chavez's 41 st PRIVATE BIRTHDAY EVENT
DEEP VIBE 'N INFO LINE 916-644-0576
we are 420 friendly
Sound,Stage and Lighting by LITE BRITE productions
Supported By F-Society
We welcome all vendors please email deepviben@sbcglobal.net Or Call Us 916-417-8373
21 n up
9pm-7am
DOOR PRICE $30.00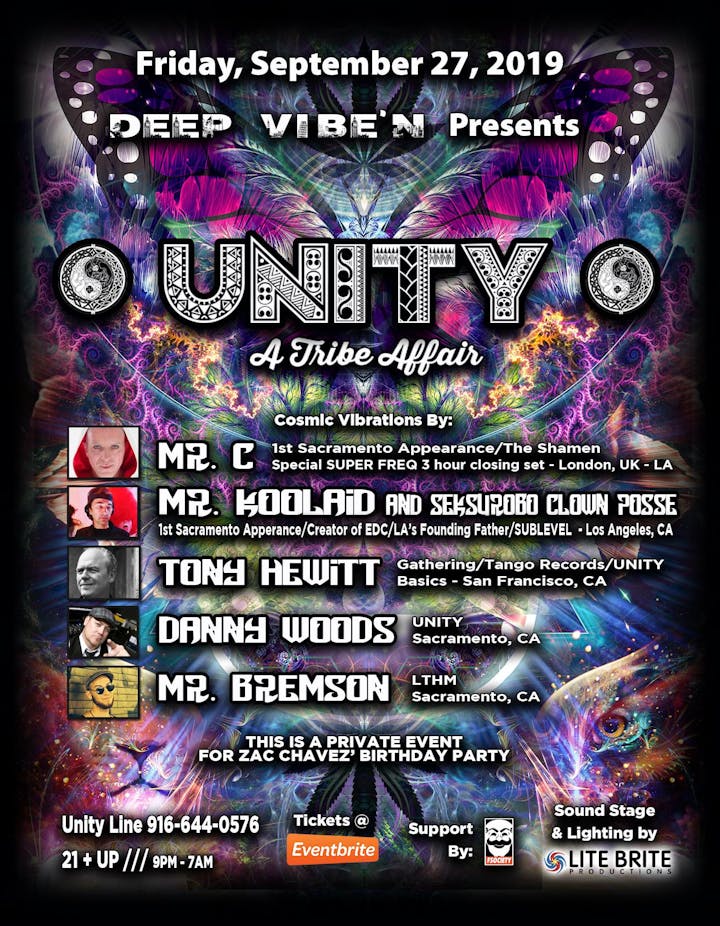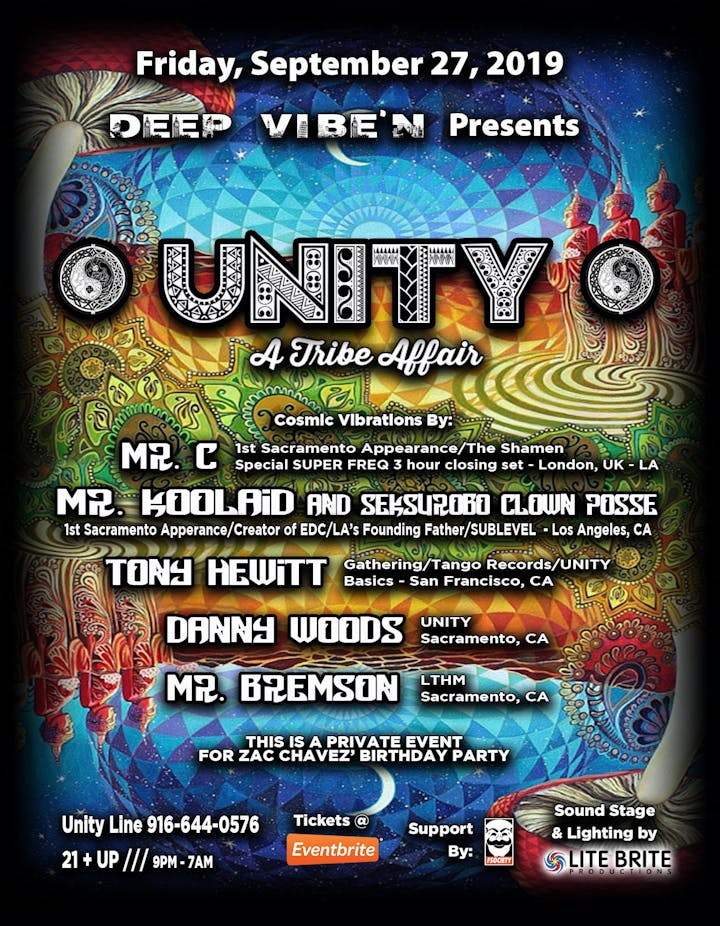 Channeling The Power Of A New Path ☯️🕉☮️💟 Celebrating Life through music
To the powers that be,
Tonight on Friday SEPT 27TH 2019 Moon we dance, and you can't stop us
Unity Is Tonight and we celebrate life, while you seek to destroy it
Our ritual precedes you and it will outlast you
Our ritual is older than your religion
Our ritual is older than history
This ritual is ours and it is everyone's
You may stomp on us with your boot in one place and we will rise in another
The beat of the drum is eternal and it can't be silenced. Lets have the Best Nights of Our Lifes 🙏🏽☯️🕉💟☮️