Event Information
Location
Starnet Data Design, Inc.
2659 Townsgate Rd
Conference Room Suite 242
CA 91361
Description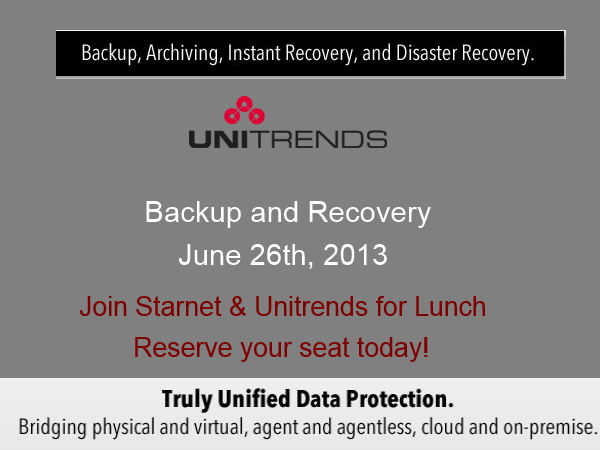 This month's Starnet discussion- 'Avoiding common pitfalls, careful planning, testing, redundancy and how joining the correct technology plays a critical role in your recovery from the inevitable system disaster.'
What Causes Data Loss?

The first thing to do is understand the most common reasons that data is lost.

The primary causes of data loss are:
- Human failure
-Human error
-Software corruption
-Theft
-Computer viruses
-Hardware destruction

Unplanned interruption in your business can cause loss of customers and prospects. The strategy you choose to guard against that loss depends on these three factors:

-How much data you need to protect
-How long you can endure downtime of operations
-Your IT budget

Learn how these factors will help inform your decision to adopt a virtual, cloud, or physical disaster recovery method, or some combination of these, to support your data protection needs.


Join us for this informative lunch & discover Unitrends

• Keeps Your Data Safe: All-in-one on-premise backup appliances that support virtual and physical system backups
• Allows For Easy Recovery: Disaster recovery via disk-based archiving as well as electronic vaulting to private-and public-clouds in minutes, not days
• Saves You Money – Our solutions carry the lowest total cost of ownership in the industry
Date and time
Location
Starnet Data Design, Inc.
2659 Townsgate Rd
Conference Room Suite 242
CA 91361