Uniting Generations and Ethnicities of Polonia

Multiple Dates
Event Details
 Uniting Generations and Ethnicities of Polonia 
aka The Grandparents Project
 The Workshops are filled.
Thank you for your interest.
Look for additional workshops in early November.
 
  Two day workshop
Session One : An introduction to the history and ethnicities of Poland.
Session Two : Ship manifests and U.S. Census records.
Session Three : Photo Day — Digitize family photos and have a family portrait taken.
Session Four : Family Stories — Fact or Fiction?

 Display in September — Open to the Public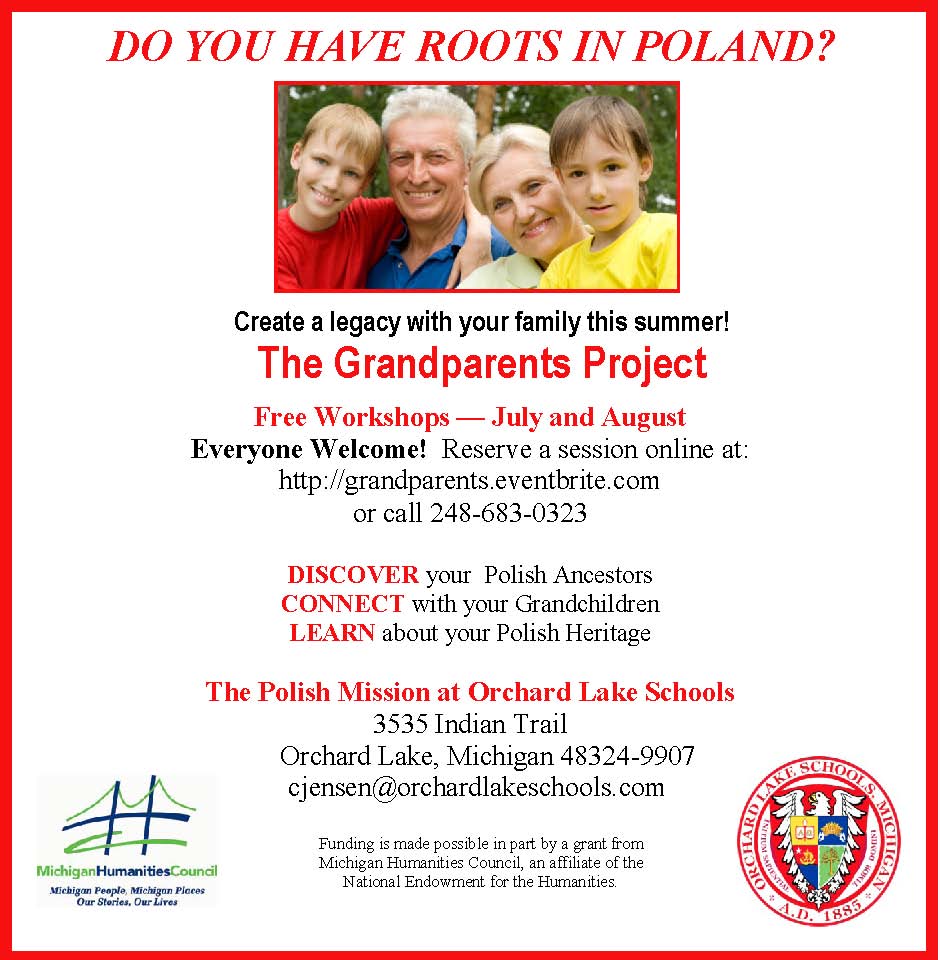 To be ignorant of what occurred before you were born is to remain always a child. For what is the worth of human life, unless it be woven into the life of our ancestors by the records of history?—Cicero

Project Summary
Uniting Generations and Ethnicities of Polonia is an initiative by the Polonica American Research Institute (PARI), a part of The Polish Mission, to bring together three tri-county ethnic groups: Jewish,German and Polish residents, who share roots in Poland. PARI received funding to organize workshops for grandparents and grandchildren to explore and document their Polish heritage and bridge between the three ethnicities that, at times, were estranged. The summer workshops are scheduled to assist grandparents who are looking for enrichment activities for the grandchildren's summer visit and enhance the holdings of PARI. They will work together to write their histories and seek primary material. While the grandchildren may be more proficient at scanning photographs and accessing the Internet, the elders possess rich oral traditions and practices of the family. Together they will produce an archival family booklet. The workshop will be held on the historical campus of Orchard Lake in the PARI research room and lab.
Please email Ceil for the schedule. cjensen@orchardlakeschools.com
Where

The Adam Cardinal Maida Alumni Library
3535 Indian Trail
Orchard Lake, 48324-9907


Multiple Dates
Add to my calendar
Organizer
The Polish Mission of the Orchard Lake Schools, which were founded in 1885 by Polish immigrants, is to preserve and promote Polish and Polish-American culture, tradition, and history for present and future generations. The Polish Mission organizes programs, courses and events that highlight Polish and Polish-American culture and accomplishments. The Polish Mission ensures a repository for artifacts, archival materials, works of art, and publications.