Location
22186 Deckers Rd
22186 Deckers Road
Pine, CO 80470
The 7th annual United Undivided Family Friendly Full Moon 3 Day Camping Music Art and Wellness Gathering in Pine, Colorado
About this event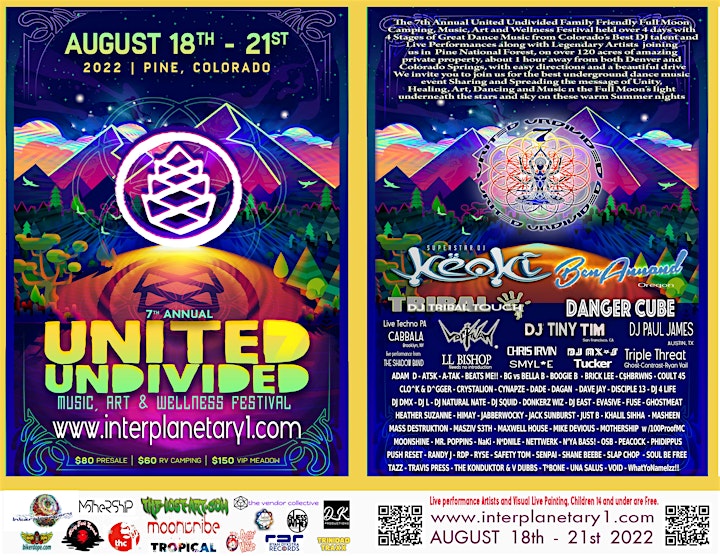 Event Details
The 7th annual United Undivided Family Friendly Full Moon 3 Day Camping Music Art and Wellness Gathering located in the Heart of Pine National Forest, just 1 hour from Denver and Colorado Springs @ the remarkable privately owned Little Scraggy Campsite where it was held last year!! This August 18th -21st 2022.
Of course we are overjoyed and grateful to be joined by OUR INTERPLANETARY FAMILY over the past 25 years, followed by those who maybe rejoining us or those coming for their first UNITED UNDIVIDED EXPERIENCE – We are dance music enthusiast's who believe that we can help spread the positive and peaceful message of which we hope can one day save the World.
There will be 4 stages in the main festival area, and there will be 1 Daytime stage in the VIP Meadow. Where we will have the Kids workshops and the Workshops for Adults as well.
LTD Presale
SOLD OUT of Limited Presales!!
$80.00+$6.50 Fee
We will have tickets slightly higher the day of and at gate.
VIP Special Camping Meadow
$300.00
SOLD OUT!!
This VIP ticket is for 2 groups of 4 each, one provides an Authentic Tipi in the Cosmic Meadow, and the Other is for The Commanders Tent in the Cosmic Meadow, as well. It includes 4 passes into the Festival. The Cosmic Meadow is one half mile before the festival gates, and does include a day time stage of music and workshops.
General Admission VIP MEADOW
$150.00
(LTD 15 packages left)
This ticket is for the limited Cosmic Meadow camping spots , it provides camping for two and two festival entry tickets as well. so there are a limited amount of tickets available. It does not provide a tent. Just special camping spots.
RV add on
LTD RV SPOTS
$60.00+$5.28 Fee
(ltd 15 RV Spots 20′- 40′ maximum)
this is for an RV spot and does not include tickets into the festival, these spots are located in the Cosmic Meadow and does not provide any hook ups. We recommend arriving early to insure you get the spot you want. 1st come, 1st serve
THE TALENT:
Superstar DJ KEOKI - World Renowned Legendary DJ and Electronic Producer who in the early 1990's helped shape the NYC Club Culture, From his time at Limelight to the Touring DISCO 2000 , gaining "SUPERSTAR" status and Global Fame with his Techno driven mixes SPEEDRACER, TRANSATLANTIC MOVE and JOURNEES BY DJ early in his career, to his growth into a Music Producer defining the dance floors and mesmerizing crowds everywhere with his EGO-TRIP release with singles like MAJICK and CATERPILLER in the late 1990's and moving into an almost Mythical Character as the PARTY MONSTER Film began its drive and gains new fan fair immortalizing the INEVITABLE ALIEN Himself. He has been a friend for many year and he is truly at the top of his game. We are pleased to host him for the weekend.
BEN ANNAND - We are honored to have this gentleman join us for this very special weekend. Originally from Hawaii, but now resides in Eugene, Oregon, where he runs his Tropical Brand of Events all over the West Coast. Ben is primarily known for Headlining dozens of great music festivals all through out the Country, A prominent member of both Desert Dwellers and Moontribe. His Techno and House infusion will bring the coastal vibes to our mountain side.
TRIBAL TOUCH - Well what can be said about this one time Local Legend. A prolific underground DJ here in the Colorado Underground scene since before the Rave Wave of the early 1990's. He had moved to Detroit and became the resident dj for the NBA's Detroit Piston's Organization, until he had moved a few years ago to Phoenix, AZ, and is now the Phoenix Suns resident DJ. Beyond that. Tribal has never let down the House scene in Colorado.
DANGER CUBE - The DJ/Producer Duo for Guess Who? Imprints, comprised of DJ Josh Ritter and DJ Notus. Joining us for their only Festival of Their 16 date tour this year. House music at its finest.
DJ TINY TIM -House Music Producer and DJ from San Francisco, bringing his Funky House Sound to United Undivided 7
LL BISHOP - A man who has helped shape and mold the Underground Dance Music Scene in Colorado since the early 1990's. Being the local favorite who never failed to deliver live dj sets that truly set the stage for the RAVE Cultures music to help expand across the globe. With his amazing record store SOULFLOWER, where the whose who of DJ Royalty would be found with headphones on checking out the newest releases that would one day be some of the biggest songs beloved all over the world.
THE ANDRAMADA PROJECT - Live PA - The Return of Our Beloved Friends! With all new Music!!!
LIVE PA - BLONDE IDEA (REUNION) - This Amazing Los Angeles Duo, haven't performed live together in nearly 20 years, beautiful Electronic live performance that will show that BLONDE IDEA is a Great Idea.
Live PA - ASTRO_GRIMM
CHRIS IRVIN - SMYL-E - LOCHJAH - DJ PAUL JAMES
THE SHADOW BAND(live)
TRIPLE THREAT - DJ's - RYAN VAIL, GHOST, and CONTRAST
ADAM D - AT5K - A*TAK - AX*S - ASTRO_GRIMM
BEATS ME!! - BG vs BELLA B - BENEVOLANT B-BOY
LUKE VADER - NoRoM - ALEX H
BOOGIE B - BRICK LEE -C$HBRWNS -
CLOAK & DAGGER - COULT 45 - CRYSTALION
CYNAPZE - DADE - DAGAN
DAVE JAY - DJ EAST - DISCIPLE 13 - DJ 4 LIFE - DJ DMX - DJ L
DJ NATURAL NATE - DJ SQUID - DONKERZ WIZ - EVASIVE - FUSE
GHOSTMEAT - HEATHER SUZANNE - HIMAY - JABBERWOCKY
JACK SUNBURST - JUST B - - KHALIL SIHHA - MASHEEN
MASS DESTRUKTION - MOONSHINE
MASZIV S3TH - MAXWELL HOUSE - MIKE DEVIOUS
MOTHERSHIP w /100ProofMC - MR. POPPINS - N*DNILE
NETTWERK - N'YA BASS! - NaKi - NOFILTER -Live PA
OFFICIAL, INC. - Live PA - OSB
PEACOCK - PHIDIPPUS - PUSH RESET
RANDY J - RDP - RYSE - SAFETY TOM
SENPAI UNDERGROUND - SHANE BEEBE - SLAP CHOP - SOUL BE FREE - TESS
TAZZ - TUCKER - THE KONDUKTOR & V DUBBS - T*BONE
UNA SALUS - VOID - WhatYoNameIzz!! - YRO
We have great aerialists and Fire spinners and Dancers/ Live Performers provided by our Beautiful Friends at Ambient Movements
Our Vendor Village is Managed by our amazing friends with THE VENDOR COLLECTIVE. which includes several booths of gems and Minerals, Clothing and Festival Wares as well as Massage booth's and food trucks, and of course Artists booths with live painters and crafts as well as Retail Booth's by THE ROOT OF THE HILL, MACROW'S CRYSTALS and GEMS, MOTHERSHIP, ANDRAMADA, and RYAN DYKSTRA RECORDS
We will also have a great Children's play and activities area sponsored by the Great parents of our United Family. With Face Painting, Make your Own Play dough, and dozens of other great camping activities designed to keep the kiddies enjoying their experience as well. ALL CHILDREN 14 and under are free, but must be accompanied by at least one legal guardian.
We pride ourselves in making sure everyone comes to camp and be safe, and we have made it our priority to provide great security, Amazing DJ's, the most Beautiful Property, and of course it is our pleasure to do what we can to make this weekend one that will be remembered for the rest of Our Lives! Thank You for all the Love and Support for the past 7 years, and of course the 21 years before that. We are one!