What you need to know about the new USMCA trade agreement
About this event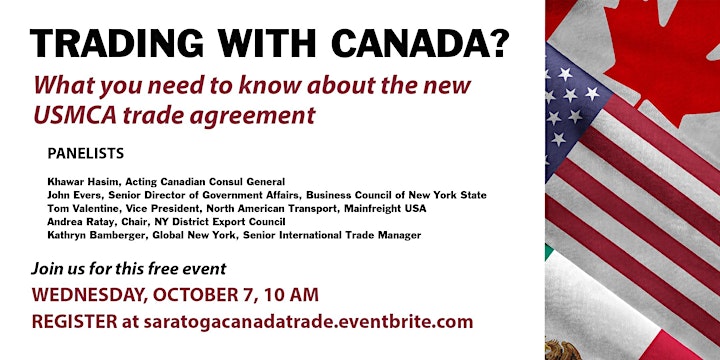 TRADING WITH CANADA?
What you need to know about the new USMCA Trade Agreement
Join us on Wednesday, October 7 at 10AM for a free and informative webinar to learn more about the new U.S.-Mexico-Canada Agreement (USMCA) trade agreement and how you can benefit by importing and exporting to Canada. The USMCA provides a strong incentive for businesses in our neighboring countries to find new customers across our borders through exports while supporting jobs here in the United States.
New York state exported almost $73.3 billion in 2019 and $84.7 billion in 2020, with 19.4% and 19.8% respectively going to Canada. The next closest market is Hong Kong at 8.9% and 10.2% respectively. N.Y. small business exports contributed $49.22 billion to the economy and supported 394,350 jobs. If small businesses better utilized current access to global markets and gained additional opportunities through improved policy environments (i.e., new market-opening agreements), it could increase the GDP of New York by $7.34 billion and add 58,162 new jobs based on a 2019 report by the U.S. Chamber of Commerce and Google.
Our webinar USMCA is part of our effort to bring experts and resources to businesses in Saratoga County, and the Capital Region, to help local companies benefit from global markets. Shelby Schneider, President of SCPP, will host and Mary Ryckman, Advisor, Business Retention, Expansion + Global Markets will moderate the panel on the USMCA.
PANELISTS: