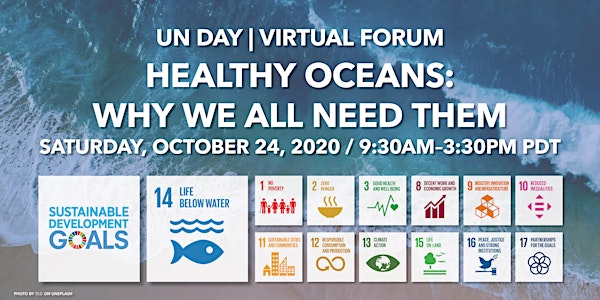 United Nations Day — Healthy Oceans: Why We All Need Them
Healthy Oceans - Why We All Need Them
Refund Policy
Contact the organizer to request a refund.
Eventbrite's fee is nonrefundable.
About this event

The oceans connect us all and provide livelihoods for one third of the world's population. The health of the oceans is threatened as are the lives of all who depend on them – and all of us depend on the oceans for our Earth's systems, including oxygen, food, transportation, and all our Earth's systems. 2019 was the year that the urgency of what is happening with our oceans took center stage – from COP 25 in Madrid, referred to as the Blue COP due to the key focus on the oceans, to a pledge of $64 billion by 370 government agencies, investors, and companies to fund oceans solutions at a single event. Join us for an engaging and informative day with experts and leaders working on restoring ocean health!
9:30 am | Opening Welcome
´Mary Steiner, President, United Nations Association, USA, San Francisco
UN75 DAY | The Birth Place of the United Nations in 1945
Paula Boland, President, United Nations Association, USA,
President, UNA National Capital Area
9:50 am Keynote by Wendy Schmidt, Schmidt Family Foundation
10 am | High-Level Panel: What is the State of the Oceans?
Ambassador Peter Thomson, United Nations — Special Envoy for the Ocean
Ambassador Peter Thomson has served as the UN Secretary-General's Special Envoy for the Ocean since 2017, in which role he is driving the implementation of UN Sustainable Development Goal 14, to conserve and sustainably use the resources of the Ocean. In 2016 he was elected to serve a one-year term as President of the General Assembly of the United Nations. He was Fiji's Permanent Representative to the United Nations from 2010 to 2016, during which time he was President of the Executive Board of the United Nations Development Programme (UNDP), the United Nations Population Fund (UNFPA) and the United Nations Office of Project Services (UNOPS). He led the Fiji team of diplomats that in 2013 chaired the Group of 77 and China – the UN's largest negotiating group, comprised of 133 developing countries. He was elected as President of the International Seabed Authority's Assembly in 2011 and as President of its Council in 2015. Ambassador Peter Thomson is a founding Co-Chair of the Friends of Ocean Action and is a supporting member of the High-Level Panel for Sustainable Ocean Economy.
Mary Robinson, Former President of Ireland; The Elders
Mary Robinson is an Adjunct Professor for Climate Justice in Trinity College Dublin and Chair of The Elders. She served as President of Ireland from 1990-1997 and UN High Commissioner for Human Rights from 1997-2002. She is a member of the Club of Madrid and the recipient of numerous honors and awards including the Presidential Medal of Freedom from the President of the United States Barack Obama. Between 2013 and 2016 Mary served as the UN Secretary General's Special Envoy in three roles; first for the Great Lakes region of Africa, then on Climate Change and most recently as his Special Envoy on El Niño and Climate. Her Foundation, the Mary Robinson Foundation – Climate Justice, established in 2010, came to a planned end in April 2019.
A former President of the International Commission of Jurists and former chair of the Council of Women World Leaders she was President and founder of Realizing Rights: The Ethical Globalization Initiative from 2002-2010 and served as Honorary President of Oxfam International from 2002-2012.
Mary Robinson serves as Patron of the International Science Council and Patron of the Board of the Institute of Human Rights and Business, is an Ambassador for The B Team, in addition to being a board member of several organizations including the Mo Ibrahim Foundation and the Aurora Foundation. She was Chancellor of the University of Dublin from 1998 to 2019. Mary's memoir, 'Everybody Matters' was published in September 2012 and her book, 'Climate Justice - Hope, Resilience and the Fight for a Sustainable Future' was published in September 2018.
Amir Dossal, Global Partnerships Forum
Amir Dossal is Founder and President of the Global Partnerships Forum – a not-for-profit knowledge platform providing changemakers with tools to build innovative partnerships for the SDGs.He is co-founder of the Pearl Initiative, the Ocean Sanctuary Alliance, Blockchain Commission for Sustainable Development, and the Coalition for Better Health. He is a founding Commissioner of the Broadband Commission for Sustainable Development, and Champion for the UN's Safe Ground Campaign.Amir is a 25-year veteran of the United Nations. He served as Executive Director of the UN Office for Partnerships, which he established to manage the $1 billion gift by media mogul Ted Turner. Over the years, he founded several new initiatives, including the first-ever partnerships function, UN Democracy Fund, UN Peacebuilding Support Office, and the Management Policy Office.Amir is an accomplished diplomat and works globally across the economic and social spectrum.Amir is a recipient of several awards, including the UNA-NY 2010 Humanitarian Award, the ICAEW Outstanding Achievement Award, and the Ellis Island International Medal of Honor. In 2015, Amir and his son, Zecki received the Humanitarian Innovation Award for intergenerational partnerships.Amir is a UK Chartered Accountant (FCA). He is married to Tas, and they have one son, Zecki.
Jyotika Virmani, Schmidt Oceans Institute
Dr. Jyotika Virmani is the Executive Director of the Schmidt Ocean Institute, a philanthropic organization dedicated to advancing oceanographic research and exploration. Prior to this, she was the Executive Director of Planet & Environment at XPRIZE, where she led the Shell Ocean Discovery XPRIZE to spur innovations in unmanned, rapid, high-resolution seafloor mapping technologies. Dr. Virmani joined XPRIZE in 2014 as the Technical Director for the Wendy Schmidt Ocean Health XPRIZE, a competition for pH sensor development to measure ocean acidification. Before joining XPRIZE, Dr. Virmani was the Associate Director of the Florida Institute of Oceanography and a Senior Scientist at the UK Met Office.
She has a Ph.D. in Physical Oceanography from the University of South Florida. As a Rotary Foundation Ambassadorial Scholar, she earned a M.S. in Atmospheric Science from SUNY at Stony Brook. She also has a B.Sc. in Physics from Imperial College London and is an Associate of the Royal College of Science.
She serves on the U.S. Integrated Ocean Observing System Federal Advisory Committee, the National Geographic Executive Committee for Research and Exploration, is a member of the WEF Global Future Councils and a Fellow of the Royal Meteorological Society and The Explorers Club.
Moderator: Lina Constantinovici, UNA-SF Advisory Board, Innovation 4.4 Oceans Funders
Lina Constantinovici is the Founder and CEO of Innovation 4.4, an organization focused on accelerating innovation needed to achieve the UN SDGs, with three Oceans Funders initiatives – an Oceans Prize, an Oceans Funders Knowledge Platform, and Ocean Technology Showcases for governments and corporations. Lina also serves on the Advisory Board of the United Nations Association San Francisco Chapter. Lina has spent the past 15 years building impact solutions as an pioneer and thought leader in innovation, investing, family office and philanthropic advising, and sustainability implementation.
Lina has evaluated over 6,000 technologies, advised several hundred startups, and cofounded several. Lina is the Founding Co-Chair of the NEXUS Global Impact Investing Working Group, catalyzing next-generation investment capital. In 2013, Lina received the NASA/SSV Finalist Award in the Showcase of Solutions for Planetary Sustainability for Startup Nectar, the first in the world biomimetic technology incubator that she founded. She is also the recipient of the RE:STORE international Design Award for reinventing the retail experience towards more sustainable practices.
For San Francisco Department of Environment, Lina co-authored the Waste Offset Legislation, a financial incentive for the GHG emissions reduction program towards the city's zero waste goals. For W Hotels, Lina developed a sustainability strategy and implementation process and lead a scenario planning process for a sustainable supply chain strategy. Lina advises the Livebarefoot Foundation, and serves on the Boards of Schmidt Marine Technology Partners (a division of the Schmidt Family Foundation focused on funding Oceans solutions), Center for Environmental Health, Environmental Health Sciences, and Rainforest Partnership. Lina has spoken at over 600 conferences in the past 14 years, including the Nobel Peace Prize Summit, the United Nations, NASA Centennial Challenge Launch, SXSW Eco, and many others.
11 am | Session 2: What Do We Know About the Oceans?
V. Ramathan, Scripps Institution of Oceanography
Ramanathan discovered the greenhouse effect of CFCs (cholorofluorocarbons) in 1975 and showed that a ton of CFC-11 and CFC-12 has more global warming effect than 10000 tons of CO2. This discovery established the now accepted fact that non-CO2 gases are a major contributor to planet warming and also enabled the Montreal protocol to become the first successful climate mitigation policy. For this work, he was awarded the Tyler Prize by Nobel Laureate Sherwood Rowland in 2009.
In 1980, Madden and Ramanathan were the first to make a statistical prediction that global warming will be detected above the background noise by 2000, a prediction which was verified by the IPCC-UN experts in 2001. He led international field campaigns, developed unmanned aircraft platforms for tracking brown clouds pollution worldwide. His work has led to numerous policies including the formation of the Climate and Clean Air Coalition by the United Nations.
He founded, designed, and leads Project Surya along with daughters Nithya Ramanathan and Tara Ramanathan; an extended effort to characterize and mitigate climate and health impacts of cooking with solid biomass as a way to protect the bottom three billion from climate change.
He is now leading a University of California climate solutions effort that has launched an education protocol on climate solutions [Bending the Curve] that is expected to reach a million students or more. He is Co-editor and Co-author of two books on climate solutions: Bending the Curve; Health of People and Health of Planet.
He was honored as the science advisor to Pope Francis' holy see delegation to the historic 2015 Paris climate summit. He was named the UN Climate Champion in 2013; has been elected to the US National Academy and the Royal Swedish Academy which awards the Nobel prizes.
Joao Sousa, International Union for Conservation of Nature
Joao Sousa is a Marine Project Officer at IUCN (The International Union for Conservation of Nature) where he focuses on collaborative solutions to mitigate plastic debris in the world's oceans. This involves coordinating research to inform policy, creating platforms to encourage innovation and sharing of best practices, and cooperating with industry to change behavior. Joao also works on conservation and mitigation for the oil and gas industry in the North Sea (decommissioning platforms), as well as private sector engagement for best practices in the production, extraction and transformation sectors in Mozambique. In the latest 8 years, within the Global Marine Programme, he developed an extensive network, stakeholder forum and developed projects related with waste management, plastic debris and waste management policies. Joao is an experienced Biotechnology engineer with 20 years of engineering, biotechnology and project management experience specializing in oil & gas operations, bioenergy, biofuels and biodiversity.
John Peterson "Pete" Myers, Environmental Health Sciences
John Peterson "Pete" Myers is founder and Chief Scientist of Environmental Health Sciences, a not-for-profit organization that promotes public understanding of advances in scientific research on environmental and human health, especially on how chemical exposure even at low doses can cause serious adverse effects.
For a dozen years beginning in 1990, Dr. Myers served as Director of the W. Alton Jones Foundation in Charlottesville, Virginia. Along with co-authors Dr. Theo Colborn and Dianne Dumanoski, Myers wrote "Our Stolen Future," a best-selling book (1996) that explores the scientific basis of concern for how contamination threatens fetal development. Vice-President Al Gore wrote the foreword.
Dr. Myers is actively involved in research on the impacts of endocrine disruption on human health. He is an Adjunct Professor of Chemistry at Carnegie Mellon University. He is on the boards of the Science Communication Network and the Jenifer Altman Foundation. He has also served as board chair of the National Environmental Trust and the H. John Heinz Center for Science, Economics and the Environment.
Over the last few years, he has received 2 major national and international scientific awards: the first "Champion of Environmental Health Research" award from the U.S. National Institutes of Health; and the Laureate Award for Outstanding Public Service from The Endocrine Society.
Dr. Myers received a doctorate in the biological sciences from the University of California, Berkeley.
Pat Elder, Member of the Veterans for Peace and Author of Military Poisons.com
Pat Elder is an investigative journalist who tracks how the military contaminates groundwater and surface water through its use of fire-fighting foams containing per- and polyfluoroalkyl substances, (PFAS). Pat's work appears on his website, www.militarypoisons.org.
Pat works primarily with the Women's International League for Peace and Freedom, World BEYOND War, No to NATO, and the Sierra Club's Toxics Team.
Mr. Elder has held several national and international tours on the PFAS crisis. Pat argues that the primary source of ingestion of PFAS is through eating seafood from contaminated waters. Surface waters emanating from military bases contain the highest levels of PFAS on earth. The substances bioaccumulate in fish, often at several thousand times the levels in water.
PFAS in the tiniest amounts are linked to a host of cancers and fetal abnormalities. The oceans near our shores must be tested for PFAS chemicals and seafood must be examined before it is consumed by people.
Pat is 65. He holds an MA in Government from the University of Maryland. Pat has four children and lives with his wife, Nell of 30 years.
***Moderator: Lina Constantinovici, Advisor to UNA-SF, Founder Innovation 4.4
— 11:45 am–12 pm | Break —
12 pm | Session 3: What Are We Doing for Ocean Health?
Michael Barber, Alaska Conservation Foundation
Michael serves as Executive Director of the Alaska Conservation Foundation. His professional career in conservation began at the Municipality of Anchorage as the LED Lighting Project manager, a project that saved the city millions of dollars and reduced energy consumption by 60%.
Prior to joining Alaska Conservation Foundation, Michael co-founded an energy efficiency development company to engage utilities, cities, and military facilities in large-scale efficiency retrofits. As a research economist for renewable energy projects, he applied his energy efficiency experience across rural Alaska. Michael also managed the complex merger of Alaska Center for the Environment, Alaska Conservation Alliance and Voters and Alaska Youth for Environmental Action, a project supported by Alaska Conservation Foundation. Prior to that, he served as Board Treasurer for Alaska Conservation Alliance.
Born in Anchorage, Michael is a fourth-generation Alaskan. He received his undergraduate degree from St. John's College in Santa Fe, and his MBA in Sustainable Management from the Presidio School of Management in San Francisco. He is an avid winter sports enthusiast and musician.
Dimitar Vlahov, Sustainable Brands
Dimitar is the Founder and CEO of Latona & Sylva Company, as well as a Senior Sustainability, Regeneration, and Brand Transformation Expert at Sustainable Brands. He holds a Master's degree in Management Science & Engineering from Stanford University and a Bachelor's in Economics and Mathematics from Oberlin College. Before entering the field of sustainability, Dimitar worked in international development at the International Monetary Fund (IMF) and also in economic consulting at Charles River Associates and NERA.
Follow Dimitar on Twitter @dvlahov.
Millicent Wallace Pitts, Oceans Exchange
Millicent Wallace Pitts is the CEO/Executive Director of OceanExchange.org, a US-based, international non-profit in its tenth year with the sole mission to help the advancement of innovative solutions that support healthy oceans and coastal systems, and the decarbonization of ocean shipping/ports. Ocean Exchange awards two $100,000 non-dilutive grants to startups with globally scalable solutions. Previous finalists and winners in the awards process are making significant technical and commercial progress. Additionally, Ocean Exchange awards a $10,000 award to a collegiate innovator, a process that has yielded five former finalists in five years that were later named to Forbes 30 Under 30 in their fields.
Millicent was an operating executive for thirty years in the chemical/materials industry with Atlantic Richfield, Rohm & Haas, Engelhard/BASF and with a university-based start-up. She holds an MBA from The Wharton School of the University of Pennsylvania. While at Ocean Exchange, she has helped grow a start-up ecosystem with roles as innovation judge at Penn Innovation Day, as a mentor at Clean Tech Open Northeast, as a member of the NOAA sub-committee on the Blue Economy, as a steering committee member of OceanVisions.org, and as a judge at the DOE/NREL Marine Energy Collegiate Competition.
Sally Ranney, Global Choices
Sally Ann Ranney, President/Co-founder of Global Choices and President/Co-founder of the American Renewable Energy Institute (AREI) and AREDAY Summit, serves on the Board of Directors of the National Wildlife Federation, the Aspen Brain Institute, the Climate Accountability Institute, and is CEO of Stillwater Preservation LLC. Senior Advisor to the Getches-Wilkinson Center, U. of Colorado Law School, One Humanity Institute and Women's Earth and Climate Action Network (WECAN), her work spans more than forty years and five continents. Ranney worked with three U.S. Presidents, Carter, Clinton and Reagan who appointed her to the Commission on American Outdoors. Awards The recipient of numerous awards, including Horace Albright Award, International Conservation Award, Earth Guardians' Stewardship Award, Children's Environmental Literacy Foundation (CELF) Lifetime Achievement Award, and R.K. Mellon Fellowship, Yale University School of Environment.
12:45 pm | How Do We Get to Ocean Health? — One Company's Story
Troy Swope is the Co-Founder and CEO of Footprint, a sustainable materials science technology company that manufactures solutions to achieve its lofty mission to rid the world of single-use plastics. Leading a team of talented, world-class engineers, scientists, environmentalists and designers, Troy's work has already led to sustainable packaging solutions implemented in nearly every U.S. grocery store – at equal performance and cost to traditional plastic packaging. Troy's innovative expertise spans over 20 years, first as an award-winning engineer at Intel where he introduced new materials science methodologies that resulted in a $350 million-dollar manufacturing cost savings and later as the founder of Unisource Global Solutions, which disrupted the EPS and EPE foam packaging industry by creating sustainable molded pulp packaging alternatives for consumer electronics like Dell Computers. He has been named as a Business Intelligence Group Sustainability Hero of the Year and Mountain Desert Finalist for E&Y's Entrepreneur of the Year. Troy's ongoing vision has enabled some of the world's largest food brands including ConAgra, Tyson Foods and Beyond Meat to shift away from using plastics in food packaging and currently supplies millions of plastic-free units every year — leading Footprint to be named to Fortune's 2020 Change the World list.
Interviewed by Lina Constantinovici, Advisor to UNA-SF, Founder Innovation 4.4
1 pm | Session 4: What Are the Key Solutions with Impact at Scale?
Dulma Clark, Vivo Barefoot
Dulma, is a Head of the newly launched Livebarefoot Foundation, an in-house philanthropic and impact investment hub she launched in 2019 centralizing social and environmental projects at Vivobarefoot, a family footwear company with a mission to reconnect people and nature. Dulma drives research and innovation to create regenerative footwear and experiences by building impact partnerships around the world. Prior to that, she set up an ethical shoemaking production line in Ethiopia providing jobs and value-adding on locally sourced materials. In parallel, she has been collaborating with the indigenous communities setting up small-scale cobbling social enterprises to preserve traditional craftsmanship and to share the knowledge of wisdom traditions to the world. Over the past 8 years, Dulma has been involved with a family philanthropy and currently a Trustee and a Chair of the Investment Committee at JA Clark Charitable Trust. Originally from Lake Baikal, Siberia. LSE graduate in Human Rights and Champion of Russia in archery.
Gunnlaugur Erlendsson, Enso Tires
Gunnlaugur (G) is the Founder & CEO of ENSO, a UK based tire company that is developing better tires for electric vehicles (EVs). Tires are the automotive industry's big dirty secret, contributing enormously to carbon-emissions, air-pollution, and micro-plastic pollution. EVs are also heavier and have higher torque, wearing tires faster and creating more harmful tire pollution than normal cars. ENSO addresses this problem by developing more efficient, durable, and sustainable tires for EVs.
G is responsible for developing ENSO to date, establishing its vision, and building ENSO's industry-leading team of experts, scientists, and partnerships across the EV industry. G has more than a decade's experience with start-ups and venture capital and, prior to ENSO, successfully established a tire company developing high-performance winter tires. Everyone calls him G as his first name is entirely unpronounceable.
Tara Russell, Carnival Cruises
Tara Russell is the Global Impact Lead for Carnival Group.
She is working with Carnival's nine other brands on social impact opportunities and strategies that could have unprecedented scale. She's a 20-year veteran of the global private and public sectors, and has worked internationally for companies including General Motors, Nike and Intel. At GM, Russell was chosen to represent Saturn Corp. in the Shanghai GM New Vehicle Build & Launch Project in 1999 in China.
Russell also worked four years in Thailand, offering pro bono small business development training, and she co-founded NightLight, an international organization that addresses human trafficking and prostitution.
In 2014, Russell was invited by the World Economic Forum to join its global leader community and to be a founding curator for a Global Shapers World Economic Forum Community. She has spoken about social enterprise and impact innovation internationally. Russell holds a mechanical engineering degree from the Georgia Institute of Technology.
She's passionate about giving mindful individuals a way to connect to a community that has lasting, long-term benefits for both the travelers and the destination.
Scott Mauvais, Microsoft Philanthropies
Scott Mauvais is the Director of AI and Global Partnerships for Microsoft Philanthropies where he leads an initiative to identify and jointly invest in social impact projects with Microsoft's largest customers.
Scott is a 20-year Microsoft veteran with leadership roles in consulting, corporate innovation, sales, smart cities, and now philanthropy. Most recently, he was the Director of Microsoft Cities where he worked with city leaders to apply the global resources and expertise of Microsoft to foster the civic tech ecosystem and create opportunities for economic growth.
Prior to that, he was the Director of the Microsoft Technology Center, an innovation lab where Microsoft's top architects worked hand-in-hand with Fortune 500 companies to envision, architect, and prove out solutions that addressed their top challenges.
Scott is a regular speaker on topics such as sustainability, urbanism, innovation, and the role for global tech companies in society. He often brings the contrarian viewpoint by highlighting the unintended consequences of introducing well-meaning changes to complex technical and societal systems.
Scott serves on the national boards of Upwardly Global, City Innovate Foundation, and the Urban Age Institute and co-owns The WELL, the ground breaking online community founded in 1985.
He lives in San Francisco.
2 pm | Session 5: What Can We Each Do for Ocean Health?
Aaron Berger, Berger Family Trust
Aaron Berger is a research scientist specializing in pattern recognition, domestic and foreign current events, and technology trends. A core belief of his is that there is always a solution. He serves as a strategic advisor to individuals and organizations interested in finding important solutions to difficult problems. In his effort to help others see a more systemic perspective, his research methods break down problems into their foundational elements, analysis of which yields new angles and novel solutions.
Experience includes government relations, high-level representation and negotiation, systems-thinking, scenario planning, learning transfer, and other research skills. Broadly, he focuses on global catastrophic risks, national security, and geopolitical spillover events, with more of his recent work assisting in solving the climate crisis. In addition to serving the Rainey Center as special advisor, he is Head of Research for Sharemeister, a co-chair for the NEXUS Working Group on Energy Innovation & Environment, an international advisor for the Sunrise Movement, and Director of Research and Policy for The Oceans Funders Initiative.
Vasser Seydel, Turner Foundation and Oxygen Project
Vasser Seydel graduated with cum laude honors from the University of Georgia, earning a Bachelor of Arts degree in Communications. During her time in Athens, Vasser worked for UGA'S Office of Sustainability as the Grants and Engagement Director, represented the university as the UGA Student Sustainability Ambassador, and pursued an education outside the classroom as an intern at the United Nations Foundation and TEDWomen. After graduation, she began consulting with non-profit, business, and individual clients, specializing in communications, digital media, and strategic development, to enhance brands that create positive impacts on society. Vasser continues to promote and support her family's legacy and commitment to environmental responsibility through her family's foundation, the Turner Foundation, as a board member and the first Chairperson of the Turner 3rd Generation board. Additionally, she serves on the board of directors for the National Center of Family Philanthropy and is a Global Ambassador for Julian Lennon's, White Feather Foundation, and an Arctic Angel for Global Choices. Most recently, Vasser has taken on the Deep Seabed Mining issue as the Campaign Director at The Oxygen Project and has the honor of representing the International Union for the Conservation of Nature as the IUCN Environmental Youth Ambassador.
Nelson Del Rio, Jr., Prosperity International
Nelson devotes his life to changing the paradigm of development at a community and global level currently through his roles as the CEO and Co-Founder of Prosperity of the Commons International (PCI), Co-Founder of the Coalition for Prosperity of the Commons (CPC), and a leader of his family's foundation. Having learnt about the farthest reaches of the globe after engaging with people of all walks of life and traveling to 70 countries, 55 by the age of 13, Nelson saw the great inequities, injustices, and imbalances that impede true sustainable human prosperity at all levels. Learning from his family's decades of work in advancing true systemic change for the good of the people through international development, finance, policy, real estate, community development, education, and other fields along with Nelson's own experiences, it became apparent to him that the only way to create true impact & sustainability was a paradigmatic change where human prosperity was at its core in harmony with long-term ecological sustainability. Nelson studied international policy development, international security, and environment & finance. During the course of his studies, Nelson also learnt to speak 5 languages including Arabic, Russian, Chinese, and French. In his free time, he loves to do water sports, travel, and spend time with his family and loved ones.
Isaac S. Kinney, Yurok Tribe
Isaac S. Kinney (Watershed Regenerative Ventures) is a Yurok Tribal Citizen from the village of Weych-pues at the confluence of the Klamath and Trinity Rivers in what is now known as Northwest California. His extensive experience working with Indigenous communities and Tribal governments have helped him become effective in his advocacy efforts in working with international, domestic, and local governments, philanthropists, and grass-roots organizations. He currently resides in his village of Weych-pues with his wife Priscella and four children Kee-poon Hoogech, Pectah Ike, Tseeyaba, and Chmuuek.
3 pm
UN75 Report: Voices of San Francisco—the Birthplace of the United Nations (Fyodor Ovchinnikov)
Emerging Leaders for UN Agenda 2030 Award Ceremony:
Opening Remarks (Fyodor Ovchinnikov)
Reflections on the Search Process (Isha Kakar)
Emerging Public Leader for UN Agenda 2030 Award (presented by Shelby Song)
Emerging Civic Leader for UN Agenda 2030 Award (presented by Fyodor Ovchinnikov)
Emerging Business Leader for UN Agenda 2030 Award (presented by Shelby Song)
Emerging Systems Leader for UN Agenda 2030 Award (presented by Fyodor Ovchinnikov )
Closing Remarks by Lisa E. Laskaridis, UN Information Officer and Head of Communication for UN75
******
Fyodor Ovchinnikov, Chair, UNA-SF UN Global Consultations Committee; Co-Chair, UNA-SF Emerging Leaders Award Committee
Fyodor Ovchinnikov serves as Board Member of the United Nations Association of USA, San Francisco Chapter (UNA-SF). He co-chairs the Emerging Leaders for UN Agenda 2030 Award Series and chairs the Leadership and Organizational Culture Committee and the UN Global Consultations Committee. Fyodor's past contributions to the UNA-SF include designing the Young Professionals for Sustainable Development Goals Seminar Series, which is now a flagship program of the chapter with national recognition and international participation.
Other current roles and affiliations include Co-Founder and Managing Partner of the Institute for Evolutionary Leadership, Board Member and Lead Instructor at Uptima Entrepreneur Cooperative, and Member of the Braintrust on Impact Investing for the Sustainable Development Goals jointly run by NEXUS Global and the United Nations Capital Development Fund. Fyodor studied resilience of the socio-economic system of China at Lomonosov Moscow State University (BA, MA with honors), group dynamics at Stanford Graduate School of Business (executive education), systems thinking and leadership development with thought leaders such as Manuel Manga, Peter Senge, and Nora Bateson, and process design and facilitation with world-class process designers including Lisa Heft, Chris Corrigan, and Kathy Jourdain.
******
Shelby Song, UNA-SF Board Member, Co-Chairs, Emerging Leaders Awards Committee
Shelby Song is Chief Compliance Officer of the United Nations Association of USA, San Francisco Chapter (UNA-SF) and Co-Chair of the Emerging Leaders for UN Agenda 2030 Awards Working Group. She joined UNA-SF's Board of Directors in 2016 and has made great contributions to the success of the chapter.
******
Isha Kakar, UNA-USA Emerging Leaders Fellow
Isha Kakar is a young professional and a member of the Fall 2020 Emerging Leaders Fellowship cohort of the United Nations Association of the United States of America (UNA-USA). In this capacity, she worked with the San Francisco Chapter of the UNA-USA to identify youth and young professionals with inspiring leadership stories. Her powerful reflections on this process were selected to be featured in the virtual UN Day Program organized by the chapter in San Francisco—the Birthplace of the United Nations. Isha graduated from UCLA with a BA in Global Studies in 2019, where she wrote her thesis on global influences on religious law in India, including gender-issues, policy, and social impact. While at UCLA, she worked with a variety of economic development, international affairs, and advocacy organizations, interacting with policy leaders and changemakers. She developed a passion for propelling the United Nations Sustainable Development Goals after receiving a scholarship to study "Global Governance and the United Nations" in an experiential learning program at the NYU School of Law. Since graduation, Isha has been working as a Research Operations Analyst at Acumen LLC, a health and social policy firm. Isha is committed to creating greater community participation in issues of gender equality, public health, and racial justice.
******
Lisa E. Laskaridis, UN Information Officer and Head of Communication for UN75
Lisa is leading the communications and outreach for the United Nations UN75 initiative. UN75, launched by the UN Secretary-General in January, aims to strengthen global cooperation, and is the world's largest and most inclusive conversation on the future we want. Before starting her position at the UN Secretariat in 2019, Lisa was in charge of press and communication at the Permanent Mission of Sweden to the UN 2016-2019, where she conceptualised and implemented the public diplomacy strategy delivering on Sweden's foreign policy priorities during its two-year term on the UN Security Council (UNSC). In 2017, she was awarded 'Innovator of the Year' from the Foreign Ministry for delivering cutting-edge advocacy campaigns. She was also a key member of the small campaign team that got Sweden elected to the UNSC.
Lisa has been a 'New Yorker' for ten years, she has a master's in International Relations from the Royal Melbourne Institute of Technology in Australia, and she is from Stockholm, Sweden.
With 10 years of experience in public information at an international level, Lisa believes in communications as a means for making a positive difference and has a proven track record of shaping public narrative on global and foreign policy issues through new technology and media relations.
— 3:30 PM Close of Event —
Program Curation Partner Innovation 4.4 Oceans Funders
Production Best Emotions
Production Sponsor Footprint
UNA-SF Partner: Veterans for Peace, Chapter 69, SF