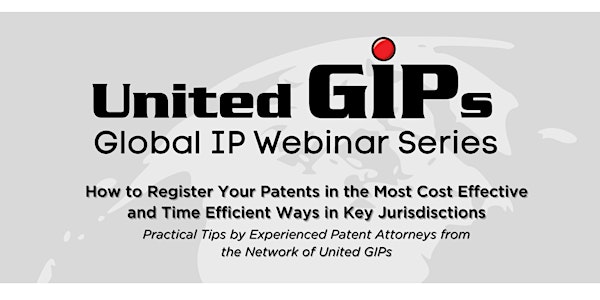 United GIP Global IP Webinar Series 2023
How to Register Your Patents in the Most Cost Effective and Time Efficient Ways in Key Jurisdisctions
Date and time
Thursday, June 15 · 7 - 9am PDT
About this event
The Global IP Webinar World Series is specially curated and brought to you live by United GIPs. Through the Global IP webinar series, we hope to share practical tips by experienced patent attorneys from United GIPs on how to register your patents in the most cost effective and time efficient ways in major jurisdictions around the world.
The Global IP webinar series features speakers from GIP Asean, United IP USA, Global IP Europe, GIP China, Shinjyu Global IP Japan, GIP Korea, Global IP India and Global IP Brazil.
Key Takeaways:
✅ UPDATES ON MAJOR PATENT FILLING TRENDS AND LEGISLATIVE CHANGES IN THE KEY JURISDICTIONS AROUND THE WORLD
✅ PRACTICAL GUIDES ON HOW TO SUCCESSFULLY REGISTER PATENTS IN EACH JURISDICTION IN THE MOST COST EFFECTIVE AND TIME EFFICIENT WAYS.
Call Us at
(+1) 202-800-8465 , (+60) 16-285-5770
Email Us at
info@unitediplaw.com , postoffice@gip-asean.com, iptech@ipowner.org
Visit Us at
About the organizer
PINTAS is a multi-disciplinary intellectual property boutique firm that provides customized solutions relating to patents, trademarks, industrial design, copyrights, trade secrets and other forms of intellectual property assets.
We have the vision and capabilities to help our clients to achieve business success through intellectual property rights. The essence of this vision is fully manifested in the company motto: "Today's Asset, Tomorrow's Value".